Gil here. Nothing ruined my trading style more than running a hedge fund using that style. Worrying about month-end numbers and dealing with clients calling you every day wondering "how're we doing?" keeps one from acting fluidly because you are simply serving too many masters.
When I think about trading my style, and I review where I've failed and where I've been successful, I would have to say it has been in allowing extraneous factors to influence my thinking way too much, and sometimes such an "extraneous factor" can be trying to be "bullish" or "bearish," predominantly, in your thinking.
I recall 2001, right after 9/11, when I started buying Lockheed Martin (LMT), shown below on a daily chart from that period. The stock broke out with other defense stocks, and it was clear that with the U.S. on a war-footing, institutional investors needed to be in those areas of the market. The leader in the defense sector, as I saw it, was Lockheed Martin (LMT). Lockheed spent most of the time basing while the market rallied into the end of 2001, and when the market topped LMT took off. I recall hoping the market would be down on any given day, because LMT would seem to be up every day the market was down. In any case, it is a strong illustration of the "Big Stock Principle," whereby an understanding of where institutions must be putting or removing their investment dollars in any particular market cycle or environment is the key to making profits in any environment. Such was the case with LMT in the 2001-2002 period. The two charts of LMT and the NASDAQ below line up to show the divergence as LMT began a very profitable price move as the market went into a correction. Another stock that did well in an otherwise lackluster sideways market in 1994 was Ascend Communications. Do stocks like CRM, FFIV, or NFLX do this in a sideways to down market environment? Who knows for sure, but you don't find them by adopting a strictly bullish or bearish stance all the time.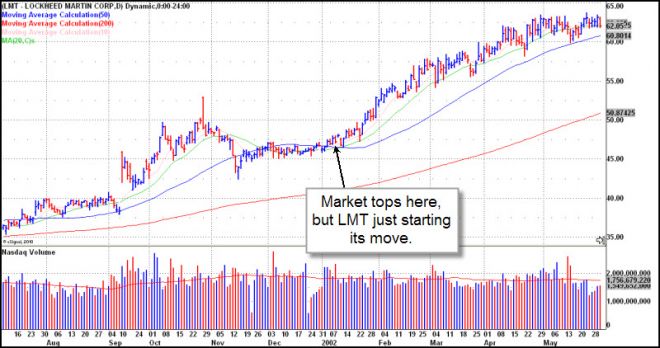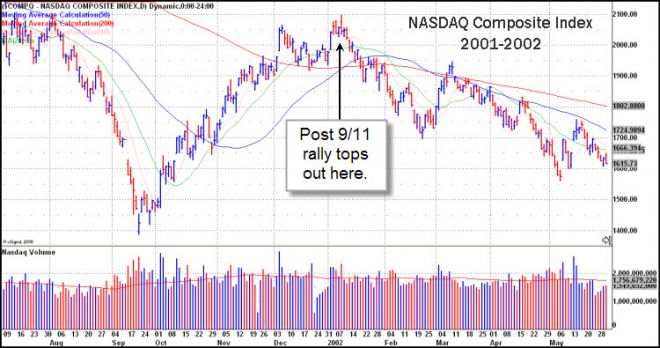 The information contained herein is not, and should not be construed as an offer to sell or the solicitation of an offer to buy any securities. The information set forth has been obtained from sources which we believe to be reliable, however, these sources cannot be guaranteed as to their accuracy or completeness. The information and content expressed herein are subject to change without notice and MoKa Investors, LLC and/or its employees may from time to time have long or short positions or may acquire direct or indirect beneficial interest in securities mentioned. www.MoKainvestors.com