Constructive volume dry-up patterns within the context of a stock's chart often leads to big gains over a period of a few days or less. A number of stocks from our
Focus Lists
and
VooDoo Reports
continue to provide profitable opportunities since stocks with the right set-ups often march to the beat of their own drum.
For example, in our VoSI Voodoo Report published on May 15, 2017, Impinj (PI) was discussed as a good set up based on its volume dry-up action in the prior days. PI finished the day higher by 7.25%. We then sent out a report on May 22, 2017 just after midnight ET. PI rocketed 8.35% the next day. In the same report, MULE was mentioned as actionable on the basis of its volume dry-up over a number of days. Such price/volume action often leads to a sizable jump in price shortly thereafter. MULE rocketed just over +20% in two days after the report was published on the date shown by the BUY signal in the chart below.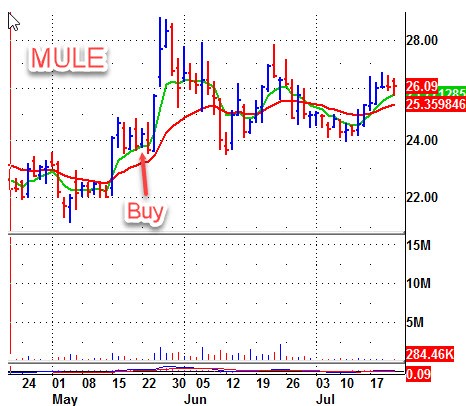 These set-ups occur over and over again. So even though QE continues to manipulate and distort markets, profitable opportunities abound in the right stocks. Our job is to rigorously comb through our screens each day to find the right set-ups so our members can profit. We write our reports as lucidly as possible so each member can understand our thought process. Our reports therefore take on an instructional tone so each member can optimize their trading.