Dr. K's Crypto-Corner
by Dr. Chris Kacher
Riding the Revolutionary Rocket with Cryptotechnologies... Entirely Evolutionary™
I recently mentioned some reasons why bitcoin has not yet reached a major low given price/volume action on the recent selloff leading to the current bounce is relatively small compared to prior major lows such as in April and October 2013 as well as January 2015.
Since I am always weighing my metrics against each other to complete the picture, on the bullish side, not only do we have bitcoin's hash rate resuming its climb:

but the capacity of the Bitcoin Lightning Network has surpassed $2 million on Sunday, Dec. 23, according to data provided by BTC statistics website bitcoinvisuals.com.
Significantly, MVRV is showing a major bottom: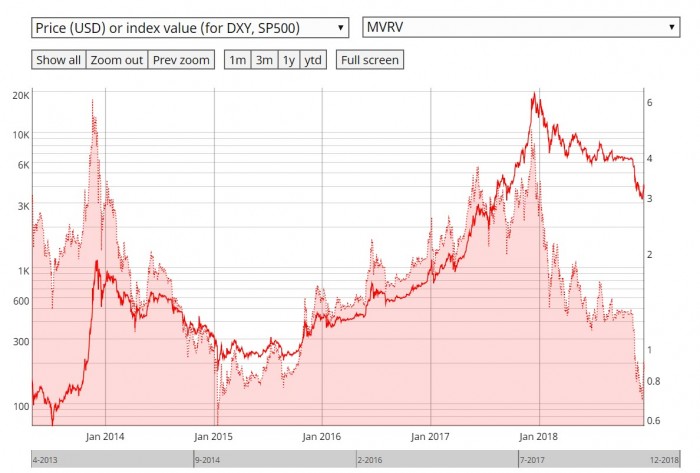 Here is the same chart going back to 2010 (up through Aug-2018). In late 2011, when bitcoin corrected -94%, the ratio of market value to realized value fell below 1 which was a major bottom in bitcoin. A second major bottom was in January 2015 when the ratio also fell below 1. It has since, as shown in the chart above, fallen below 1, suggesting a major bottom.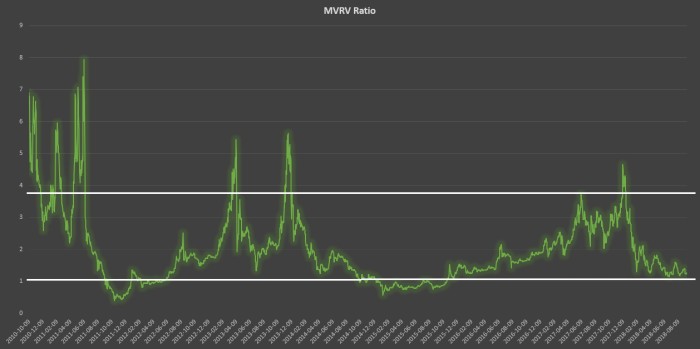 The rationale behind MVRV is that realized value represents 1) lost coins, and 2) coins used for HODLing. This suggests when MV drops below RV (ratio falls below 1), bitcoin is extremely undervalued relative to the long term holders who continue to see huge potential in bitcoin.
We also see that momentum is starting to rise in the chart below. This happened some months after bitcoin hit a major low in late 2011 and in January 2015.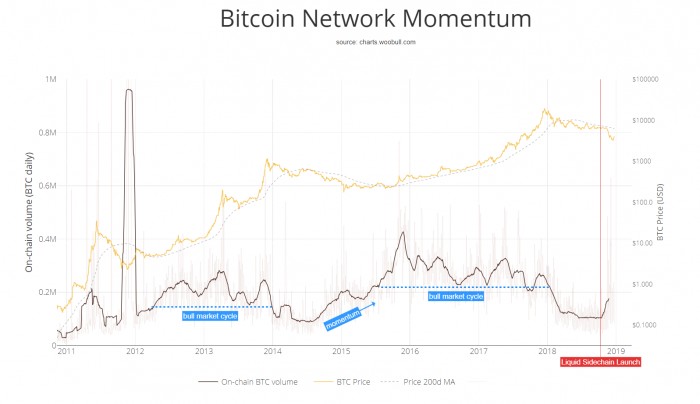 But the NVT Signal is still showing a major low has not yet been achieved: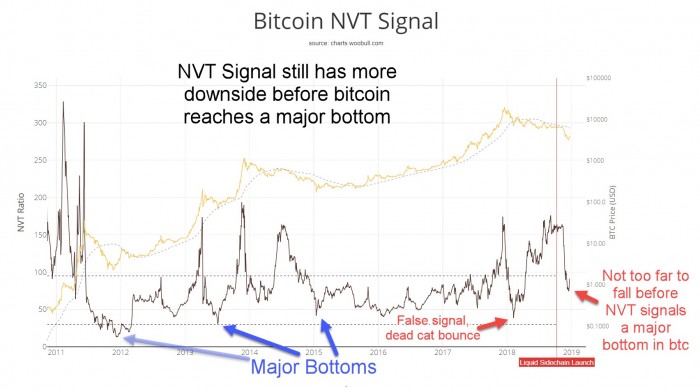 The Liquid Sidechain launch is still a small part of total transactions so it is less likely to have had much of an impact as of yet, thus is not yet having a significant impact on the NVT Signal.
Also supporting further downside is historical volatility though RSI suggests at least a minor low. OBV meanwhile is neutral (prior to being bearish for most of 2018):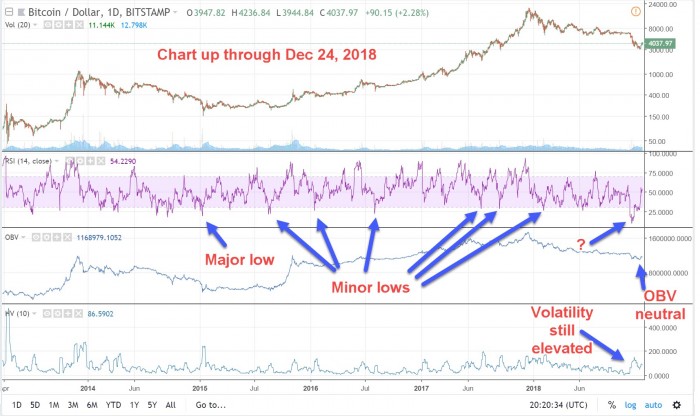 If history is any guide, we need a confluence of most of my metrics to signal a major bottom in bitcoin. My metrics that suggest further downside include:
=Price/volume on the recent selloff-to-bounce does not suggest capitulation
=NVT Signal
=Historical volatility
That said, we are certainly closer to a major low given the following:
=MVRV has suggested a major low
=Bitcoin network momentum is turning back up
=RSI is suggesting at least a minor low
Happy Holidays!
(͡:B ͜ʖ ͡:B)