Dr. K's Crypto-Corner
by Dr. Chris Kacher
Riding the Revolutionary Rocket with Cryptotechnologies... Entirely Evolutionary™
The NVT Signal remains at elevated levels: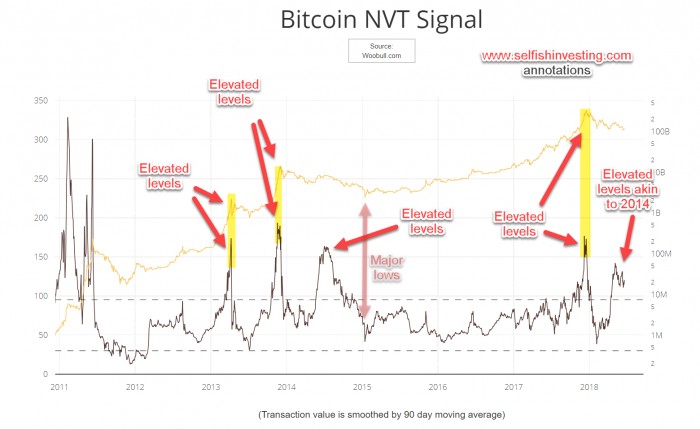 The above chart suggests the correction in bitcoin is yet from over. It currently trades at $6,142 as of this writing. It has corrected as much as -70% since its peak in December 2017. Should it correct as deeply as it corrected from 2013-2015 when it found its major low in January 2015 at a peak-to-trough correction of -85%, this would correspond to a price of
$2,950
from a peak price of $19,670 achieved in December 2017.
But as I wrote in an earlier
piece
, this is unlikely due to the numerous tailwinds heading its way. Thus the psychological
$5,000
price level could very well be a major low for bitcoin in the current correction, and would represent a drop of 74.5% from prior highs. Indeed, some investors with deep pockets such as the one in China who announced in late 2014 that he would buy all bitcoin available for sale below $200 stepped in huge in January 2015 when bitcoin had a knee-jerk mini-crash down to $152, then immediately shot back above $200.
I use a variety of proprietary weighted technicals which have sound predictive value when taken as an aggregate. Such major buy and sell signals only occur a few times a year or less, but make all the difference when it comes to profiting in bitcoin as well as in other cryptocurrencies which highly correlate with the price of bitcoin. I also take the price movement of ethereum into consideration. But that is for another discussion.