I'm not one to fall in love with any investment class, whether its EV stocks, SPACs, space-related stocks, precious metals, agricultural commodities, bonds, or even crypto-related stocks, including Bitcoin itself. I'm a trader, not a promoter or an advocate, and while I have been a Bitcoin bull since October/November of last year, I operate solely on the technical action that I see on the charts and the clues and cues that may emanate from the space in general in this regard. I have no agenda or axe to grind, and I see no reason why crypto-currencies can't correct like anything else, even if the corrections resolve longer-term and the vehicles in question resume their uptrends. I can come in again when the breakdown ends and new long entry signals, often in the form of U&Rs, present themselves.
If you follow me on Twitter you'll note that I was skeptical of the recent
$BTCUSD
breakout based on the nasty reversals and breakdowns in a number of Bitcoin miners last week that, oddly enough (or maybe not!), coincided with all the hype and hoopla surrounding Wednesday's
Coinbase Global (COIN)
IPO.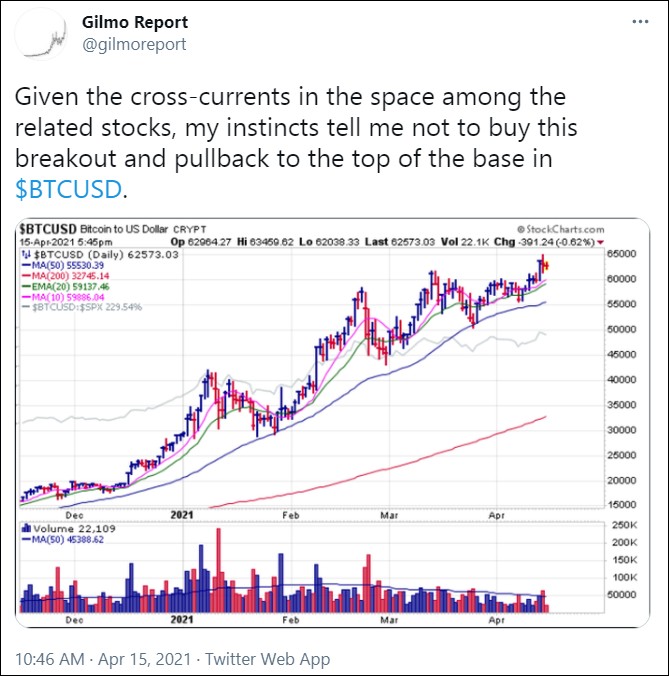 Here's what happened to Bitcoin miners
Marathon Digital Holdings (MARA)
,
Riot Blockchain (RIOT)
, and
Silvergate Capital (SI)
last week, they all broke down and morphed into short-sale targets. In my view that may have been a clue for Bitcoin.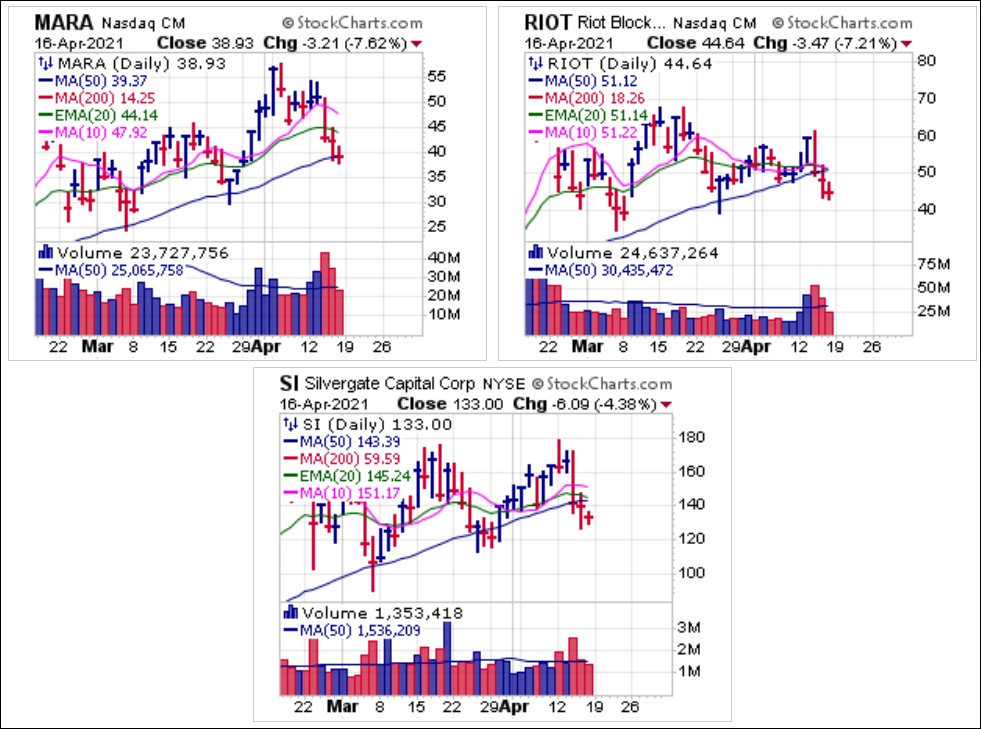 So now we have a breakout failure in Bitcoin. No surprise there. The question now becomes what types of opportunities might arise here. First, I would note that prior breaks off the peak have not been one-offs, and have resulted in pullbacks of at least a few days' duration. Unless this current break is due to some egregious fake news, I might expect
$BTCUSD
to come down further. There are two things to watch for right here, right now,in my view: 1) a possible shakeout at the 50-day line that creates a moving average U&R where we then use the 50-day line as a selling guide, or 2) a U&R at one of the significant lows in the pattern where the prior low serves as a tight selling guide - the first one being at the 50,406.31 low of March 25th. Thus, I think we have some clear reference points to watch here as potential re-entries. Keep it concrete.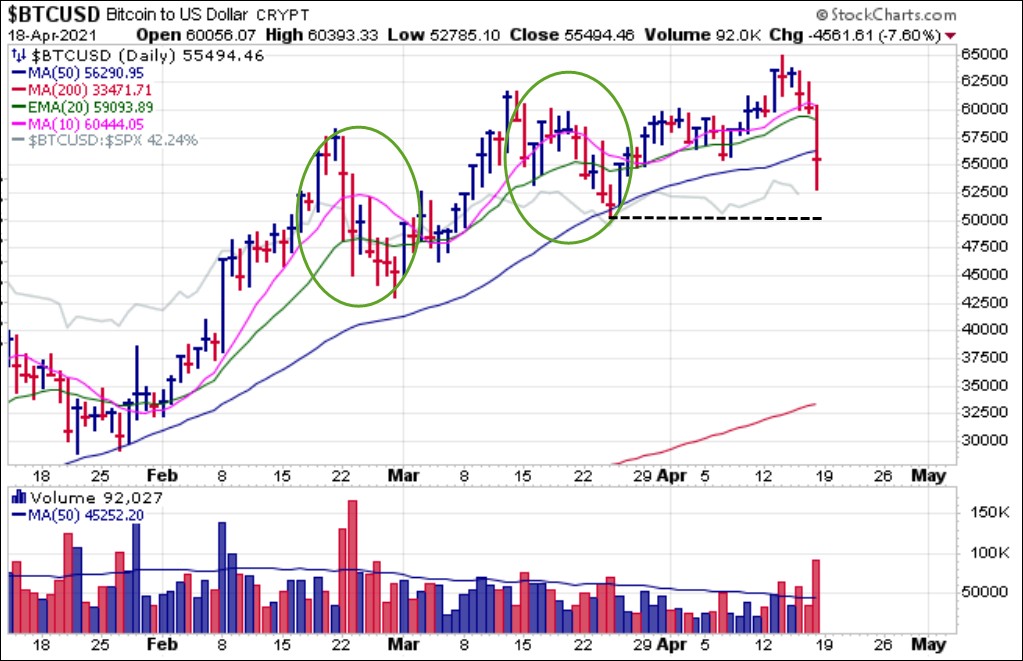 Other than this, I have no long-winded verbiage to offer on the magical virtues of crypto-currencies and their long-term viability, although I do believe that Crypto and Blockchain are cutting edge developments that will strongly influence and play a role in the future of finance and society at large, not unlike the internet back in 2000, but that is decidedly beside the point here. In the end, how things play out is not necessarily how you think they will, and in my world it is best to keep things concrete and pay attention to the technical signals.
Gil Morales