Dr. K's Crypto-Corner
by Dr. Chris Kacher
The Revolution (Evolution) Will Not Be Centralized™
But such is the price of progress:
https://www.zerohedge.com/news/2018-07-21/why-old-guard-hates-bitcoin
And despite repeated claims that bitcoin has repeatedly died since 2012, it continues to defy.
That said, the NVT valuations such as this one suggest this bitcoin uptrend is NOT the start of a new bull market in crypto. If you own any bitcoin or other cryptocoins (since there is a high correlation between the price of bitcoin and other coins), you might take profits from the recent run.
On the other hand, if you own a coin which has managed to buck this year's downtrend, you might hang onto it, after all, price is everything. In the meantime, don't be surprised if bitcoin heads lower, and even retests old lows. On the basis of its price history since 2011, it may even have a knee-jerk reaction to new lows in the current bear, well under the current bear market low of 5775. The current NVT valuations further suggest a major low in place further out, perhaps closer to the end of this year. In an earlier piece, I wrote that bitcoin would have to hit 2950 to match the 87% correction in the 2014-2015 bear.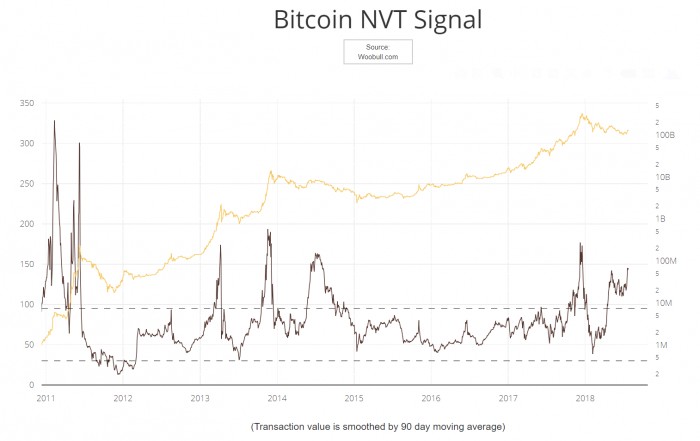 (͡:B ͜ʖ ͡:B) (͡:B ͜ʖ ͡:B)
PS: Thank you to those who have been with me in spirit since early days: Diana Biggs, Adam Draper, S. Steven Huntsman, Chase Edwards, Ivan Soto Wright, Asher Dory, Vitalik Buterin, Tim Enneking, Fabian Soudere, Gareth Giles, Brock Pierce, Nick Spanos, John Purcell, et al (out of respect to those who wish to preserve their anonymity).