Dr. K's Crypto-Corner
by Dr. Chris Kacher
Riding the Revolutionary Rocket with Cryptotechnologies... Entirely Evolutionary™
Top performing cryptocurrencies can easily achieve more than 100% gains, and sometimes 1000%-3000%+ gains over a cycle. Ethereum rose from under $1 to a peak price of more than $1300 in the last bull cycle from 2015-2017 representing a gain of over 130,000%. The sell stops are therefore wider to avoid getting shaken out prematurely. Buying multiple cryptocurrencies to spread the risk is therefore key. A sell stop that is 30-40% from the buy point is not unusual as long as the overall cryptomarket is in a bullish trend such as the one that lasted from the Jan-2015 low through the Dec-2017 high. Note in the chart below how the pullbacks in the price of bitcoin were typically between 28-42%: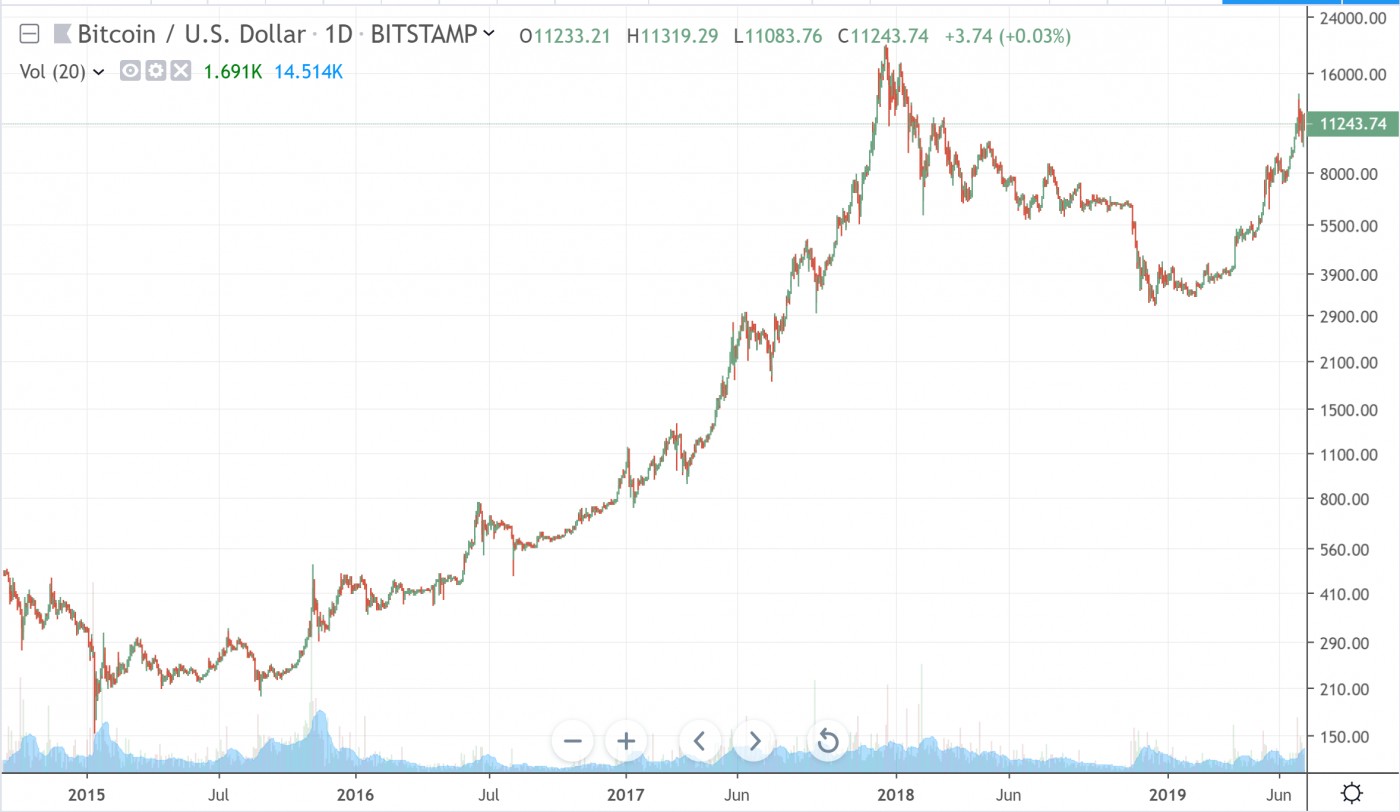 By finding the coins that at least keep pace with bitcoin, the gains from the winners then far more than offset the losses from the losers. And of course, the goal is to find those coins that well outpace bitcoin.
We are currently in a bull market than began when bitcoin hit a major low in Dec-2018. That does not automatically suggest a continuous uptrend. Note how bitcoin from 2015-2016 had a number of periods where its price corrected 28-42% or it simply traded sideways for a number of months.
The current bull cycle may last longer than the prior 3 year Jan 2015- Dec 2017 bull market as the cryptospace matures and mainstream retail and institutional capital investment accelerate into the cryptospace pushing its valuation from the current $300 billion into the trillions.
Bitcoin is currently around $11k. It would only need to double from here to reach new highs. If it resembles historical trends, once a new high is achieved, bitcoin typically rises by at least 1000%. In the last bull cycle, it peaked just under $20,000 vs its prior high of about $1100, or about a 2000% (20-fold) move. If it were to repeat this price action over the next couple of years, a 20-fold move above its old high of around $20,000 would place the price of one bitcoin at about $400,000.
Meanwhile, the top performing alt-coins should well outpace such a move in bitcoin. It is my job to figure out which coins are likely to well outperform over the next cycle as I have done in prior cycles (NEO, WTC, OMG, LSK, ADEX et al in 2017). Coins such as LINK, BNB, ENJ, and RVN stand a decent chance as their technologies are hugely disruptive. LINK recently won major contracts with Google, Oracle, Harmony, and Thundercore thus validating its decentralized oracle technology and has been one of the top performers in the cryptospace. Meanwhile, BNB is the number one cryptocurrency exchange but due to regulatory issues, I decided to take profits a few weeks ago as shown in the closed positions table but may re-enter the position once the dust clears as the exchange is 10 steps ahead of its competition. Other coins such as ENJ and RVN were propelled higher in price on achieving certain milestones in March-2019. Winning additional contracts with major companies should help them both breakout of their current sideways patterns. It is not unusual for coins to shoot higher by 200 to 300% on good news then trail gently lower until they achieve another milestone, thus allowing for large drawdowns relative to stocks is necessary.
In keeping with selling off the losers, DMT and WABI are being sold from the portfolio today. The gains/losses in any coins sold are then moved onto the closed positions page. You'll notice that the large gain from BNB in the closed positions more than offset the losses, thus even -40% losses in one cryptocurrency are kept manageable relative to the overall value of the portfolio. Meanwhile, on the open positions page, $10,000 has appreciated more than 20-fold since March 1. Always know that such huge gains always come with greatly elevated levels of volatility thus it is important to keep one's exposure to these 'rocket rides' within one's risk tolerance levels. Diversification among various cryptocurrencies is essential.