Dr. K's Crypto-Corner
by Dr. Chris Kacher
Riding the Revolutionary Rocket with Cryptotechnologies... Entirely Evolutionary™
Maker (MKR) Price: $685
• asset backed hard currency
• renowned investment firm Andreeson Horowitz acquired 7% stake in Maker
• Augur to use Maker as a stablecoin to stabilize its prediction betting
• Maker's Collateralized Debt Position (CDP) contract enables users to take a loan in a stablecoin by putting up Ethereum as collateral
Enjin (ENJ) Price: $0.079
• blockchain game development platform
• possible wallet of choice for Samsung
• world's first native multi-swap wallet integration using Ethereum's ERC-1155
Theta (THETA) Price: $0.148
• Theta's innovation is set to disrupt today's online video industry much in the same way that the YouTube platform did to traditional video back in 2005. "One of our biggest challenges had been the high costs of delivering video to various parts of the world, and this problem is only getting bigger with HD, 4K, and higher quality video streams," said Steve Chen, Co-Founder of YouTube. "I'm excited to be part of the next evolution of the streaming space, helping Theta create a decentralized peer-to-peer network that can offer improved video delivery at lower costs."
Binance (BNB) Price: $11.52
• number one crypto exchange
BNB Pros:
• Launch of fiat currency trading pairs.
• Launch of its decentralized exchange (DEX) (
https://www.coindesk.com/binance-launches-public-testing-for-decentralized-exchange
) which is great way for Binance to disrupt itself, prepping for the future of
self-sovereign money
and
self-sovereign ownership of data
. DEXs offer zero counterparty risk, superior speed, lower transaction costs, and are censorship resistant. Think of a DEX as bit torrent peer-to-peer file sharing but for trading cryptocurrencies.
• Has established itself in multiple jurisdictions thus could address any SEC issue by shutting down US operations just as major crypto exchange Bitfinex did in 2017, or addressing the SEC's requests/paying a fine. The SEC would likely try to fine Binance as the US government remains revenue hungry, but Binance is cash rich so this would be a non-issue for Binance.
• Started out as a centralized, for-profit corporation, achieved meaningful scale, and now looks to decentralize itself to become the first internet-sovereign organization, and the largest
decentralized autonomous corporation (DAC)
.
• On ramping of fiat for those in distressed countries such as Venezuela and Argentina.
• The CEO knows trading platforms better than most thus has sold his IP to Goldman Sachs, Credit Suisse, Morgan Stanley, etc, was a top gun at blockchain.info (the first major bitcoin wallet site hosting millions of users), and has built futures trading platforms for major exchanges such as OKCoin.
• The Blockchain Transparency Institute examined 130 exchanges of which 80 support wash trading. The institute reported that the trading volumes reported by Binance were 100% real. In addition, the largest OTC desks and market makers in the crypto industry have said Binance is by far the most liquid spot trading exchange.
• Binance has 435 trading pairs. By contrast, major exchanges Bittrex has 302, Coinbase 61, and Kraken 73.
BNB Cons:
• Concerns the SEC could be heavy handed and go after Binance among other major exchanges. If the SEC was overly aggressive, this would most likely create a major low thus buying opportunity in bitcoin/crypto. That said, the SEC seems to be taking things in stride, knowing this is new territory, and some within the SEC have indicated they believe in blockchain technology. This implies the SEC is more likely to take a measured approach to the introduction of firm regulations across the cryptospace. Also, these two points should be considered:
→ Binance is a decentralized organization with no headquarters. It has no bank accounts for its exchange making it challenging for any government to seize its financial assets.
→ Binance is one of many major exchanges that trade unregistered securities. It is no more exposed to regulatory risk than its competitors. Its decentralized structure make it more robust than its major competitors.
• 23.2% of customers come from the U.S. If Binance has to cut all U.S. customers, this will have a material impact on Binance trading volumes.
• Binance's token BNB could be deemed to be an unregistered security token, rather than a utility token. However, Binance is decentralizing so it could eventually meet the requirements of the Hinman Test, just as the SEC ruled that Ethereum was sufficiently decentralized so as to not be considered a security.
Downloadable report link
on Binance (BNB).
State of Cryptocurrencies
That said, bitcoin remains overvalued, so it will most likely retest major lows in the coming months, pulling down most all other coins with it. But in the meantime, price rules all, and these four companies are well outpacing bitcoin in price performance.
2019 Bitcoin/Crypto Tailwinds:
• BTC ETF approved
https://www.coindesk.com/the-sec-is-now-reviewing-2-bitcoin-etf-proposals
• Increasing number of unbanked coming online using BTC
• SOV/Network Effect
• Increasing number of institutions launching bitcoin-related trading platforms such as the CME, CBOE, ICE, and NASDAQ. CME recently reported record levels of open interest so far for the first quarter of 2019: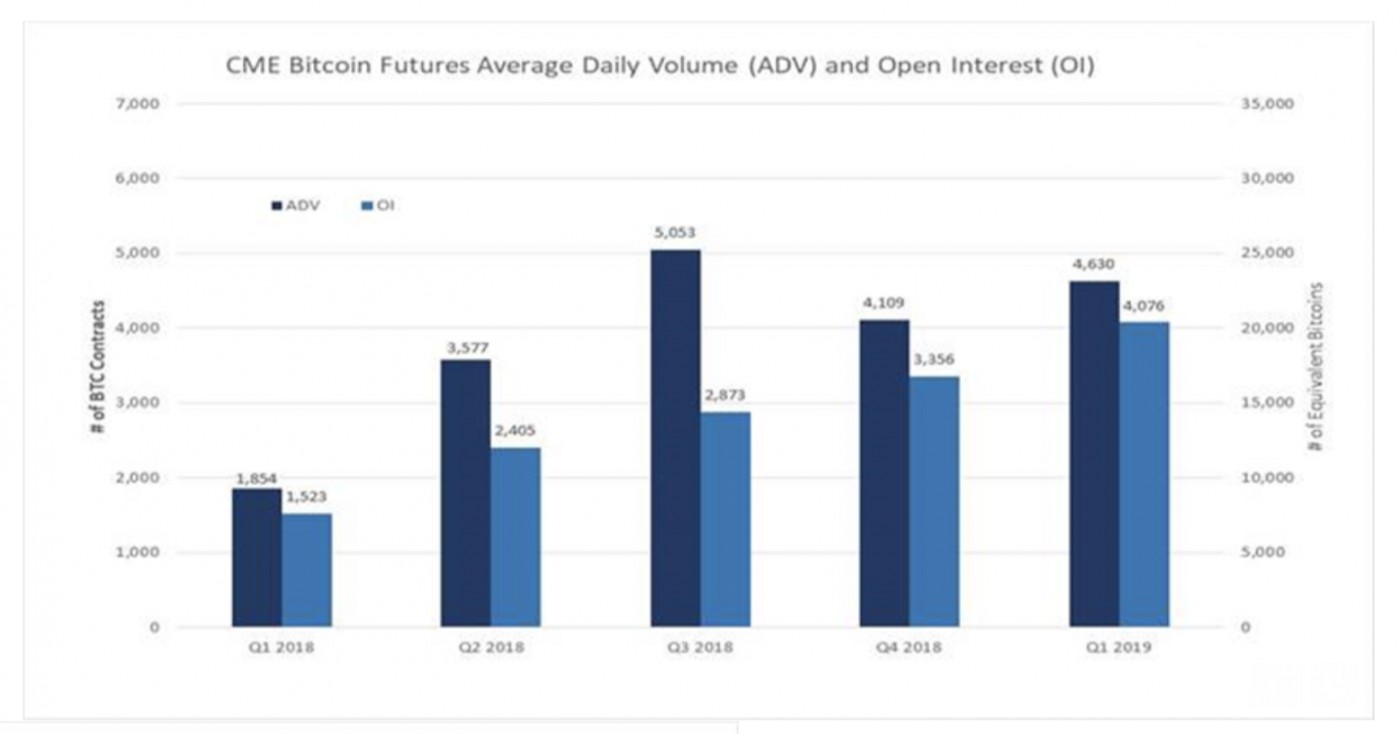 2019 Bitcoin/Crypto Headwinds:
• Heavy handed regulation but this is ultimately good for the space as it will enable institutions to onboard blockchain technology, massively increasing transaction volume.
For further discussion on bitcoin going below $3000 before a major low is reached as well as crypto tailwinds and headwinds:
https://www.virtueofselfishinvesting.com/reports/filtered?p=1&categories=cr