With the market selling off into the close the past two days, it is interesting to note that two gold stocks, Newmont Mining Corp. (NEM) and Goldcorp, Inc. (GG) flashed pocket pivot buy points today as they each pushed up off of their 10-day moving averages and up through their 50-day moving averages as we see on the daily charts of each stock, below. Taken within the context of last week's subtle pocket pivot buy signal in the gold futures on August 12th and our PPR piece of that day, these pocket pivots in gold stocks are interesting and something we consider to be "of note."
The one caveat in these pocket pivot examples is the much heavier downside volume that preceded these recent uptrends off the lows of late July in each stock. We would prefer to see upside pocket pivot volume that is greater than these prior, big downside bars.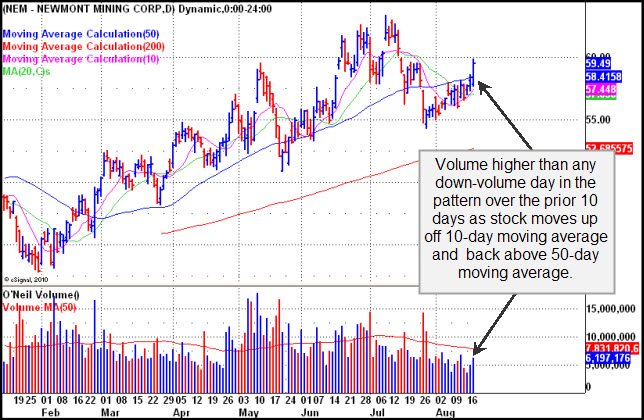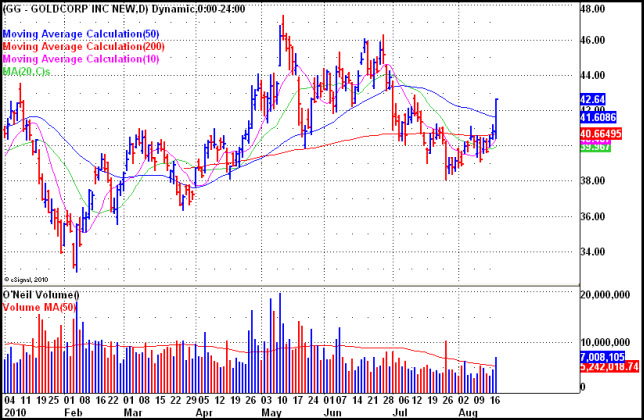 Perhaps more constructive among the precious metals stocks is Silver Wheaton Corp. (SLW), shown below on a daily chart, which today made a new closing price high on volume that qualifies as a pocket pivot "volume signature," namely, where the volume exceeds any down-volume day in the pattern over the prior 10 trading days. In this case SLW flashes both a pocket pivot buy point and a standard new-high breakout buy point. The question that needs to be answered with all of these precious metals plays we show here is whether they are buyable. Technically, the answer is yes, using their 50-day moving averages as selling guides, but in the end they are still stocks, and should the general market get into any trouble here they may pose the same downside risk as any other stock. Hence downside stops are important to keep in place in the event one chooses to go long any precious metals situation, or even the GLD, representing the metal itself, which also flashed a pocket pivot buy point on the futures on August 12th, as previously mentioned above.