MDM has switched to a BUY signal. The PCE and CPI numbers have been bullish for the markets as they anticipate these numbers to drop further. But of concern are still the sticky components of inflation which could keep these numbers elevated for prolonged periods of time. In consequence, this is intended to be a potentially quick trade as we will keep stops tight to minimize risk while riding the trend. Despite China reducing interest rates, US and global M2 liquidity have remained on a loose downtrend with slightly lower highs and lower lows which acts as a headwind for stocks. On the other hand, this remains one of if not the most bifurcated markets driven primarily by AI-related stocks. Some of the largest blue chip names which are heavily weighted in the major indices such as the NASDAQ and S&P 500 are involved with AI technology. NVDA, GOOG, AAPL, AMZN, META, and MSFT are some examples. This has pushed these major averages into uptrends though they have been taking a pause over the last month while the broader based markets in both stocks and crypto remain questionable at best.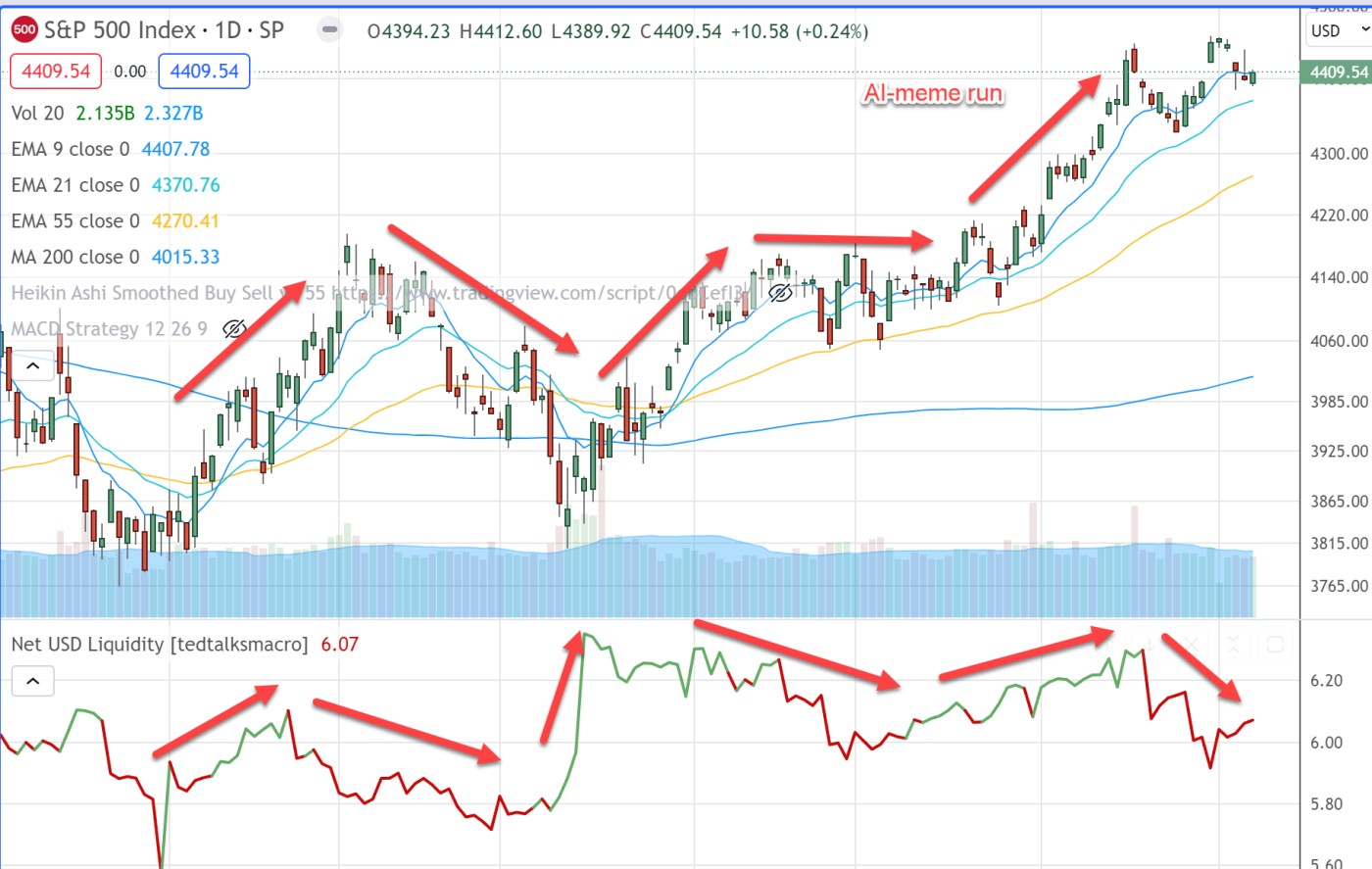 Suggested ETFs (Note: Many members buy the standard ETFs or their preferred ETFs. This list serves as a guide as to which ETFs we think may outperform, but the key point is to be on the right side of the market regardless of which ETF or ETFs one chooses.)
1-times

SPY (S&P 500)

QQQ (NASDAQ-100)
BOTZ (Global X Robotics & AI)

2-times

SSO (S&P 500)

QLD (NASDAQ-100)

3-times

UPRO (S&P 500)

TQQQ (NASDAQ-100)

TECL (Direxion Trust Technology)


NOTE: This is a suggested list. Investors may wish to become acquainted with the full range of available ETFs, and should make an effort to understand how these ETFs are created and what their components are, as well as being aware of the downside risks involved, especially with leveraged ETFs. Certain ETFs may be more appropriate depending on one's risk tolerance levels. Typing in keyword 'ETF' into the FAQ keyword search bar or going here https://www.virtueofselfishinvesting.com/faqs/search?p=1&q=etf and visiting this site https://etfdb.com/ can be instructive.