MDM has switched to a
BUY
signal. With the NASDAQ Composite through its 50dma helped by tech juggernauts GOOGL, AMZN, and MSFT reporting strong earnings, and with volatility which had been mostly noise cleaning up for the time being, the path of least resistance, for now, is up.
Prior to this confirming action, markets were vulnerable to pullback "noise" as we witnessed during the only two other major corrections since the financial crisis of 2008, the year of the start of quantitative easing: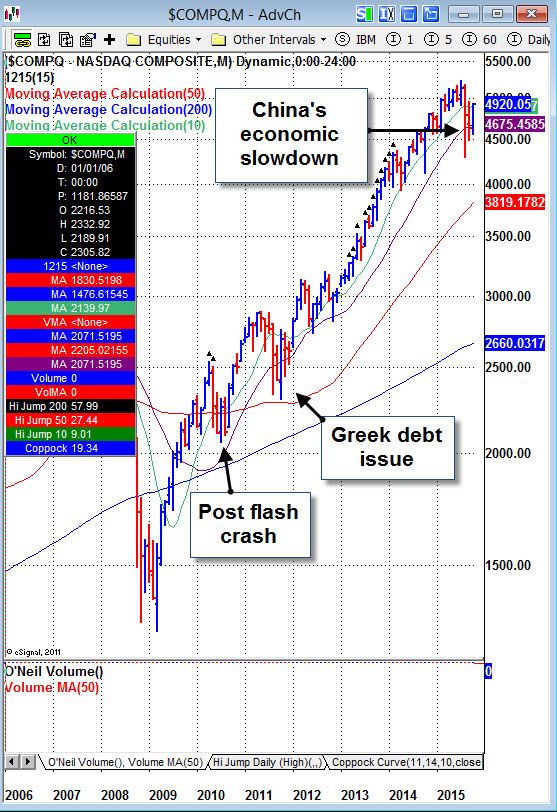 But as you can see, after major corrections, it took the market a number of months of retesting lows before it resumed its uptrend:
2010 =
3 months
of retesting/backing-and-filling after the correction
2011 =
4 months
of retesting/backing-and-filling after the correction
We are currently in the
second month
after the current correction in 2015 so this upswing may be short-lived should the market retest prior lows. Nevertheless, the Market Direction Model does not predict but acts in real-time on the data that is presented. And sufficient data is showing the path of least resistance is up, at least for now.
Suggested ETFs (Note: Many members buy the standard ETFs or their preferred ETFs. This list serves as a guide as to which ETFs we think may outperform, but the key point is to be on the right side of the market regardless of which ETF or ETFs one chooses.)
1-times
SPY (S&P 500) (Lower risk, lower reward)
QQQ (NASDAQ-100) (Higher risk, higher reward)
2-times
SSO (S&P 500)
QLD (NASDAQ-100)
3-times
UPRO (S&P 500)
TQQQ (NASDAQ-100)
NOTE: Investors may wish to become acquainted with the full range of available ETFs, and should make an effort to understand how these ETFs are created and what their components are, as well as being aware of the downside risks involved, especially with leveraged ETFs. Certain ETFs may be more appropriate depending on one's risk tolerance levels. Typing in keyword 'ETF' into the FAQ keyword search bar or going here https://www.virtueofselfishinvesting.com/faqs/search/p:1/q:etf and visiting this site http://etfdb.com/ can be instructive.