Model switches to CASH/NEUTRAL.
The NASDAQ Composite has been trading in a choppy, sloppy manner since late November (the red bars are alert signals):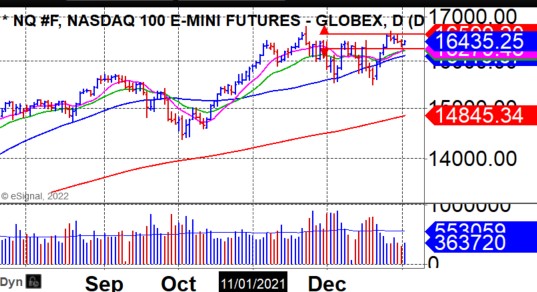 The number of cross currents has been material between C19, wages, unemployment, growth, and inflation thus it is best to go to the sidelines for now. Powell left room for a reversal of his decision to double the pace of the taper or put off a rate hike though if economic conditions show sufficient strength, a hike could come as early as March 2022. Meanwhile, some major central banks have started hiking rates including the 25 basis point hike by the Bank of England on Dec 16. Notably, most all members of the U.S. Federal Reserve are now hawkish, a change of tune from their position a couple months ago when Powell said inflation was transitory but then removed the word as he realized inflation was persistent and higher than expected. But a substantial amount of QE, while being tapered, along with the raising of the debt ceiling is still a tailwind to the stock market. At a $30 billion/mo reduction in QE, tapering should be complete by March. If the major averages don't stage a taper tantrum by then forcing Powell's hand once again, expect headwinds as it opens the opportunity for Powell to start hiking rates. Debt is too large at this stage for any meaningful rate increases to occur before the major averages undergo material corrections, ie, beyond -20%.