The market put in a strong performance over the last couple of days. But like a broken record, major U.S. stock market indices could baby-step into new highs as they have done repeatedly this year: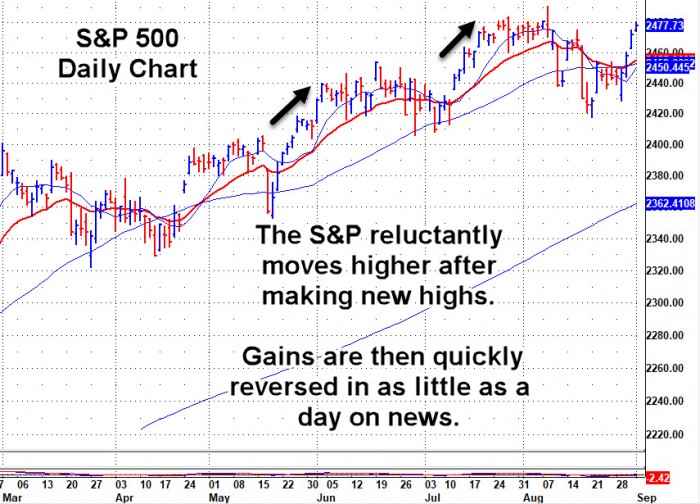 And it was just a few days ago that the market, once again, looked as if it would unravel based on the way leading stocks and major averages were behaving. Both the S&P 500 and NASDAQ were under their respective 50-day moving averages while the Russell 2000 was under its 200-day line. But very shallow corrections followed by weak rallies to new highs have been the way of the market especially this year. The S&P 500 since it was formed in 1957 has never had more shallow corrections than it has had so far this year.
As the market continues to push on a string, here are six warning signs this QE-induced sovereign debt bubble may burst sooner than later:
➤ Gold has been in an uptrend since July. It has been in an overall uptrend all year. Gold is the fear trade. When serious problems arise, money tends to flow into gold.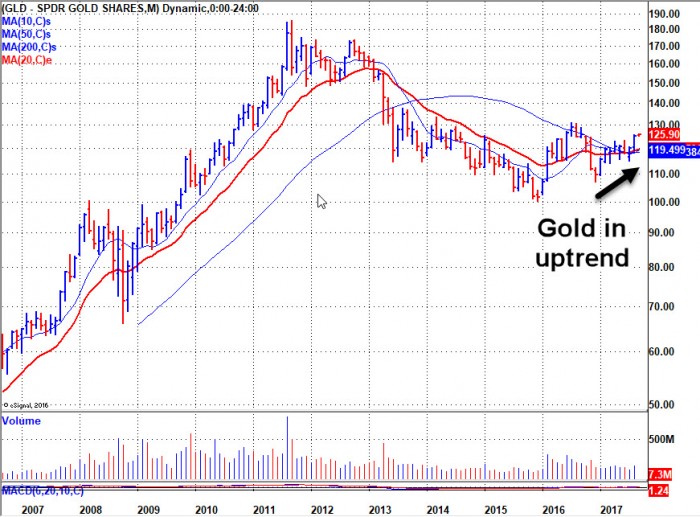 ➤ The U.S. dollar has been in the steepest downtrend all year since 2010. The U.S. dollar is the world's main fiat currency. The massive amount of global debt at present may be finally weighing on fiat currencies such as the dollar.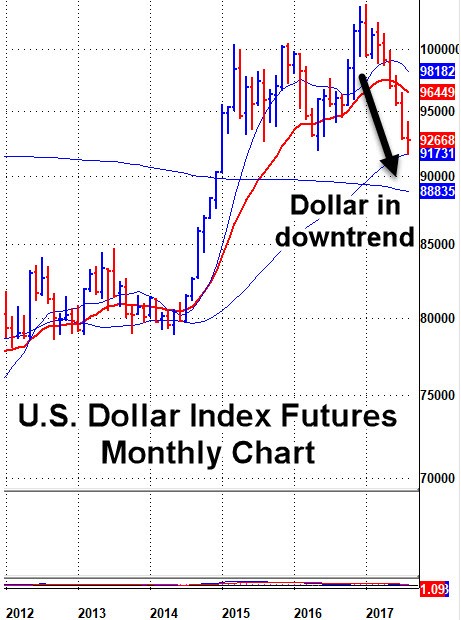 ➤ Despite the GDP number coming in ahead of expectations at 3.0% vs. est 2.7%, the odds of a rate hike by the end of the year based on fed futures actually dropped from 38% to 36%. Odds used to be above 50%. A reluctance to hike suggests a weaker economy thus less headroom.
➤ Money printing via QE continues at record levels.
➤ The situation with North Korea remains on edge as China plans to use NoKo as a proxy as it is in China's strategic interest to pressure the US and its allies without triggering a war between China and the US. As China rises in power, it will economically surpass the US within the next few years.
➤ Some leading stocks have managed to hold their own while others remain below their 50dmas. NFLX, GOOGL, and AMZN are attemping bounces off of or back up toward their 50dmas while FB and AAPL remain near new highs. Chinese names have been pummeled though a few have managed to buck market weakness. Small caps are bouncing after showing material weakness. The Russell 2000 is making its way back above its 50dma but has lagged the larger cap NASDAQ all year. The Russell 2000 is considered a risk on index but since it has been lagging for several months, this suggests institutions have been less willing to risk capital in smaller names. This has been true since 2014 as the QE sovereign debt bubble continues to grow to colossal proportions.
But this bubble could continue to grow well past expectations. Market wizard Tom Basso suggested the bubble was close to bursting way back in 2012 when he was interviewed by Trend Following Michael Covel. For those who don't know, Basso was one of the originals interviewed in Jack Schwager's Market Wizards book. Basso said QE would eventually lead to a serious bear market of a magnitude greater than 2008 with a sustained period of elevated volatility. While we agree with this assessment, the question is when. With all the major foreign central banks continuing to print money at record levels, they may be able to continue to kick the can down the road for a while longer. But as Tom Basso said, trend followers will hugely profit from such a major market correction when it comes, but because it may be well beyond what the world saw in 2008, it may not be a happy victory if the state of the world is left crippled.
Meanwhile, we have armed readers with timing strategies by buying ETF UVXY via the 620 MACD buy signal.
Just prior to spiking volatility which is accompanied by a spiking UVXY, UVXY buy signals emerge. The profits made on true signals more than outweigh the tiny losses on false signals.
And as always, readers are advised to keep stops tight, take profits when you have them in context with a stock's chart, and remain fluid in your approach since this market can go from bear to bull to bear to bull on a dime. Our Wyckoff undercut & rally and Voodoo volume dry-up formations in key stocks are formidable weapons of choice especially in this market environment.