Market Lab Report
by Dr. Chris Kacher
The Web3 Evolution Will Not Be Centralized™
Selling pressure on the NASDAQ Composite continues to mount though there was no distribution day on Friday despite the clear market reversal though volume was above average. The index, as opposed to the S&P 500, has had a cluster of higher volume down days over the last 20 trading days. It also logged a lower high and a lower low for the first time since March. That said, that lower low in March was the low before the market rallied once again, though the lower low in February led to the lower low in March. The question is whether the AI-meme stocks are starting to top or perhaps trade sideways before rallying again.
Both
Apple
and
Amazon
announced recently they are going all-in on AI. They are building AI into every product. The CEO of Apple Tim Cook said, "We view AI and ML as fundamental core technologies. And they are virtually embedded in every product that we build." That said, this is nothing new for Apple as they have been integrating AI into their products for some time. With Amazon, the e-commerce titan has all the incentive and infrastructure at its disposal to go all-in. Amazon has the money, talent, and most importantly, the world's biggest cloud infrastructure.
The key AI-meme stocks that are responsible for a large portion of the performance in the NASDAQ Composite and S&P 500 this year are mostly the leading trillion dollar plus companies that have obeyed their respective 20-dema's for many weeks so far this year. These are META, AMZN, AAPL, MSFT, GOOGL, and NVDA.
There is also the Global X Robotics & AI ETF which made lower lows for the first time this year. The number of high volume distribution days in this ETF has been pronounced over the last few weeks.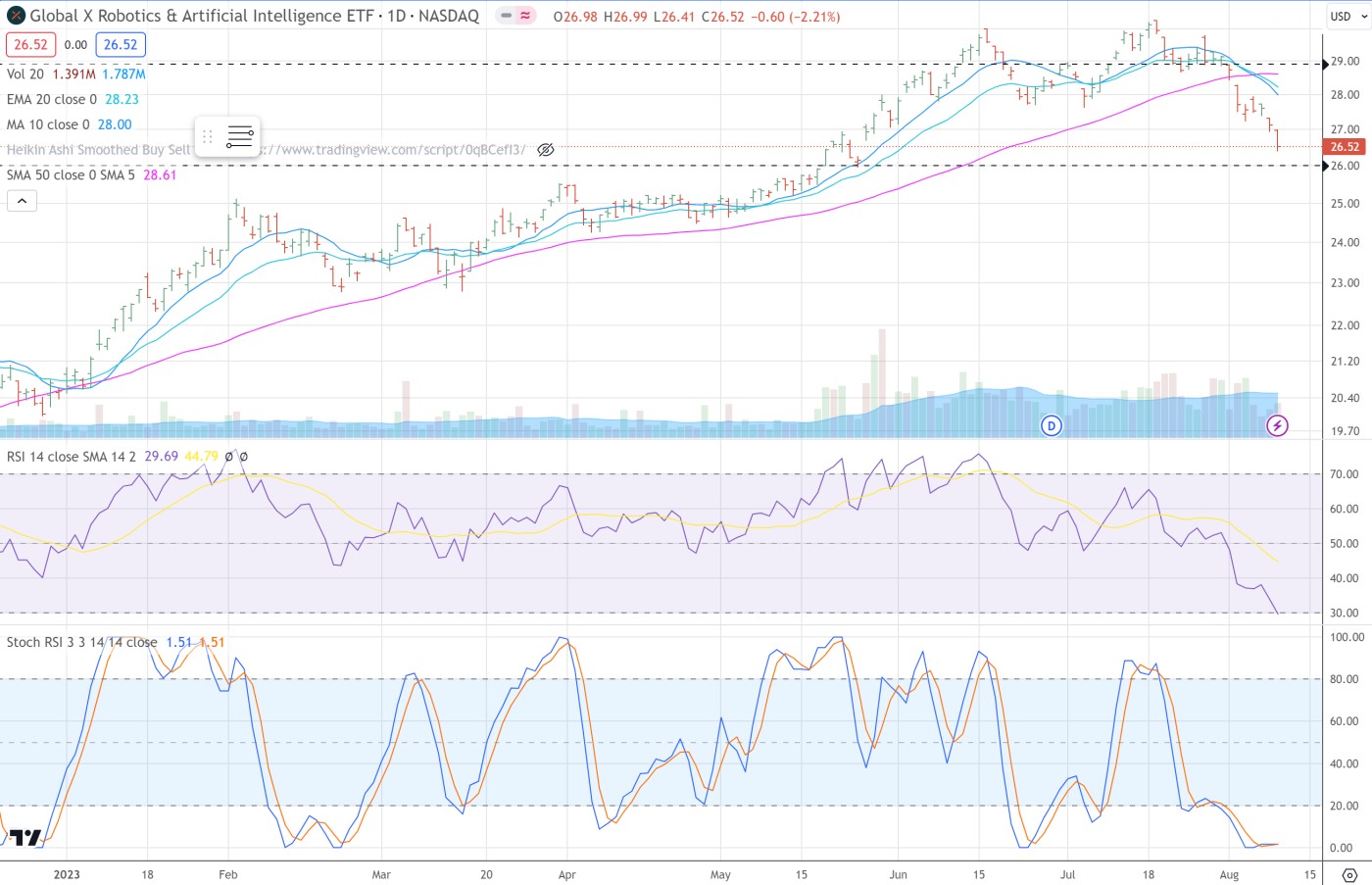 Among the top AI-meme stocks, MSFT reported weak earnings on Jul 25 after the close, causing it to gap lower the next trading day. It then made lower lows on Thursday of last week. The number of high volume distribution days has also been pronounced over the last few weeks.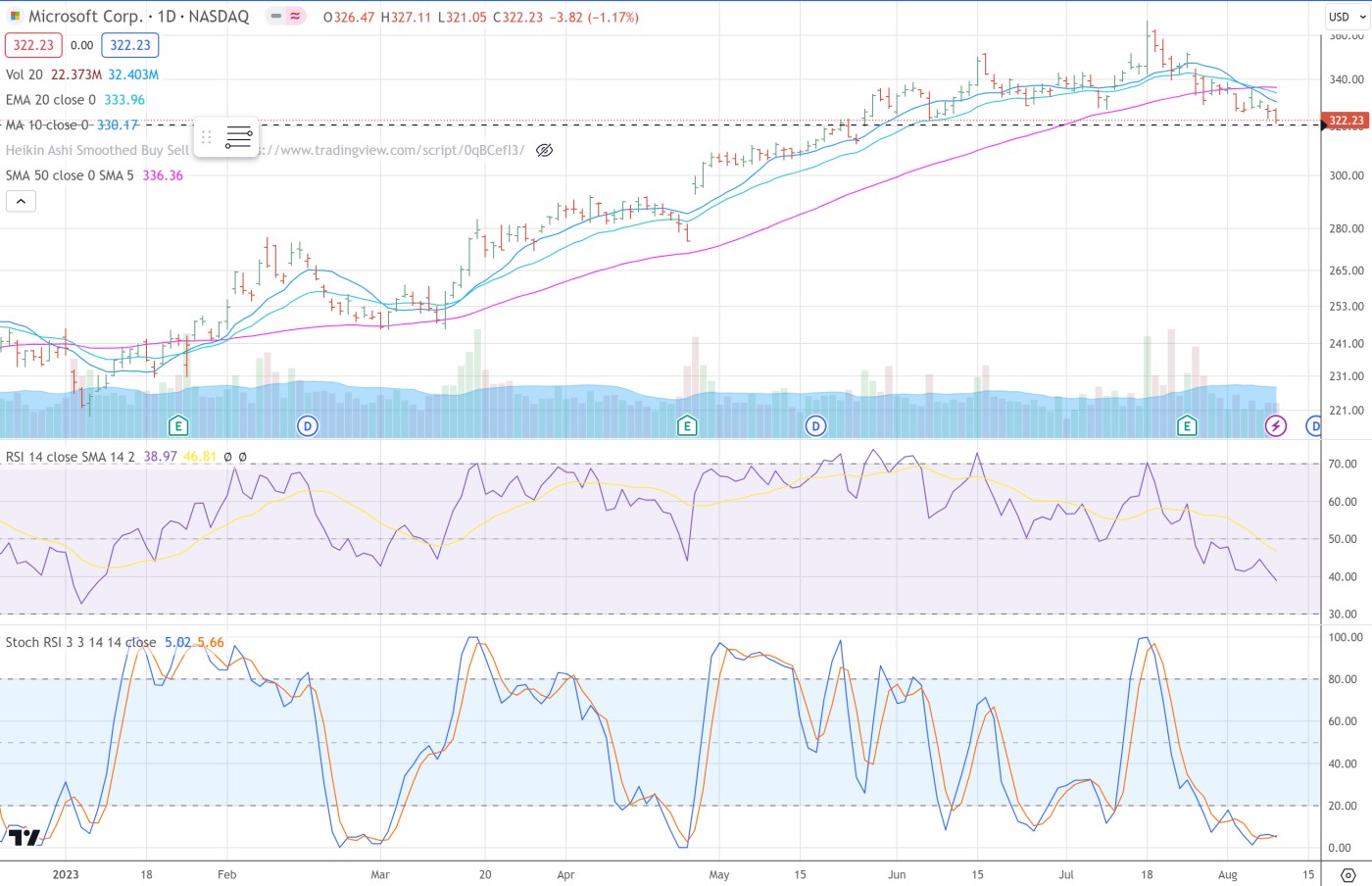 AAPL gapped lower on a weak earnings and guidance. It had its worst weekly loss in nine months.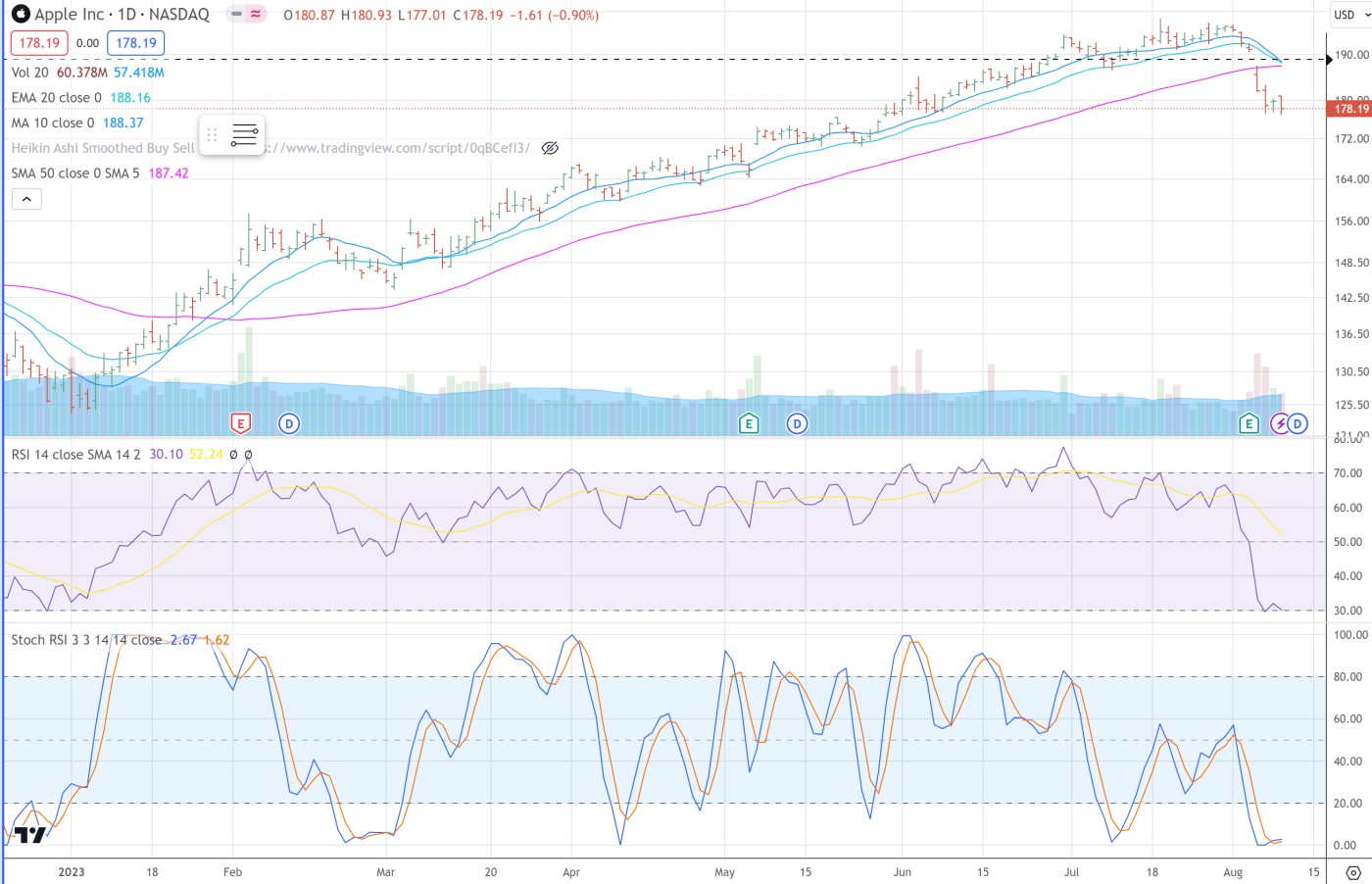 AMZN on the other hand gapped higher on a strong earnings report but has since undercut its BGU.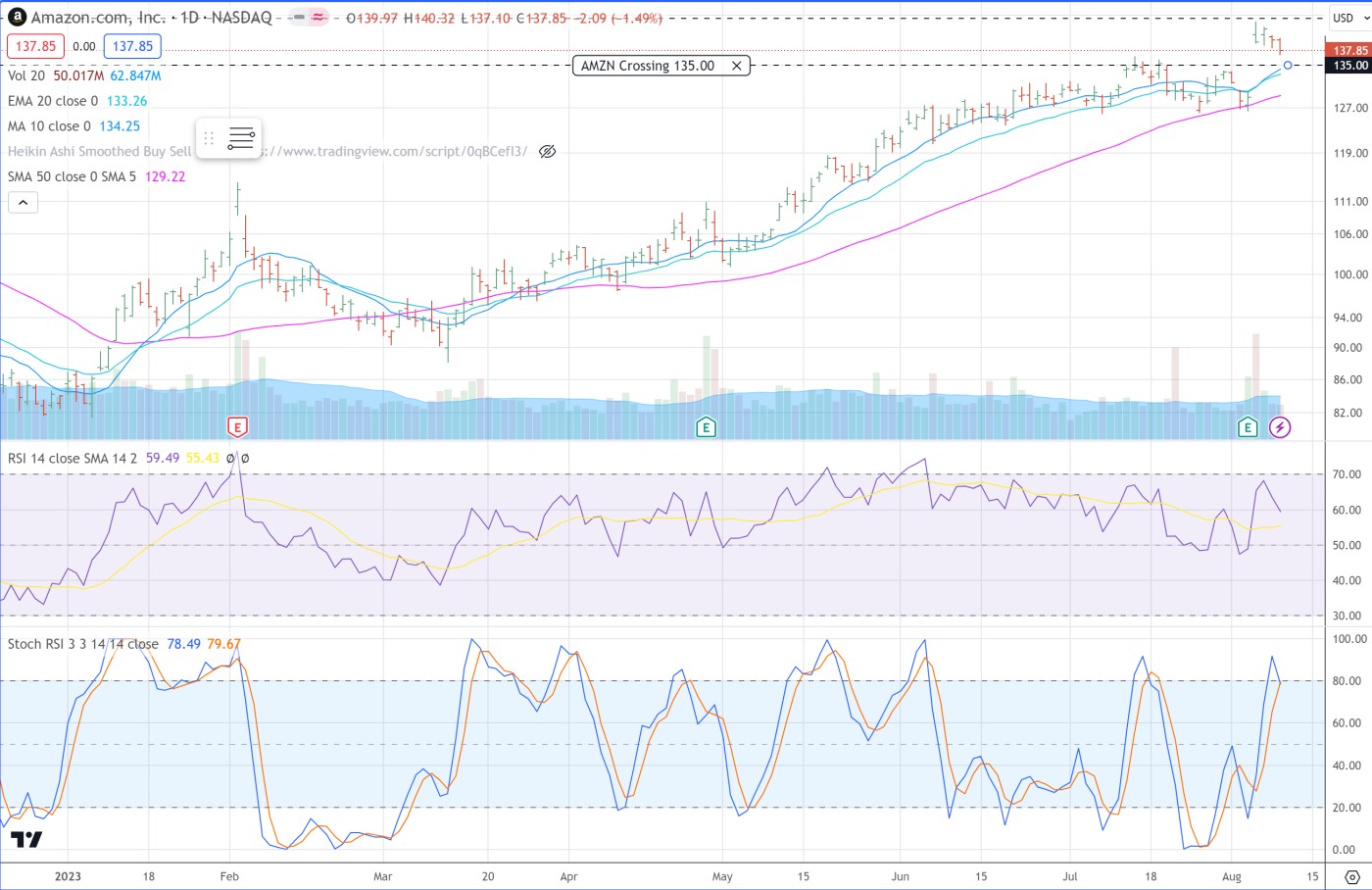 META also gapped higher on a strong earnings report but has since undercut the low of its BGU day due to weak action in the NASDAQ Composite.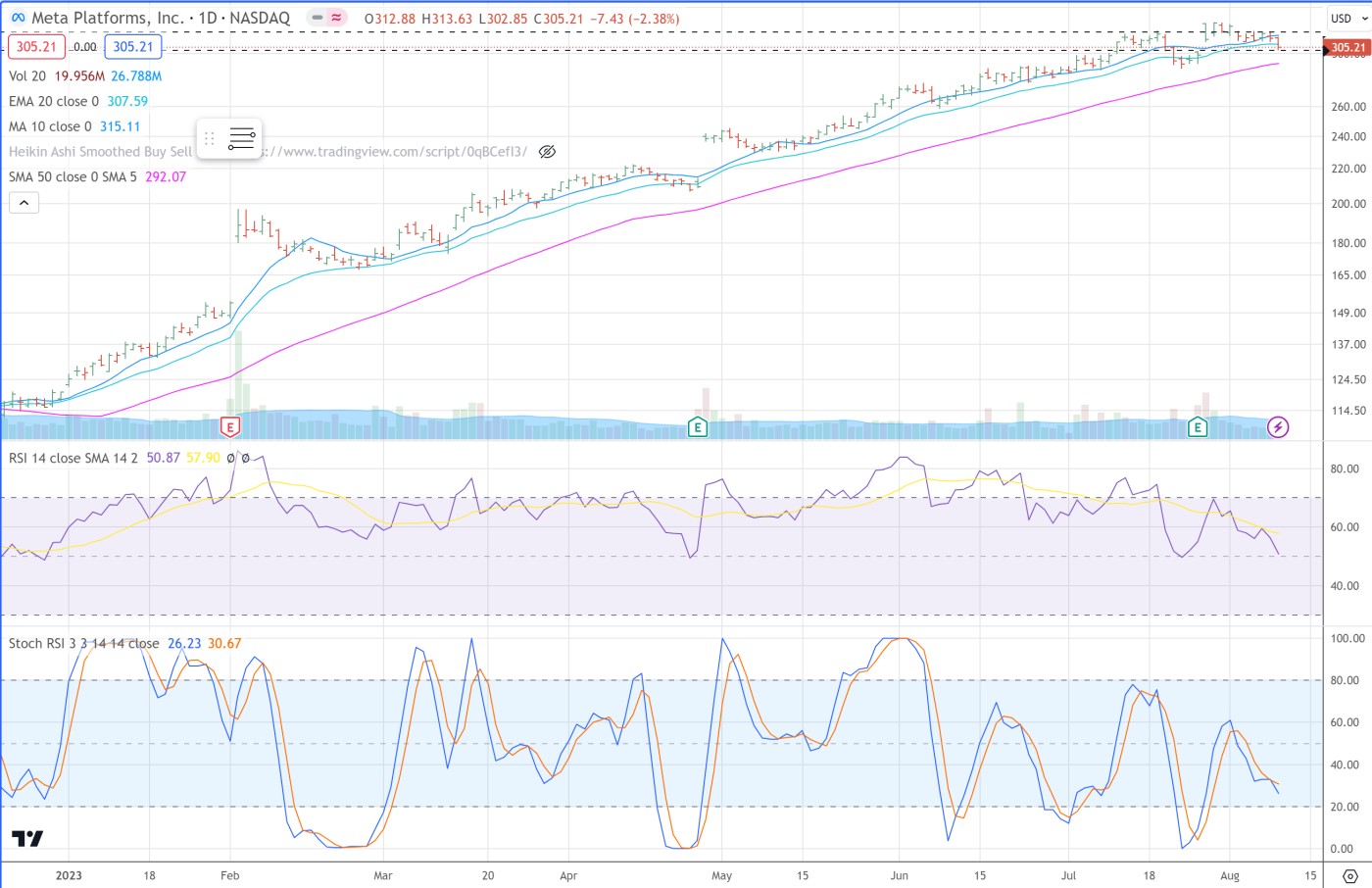 GOOGL gapped higher on a strong earnings report and has since been trading sideways also due to weak action in the NASDAQ Composite. If a BGU does not start to move higher within 6 days after the BGU day, it is suspect.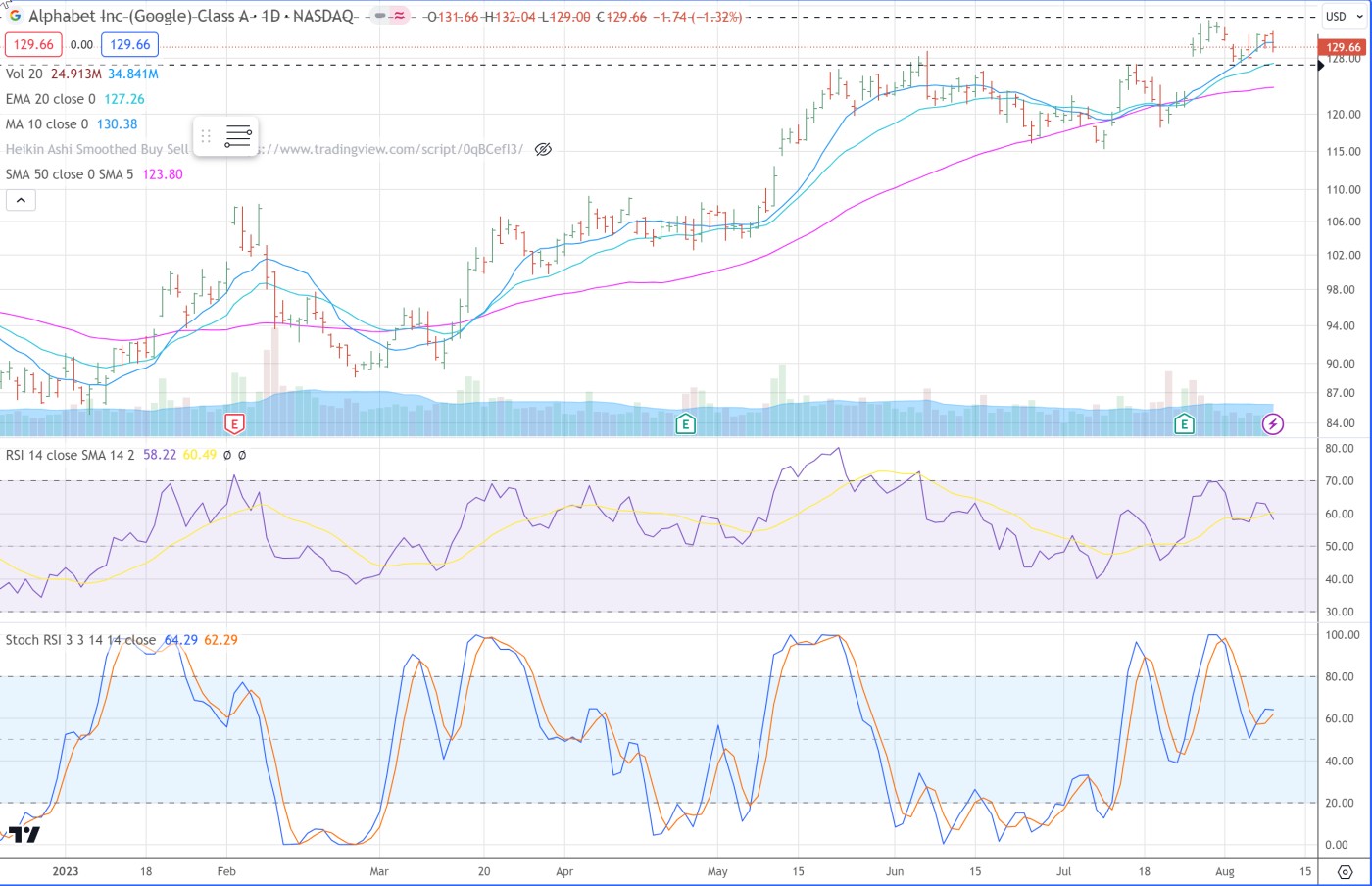 NVDA as the top performer of the AI-meme stocks has also traded sideways to lower over the last few weeks as it tries to get support at its 50dma. Its earning report is due Aug 23.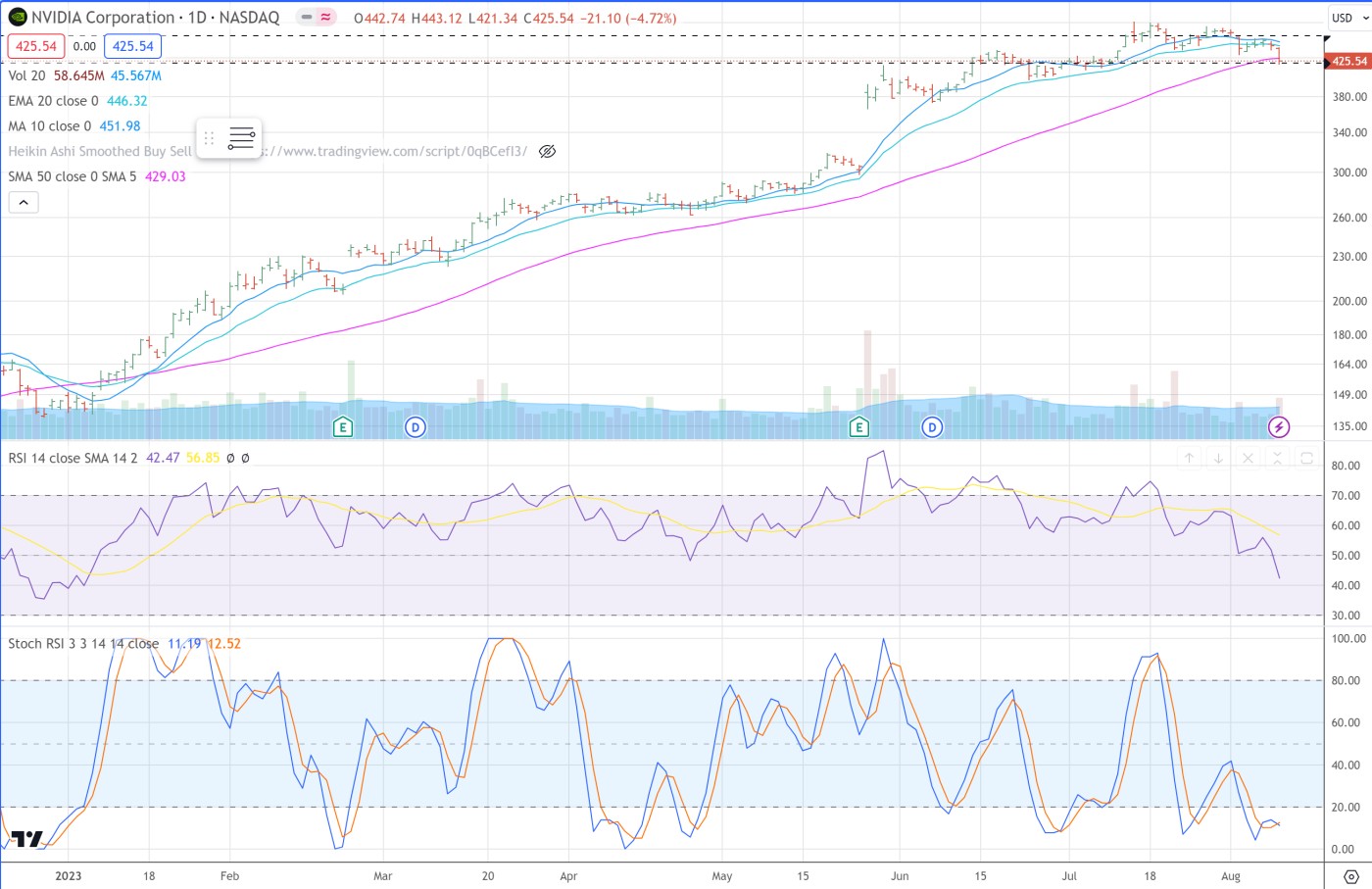 The tally so far:
Strong earnings and guidance from META, GOOGL, and AMZN. Weak earnings and guidance from AAPL and MSFT. Weak price performance from all names.
We will continue to watch the price/volume action of these key stocks as well as the NASDAQ Composite and S&P 500 to see how things unfold. Recession is likely delayed due to surprisingly decent economic data though this could increase the odds of another rate hike. Currently CME FedWatch shows rates hikes are over and will start to be reduced in March 2024.
FAQ
Q: I see some platform providers enable organizations to apply AI prompts to their secure, proprietary knowledge database, and I can't help but wonder if you and Gil have tested this with your own work. Can AI replicate your performance using your rules, tools, tactics and techniques? Have you tested that? Or can your work already be scraped by AI?
If it was possible, do you think AI together with your trading strategies would benefit or corrupt your work? Maybe the art of it cannot be replicated, so maybe it's not worth questioning.
A: The creative aspect of knowing which stocks to buy or sell, when to buy or sell, and how to position size or pyramid depend on one's personal risk tolerance profile and trading personality. The phrase "Know thyself" is key when it comes to trading. AI can profile a trader's personality, risk tolerance, and perhaps provide suggestions, but the myriad of stock screens we create are equivalently efficient. What is key when executing trading strategies is that one sticks to one's discipline and knows the rare time to override their rules at critical moments. One must also continue to monitor new data on a real-time basis so one stays on top of any material change that may occur in the markets which may cause them to fine-tune or even replace some of their strategies. AI has not come this far as this is a form of artificial generalized intelligence (AGI) which is still a number of years off. That said, aspects of generative AI can be helpful perhaps in data aggregation and assimilation. But the platforms we use already do this sufficiently well.