Market Lab Report / Dr. K's Crypto-Corner
by Dr. Chris Kacher
Quantum Poodles Bringing Trillions to Blockchain™
So far, on- and off-chain metrics have been good at identifying major cycles and corrections within bull cycles. Nevertheless, one metric known as pi currently suggests a possible major top. The past times that the 111dma (orange line) crossed up above the 350dma x2 (green line), it signaled a market top.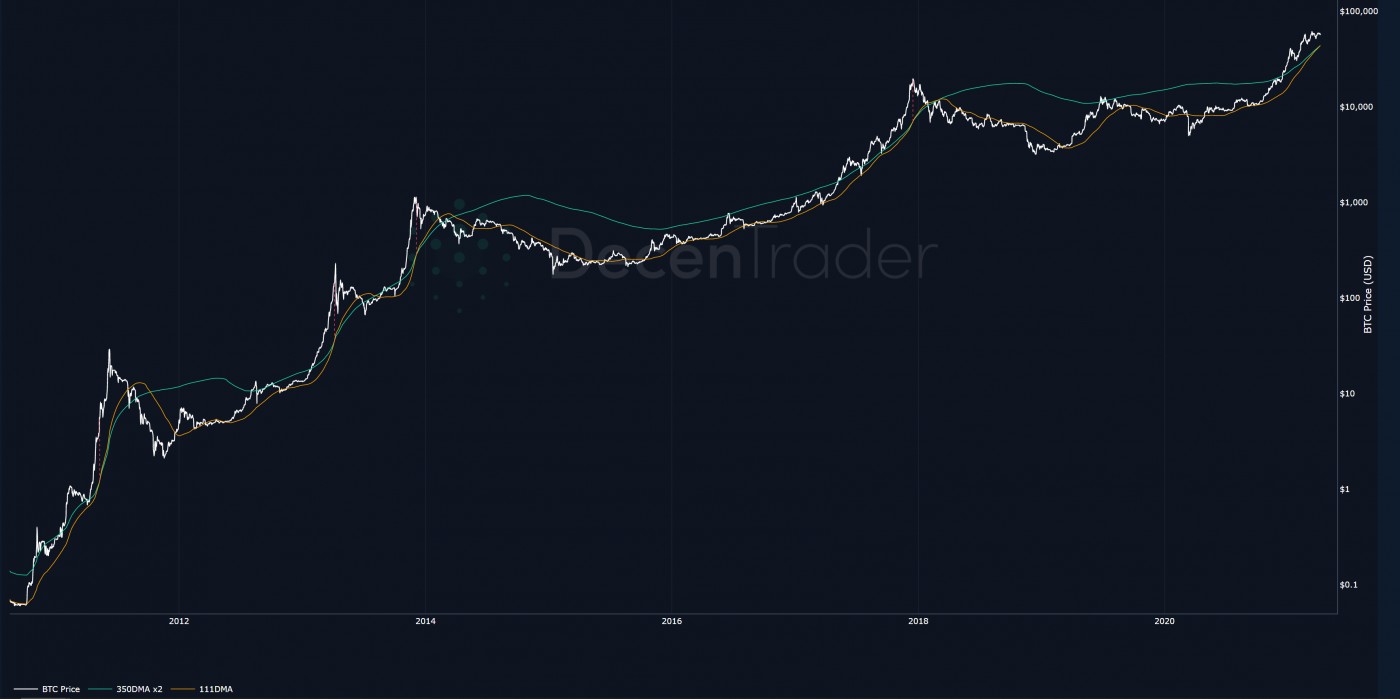 In addition, Bitcoin is close to its 21-week ema which would suggest the top is in for Bitcoin if it moves below it then cant close above it based on its trading history since 2016.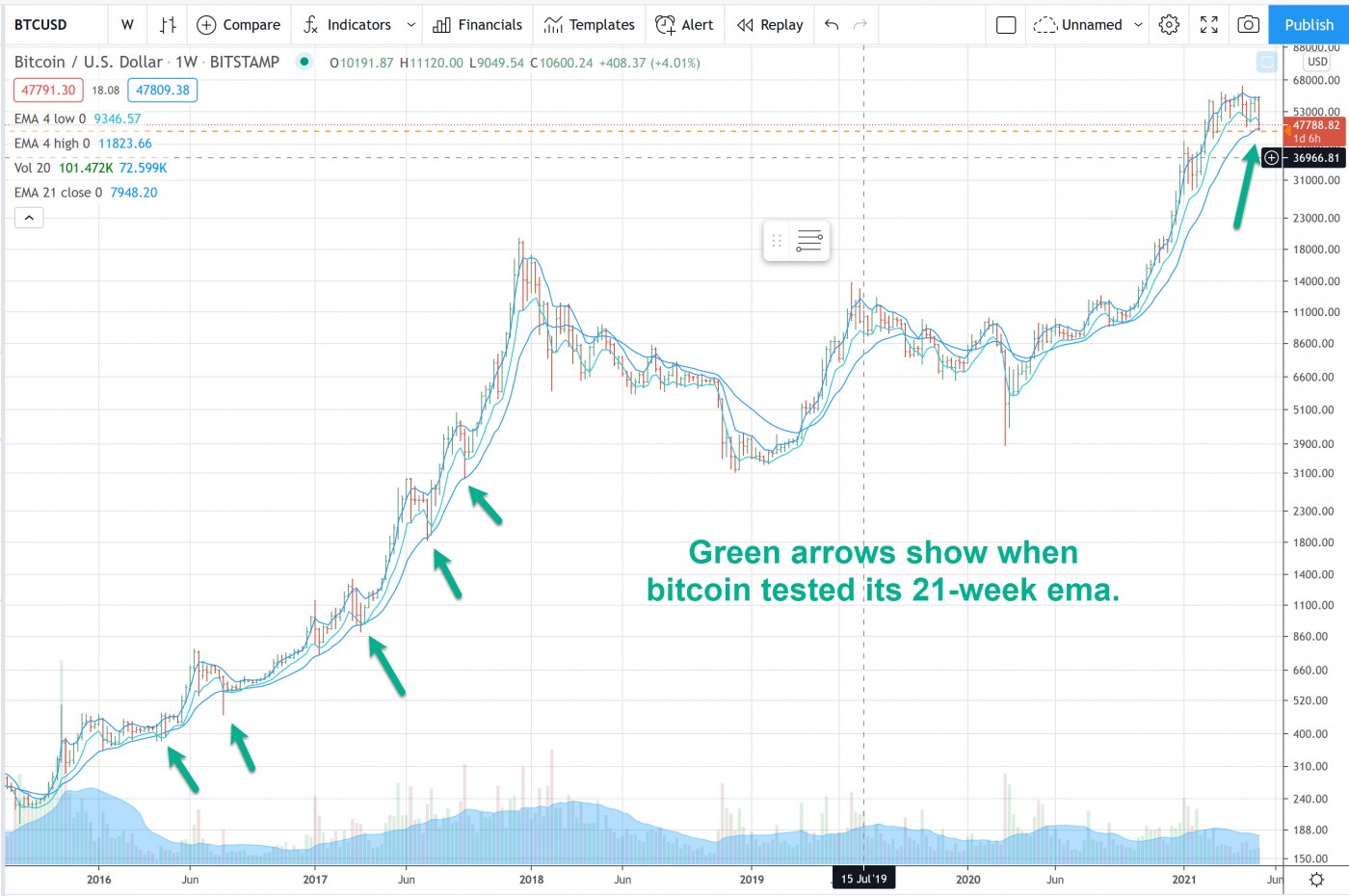 But both indicators cannot account for the fundamental differences between today's market and prior markets. Institutions and companies are onboarding cryptocurrencies. DeFi is a game changer for the financial system. NFTs represent an evolutionary jump in property rights.
In addition, we have a backdrop of reliable metrics such as S2F (stock-to-flow) that suggest the bull market is far from over, but instead, we are in a typical sharp correction within the confines of a bull market. Bitcoin had several such corrections in both the bull markets of 2012-2013 and 2016-2017 before it had a major top.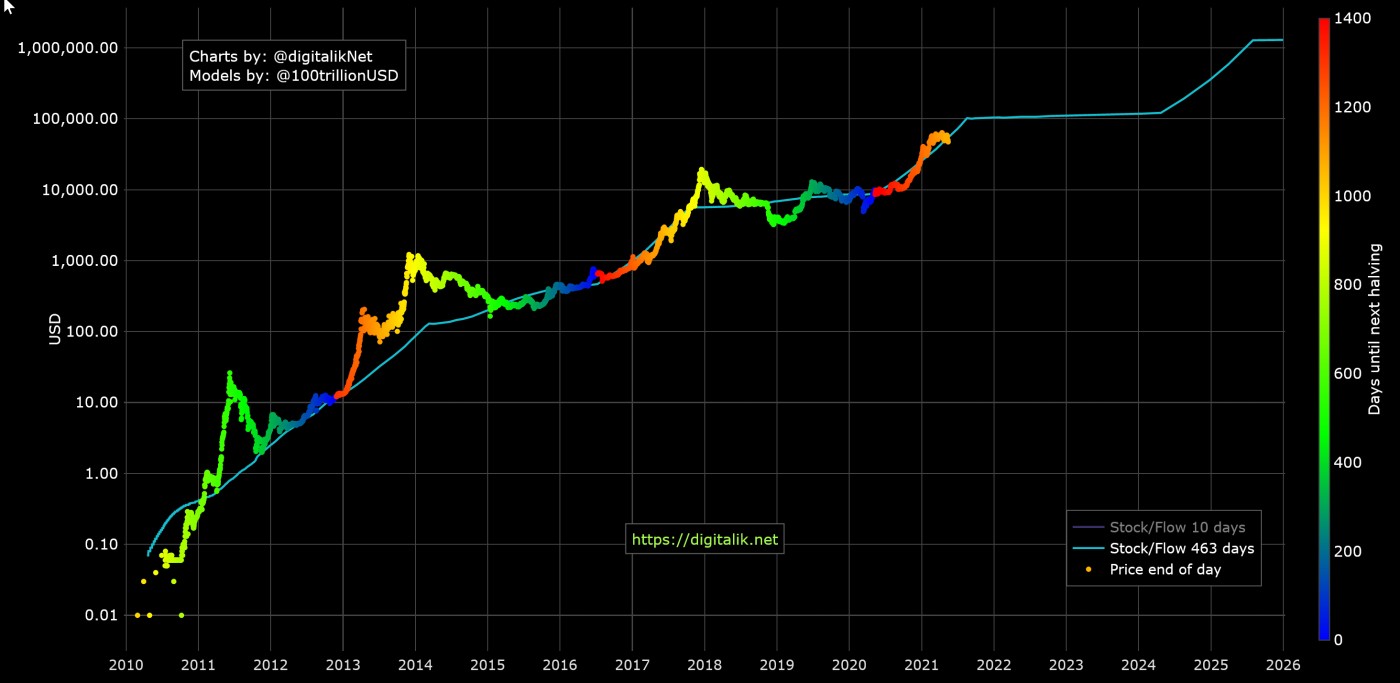 Today, whales use various metrics such as those showing excessive greed to shoot down the market by forcing liquidations in futures. A cascade of selling occurs across cryptocurrencies, then they come in and buy at a lower price which creates the sharp 'V' bottoms seen on daily and even hourly charts.
Another fundamental difference between today's and prior bull markets is that Ethereum and related top alt coins may be attracting capital away from bitcoin on a longer term basis. They finally are showing transformational use cases with huge utility compared to prior bull markets such that institutions are now looking to buy and companies are looking to onboard. The recent launch of Ethereum ETFs only help fuel the supply shortage of Ethereum.
While Bitcoin has been lagging as of late, this also occurred in mid-2017 for nearly two months. Currently, bitcoin has been sideways since mid-February, or about 3 months. Other flagship coins such as Ethereum and Binance (BNB) have been trending higher.
Bitcoin: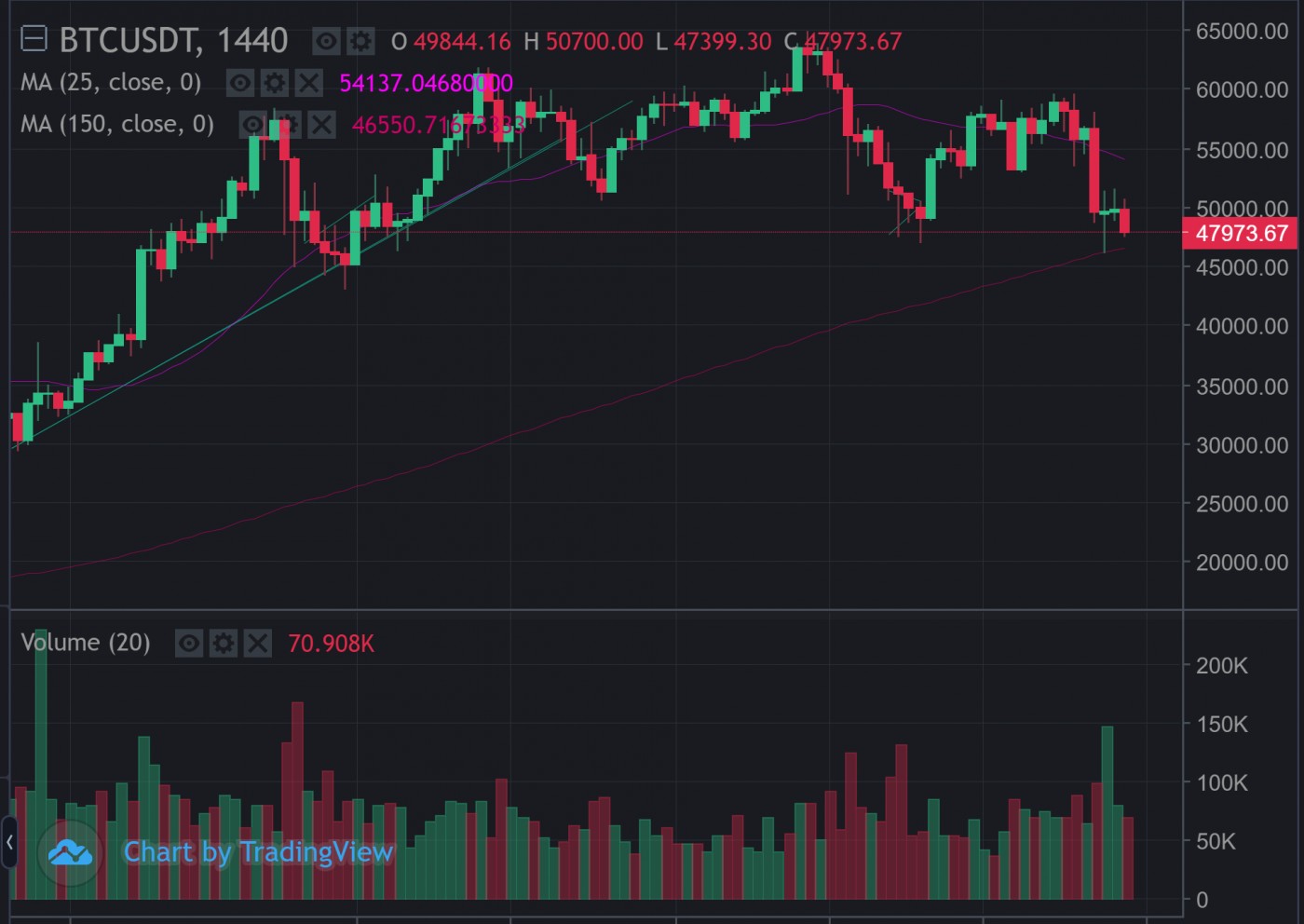 Ethereum: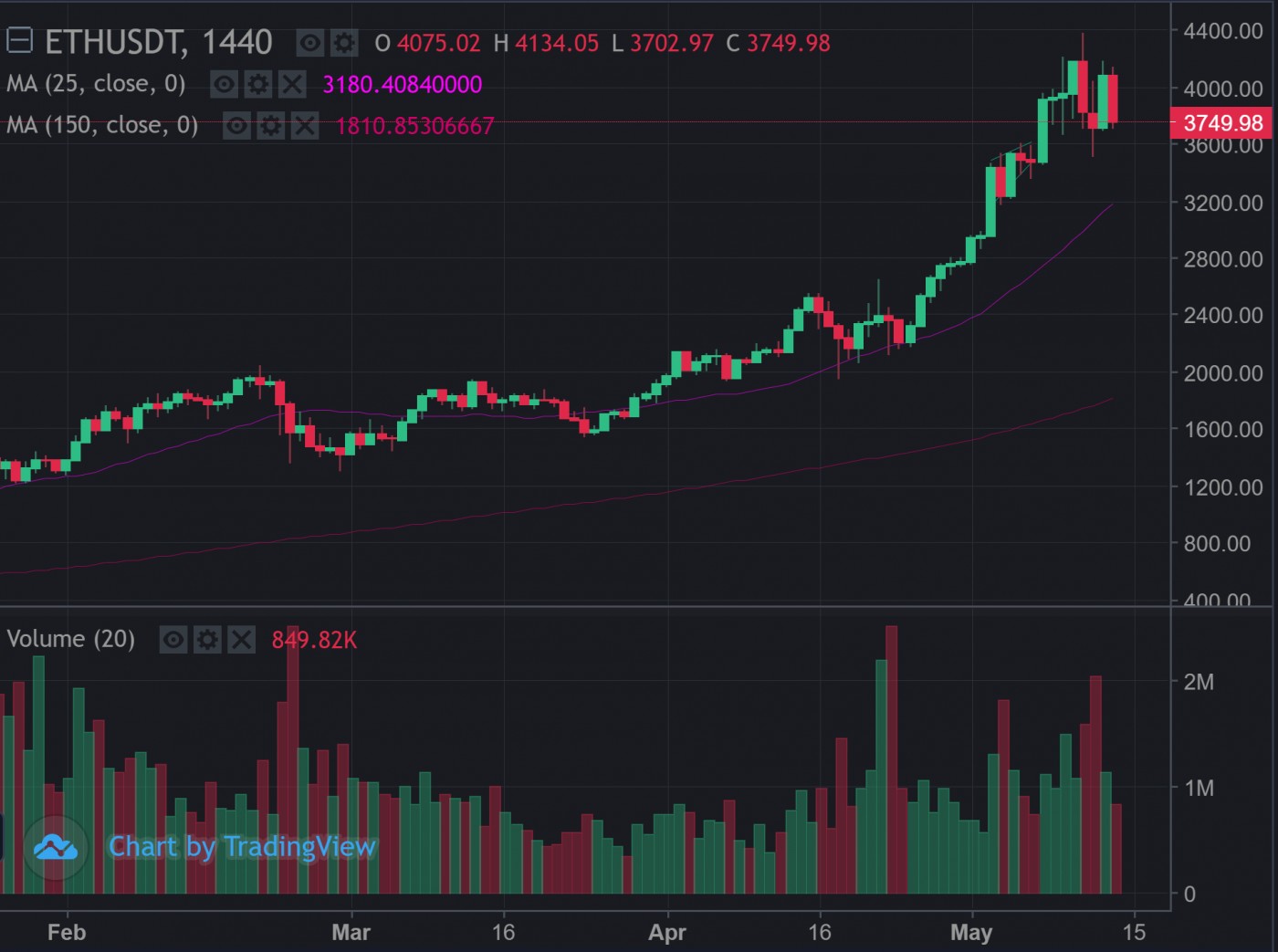 Binance: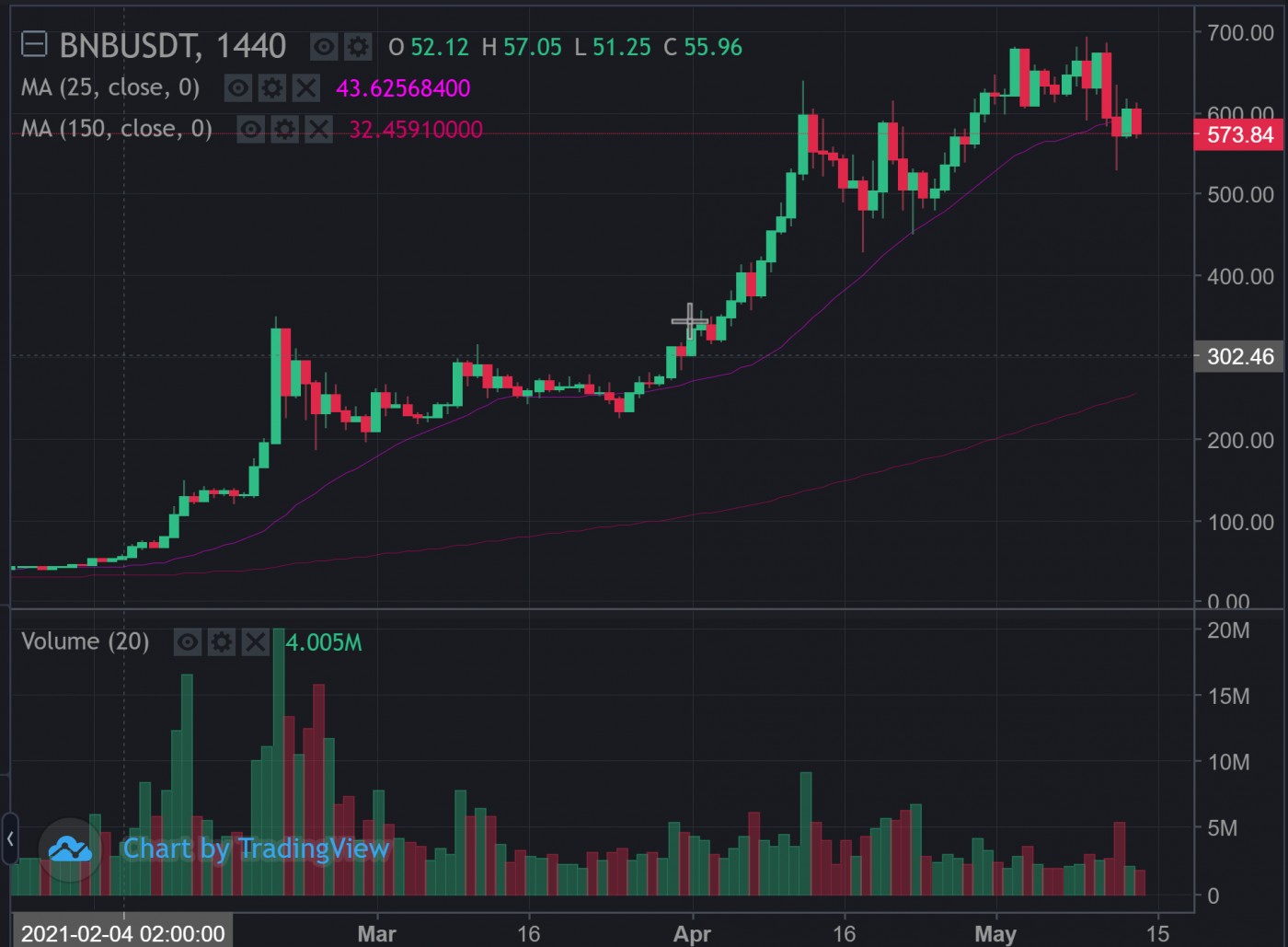 Cardano: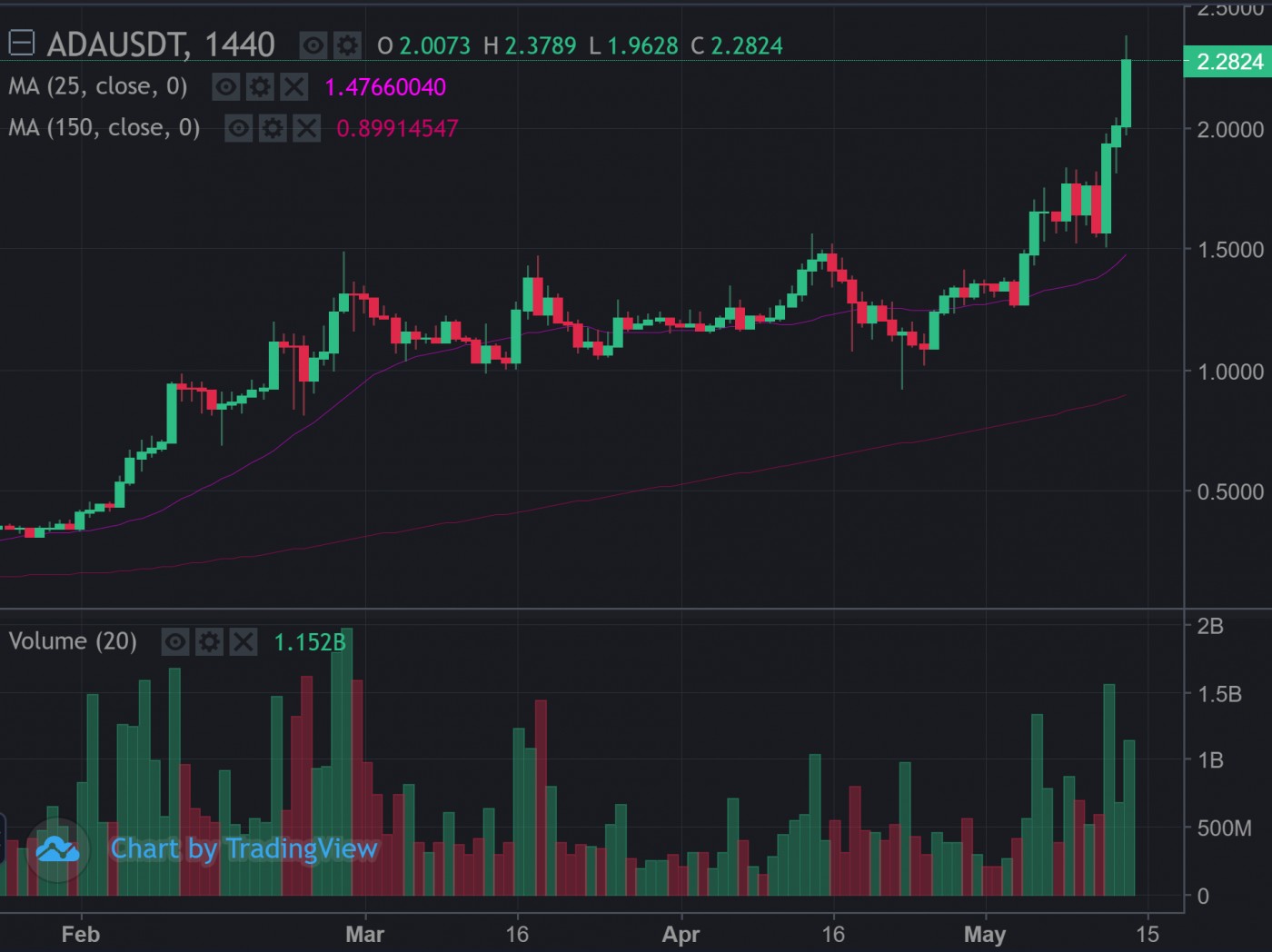 As a consequence, Bitcoin dominance has fallen sharply. This is similar to what happened in 2017.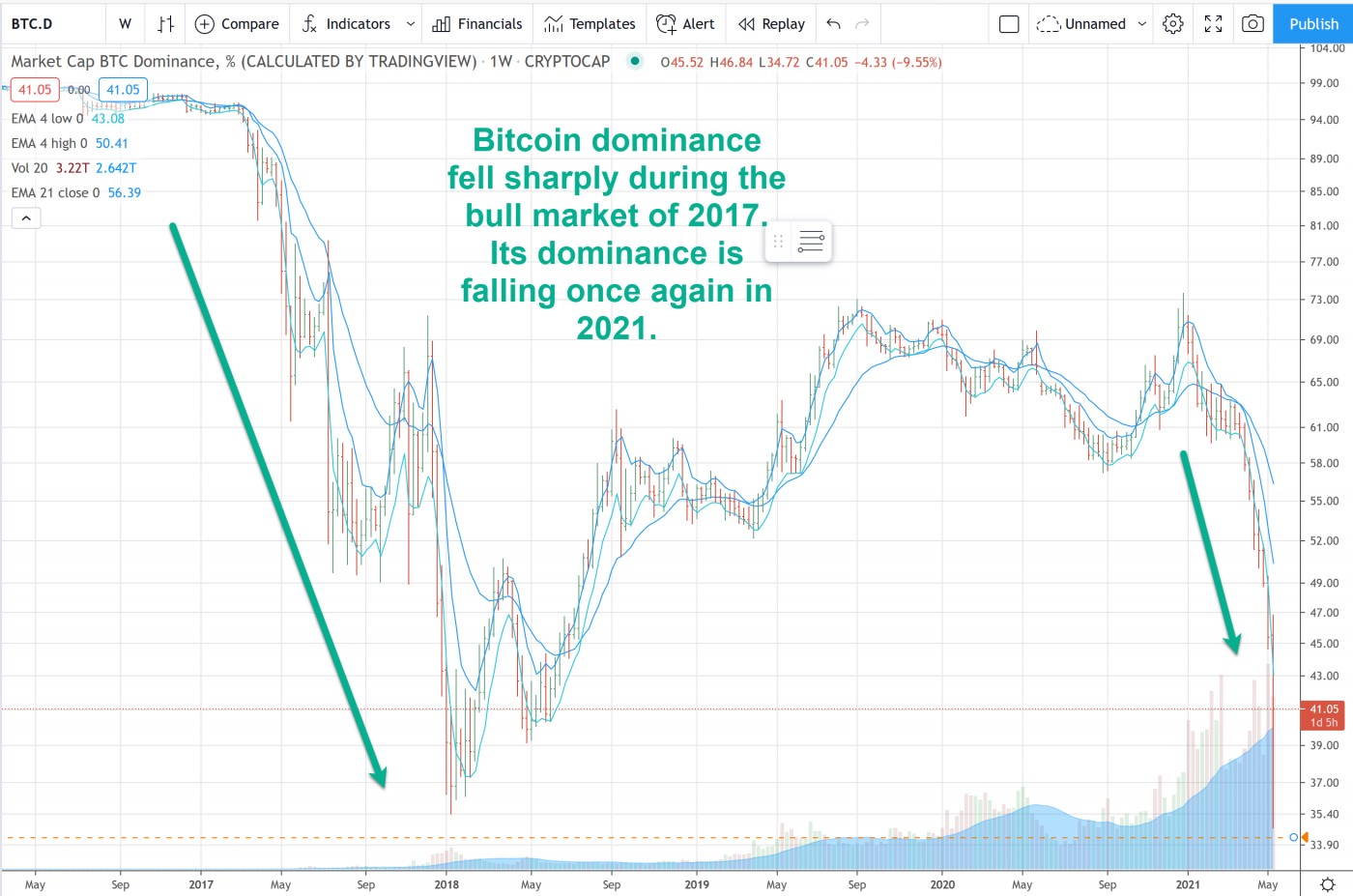 This is another clue that the alt coin season may be far from over.
Interestingly, Ethereum just needs to double from here to flip Bitcoin, ie, exceed Bitcoin's market cap, were Bitcoin to remain sideways. Given that Ethereum has so far moved higher by 3800/0.21 or more than 18000-fold since it launched in 2015, another double seems achievable, though odds would favor Bitcoin being "dragged" higher were such to occur as correlations between bitcoin and the top alt coins, even if weaker than before, remain intact.
Meanwhile, M1 and M2 have been soaring and should continue to soar with Biden's proposed $6 trillion across three stimulus packages and 84 other central banks around the world following suit with their supercharged easy money policies. This remains bullish for stocks, precious metals, hard assets, and especially Bitcoin as it is disinflationary as well as Ethereum as it will become deflationary.