Market Lab Report
by Dr. Chris Kacher
The Web3 Evolution Will Not Be Centralized™
Bitcoin on the rise
A number of key events happened over the past week that pushed Bitcoin higher:
Major traditional firms like Charles Schwab, Citadel Securities, Fidelity Digital Assets and Sequoia Capital EDX Markets launched their digital asset platform EDX.

The US Securities and Exchange Commission (SEC) has approved the first leveraged Bitcoin futures exchange-traded fund (ETF), Volatility Shares 2X Bitcoin Strategy ETF (BITX).

Blackrock's filing created a surge of activity within the ETF space. Valkyrie Investments and two more U.S.-based asset managers moved to file for spot Bitcoin exchange-traded funds (ETFs).
Nevertheless, while some say Blackrock (~$10T in AUM) has huge influence so is more likely than any of the others to get a spot Bitcoin ETF approved, the real reason it might stand a better chance than previous attempts by other fund managers is due to a "surveillance-sharing agreement" between exchanges. On page 36 of the Nasdaq (where the proposed ETF will be listed) 19b-4 filing, it's stated that to mitigate against market manipulation, Nasdaq will be brought in to enter into a surveillance-sharing agreement with an operator of a spot trading platform for Bitcoin (BTC).
Surveillance-sharing agreements allow for the sharing of information about market trading activity, clearing activity, and customer identification, allowing for little possibility of market manipulation. This is a key difference compared to all the other Bitcoin ETF applications. Coinbase and other crypto exchanges are not regulated so cannot be trusted to 'prevent fraudulent and manipulative acts and practices'." The SEC has until February 23, 2024 to decide. So the current Blackrock-induced bounce in Bitcoin is likely short-lived since the price of stocks and Bitcoin tend to closely correlate with liquidity which is falling in the US. Globally, liquidity is falling slightly for the moment despite China lowering interest rates.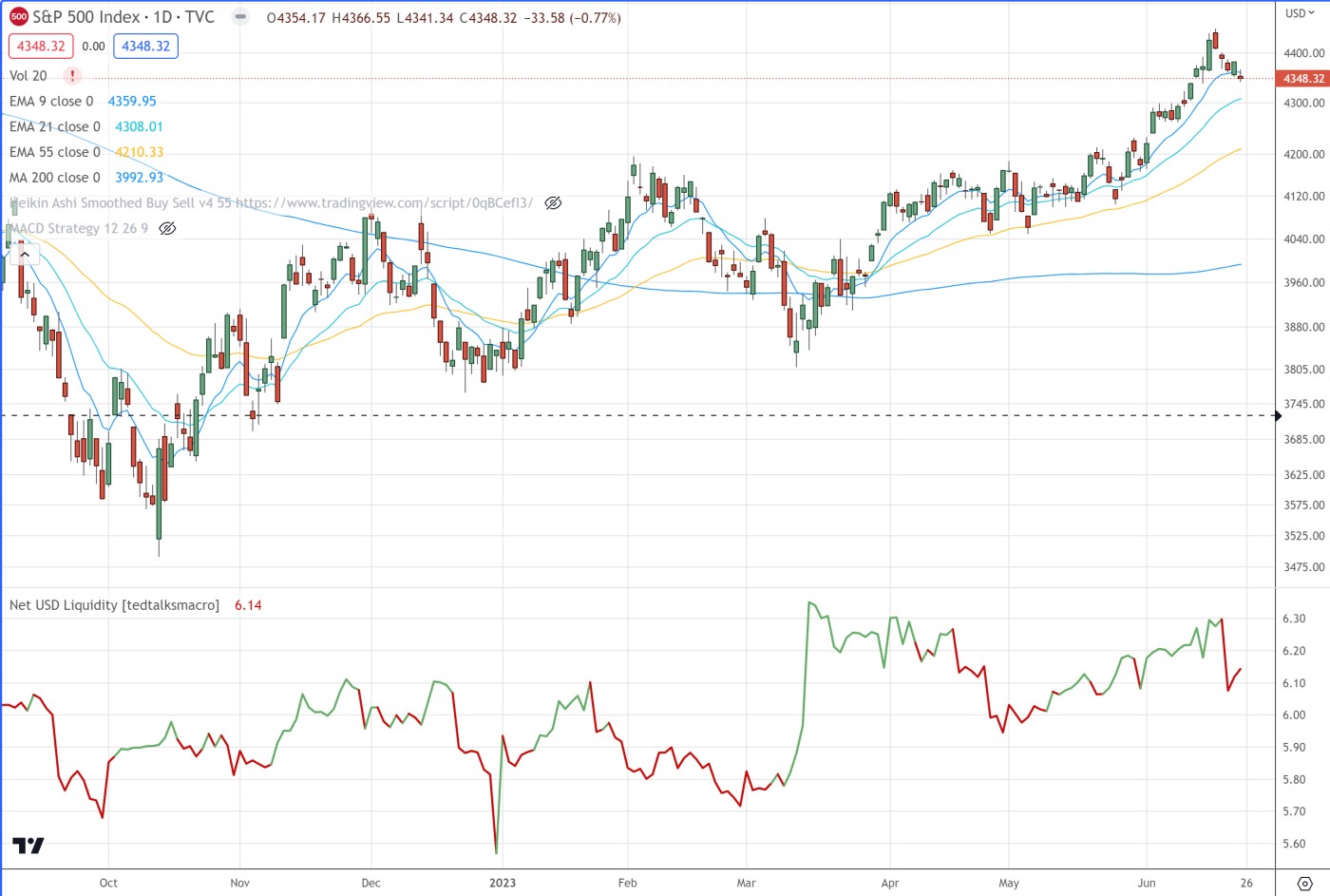 Taking the 50,000 foot view, in the long run, Bitcoin is more likely to become a store of value. Wall Street made a play for Bitcoin this week as the world realized what many of us knew all along - Bitcoin is on a path to becoming a universal store of value. This goes against Operation Chokepoint 2.0 but lawmakers in the US may understand that Bitcoin and a few other major cryptocurrencies have enormous utility so may be pivoting to attempt to control these major cryptocurrencies by giving approval to major firms to create exchanges and the first spot Bitcoin ETF. Resistance around 31-32k on BTC remains in force. If BTC can break above this range, it may continue to trend higher. But liquidity and the macro environment are still hawkish headwinds.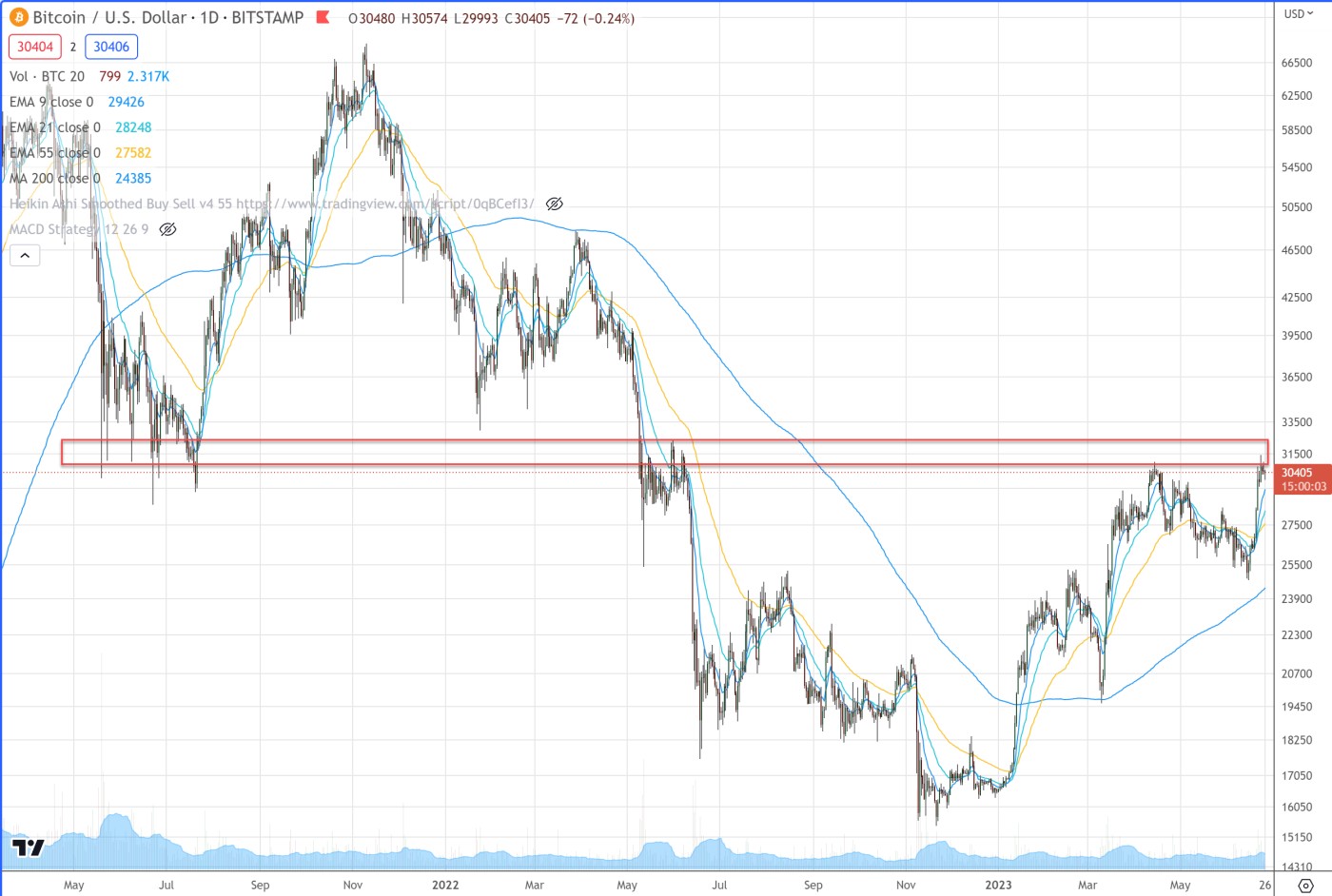 Also, there is a high correlation between the capitalization of the two largest stablecoins USDT+USDC and Bitcoin. The brief increases in the price of Bitcoin so far this year have been due to 1) an increase in global M2 liquidity at the start of the year, 2) the Fed boosting liquidity due to the banking disasters first kicked off by Silicon Valley Bank who had big losses on their balance sheet due to their exposure to bonds, and 3) most recently, Blackrock filed for an ETF which coincided with other major entities such as Fidelity launching a non-custodial crypto exchange, meaning that rather than handling customer assets directly, it will act as a platform on which a network of firms can execute and settle trades between crypto assets and fiat currencies. EDX also has plans to launch a clearinghouse business this year to facilitate the settlement process but will keep customer assets held at third-party banks and a crypto custodian. Its customers will be financial institutions.
The first two price pumps in Bitcoin were due to boosts in liquidity. Both times, Bitcoin rolled over. Unless there is a reason for liquidity to materially increase, Bitcoin may likely roll back over once again.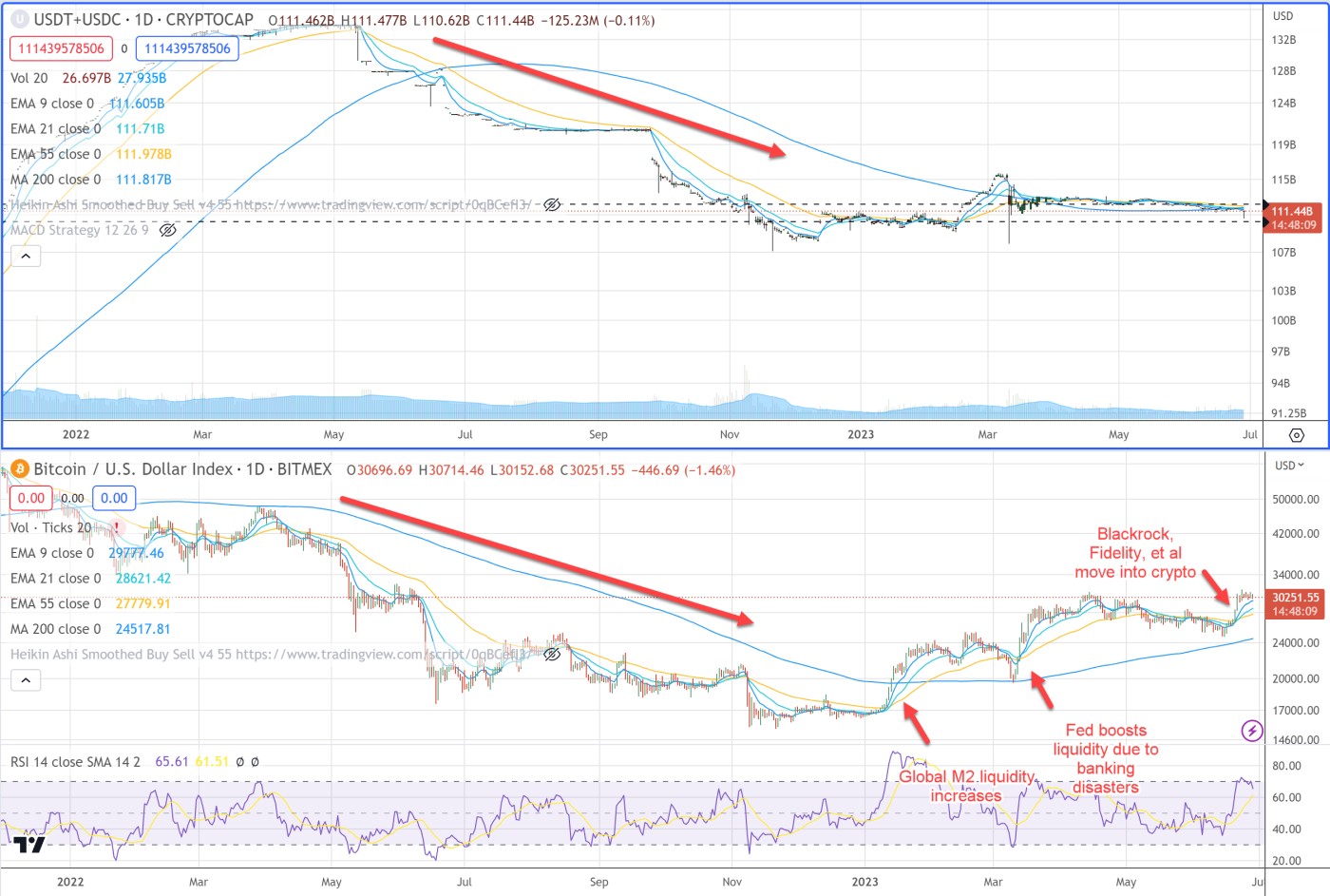 Grayscale's Bitcoin ETN GBTC and the leading Bitcoin mining stocks such as MARA, HUT, and CLSK correlate strongly with the price of Bitcoin so can be shorted into logical areas of resistance.