Market Lab Report / Dr. K's Crypto-Corner
by Dr. Chris Kacher
The (R)Evolution Will Not Be Centralized™

Corona Coronary?
Late Monday, AAPL said it won't meet its revenue guidance for the March quarter due to lower demand caused by the outbreak of the coronavirus in China. Much of AAPL's supply chain and consumer market are in China. China's factories are running at around half of their capacity currently. The announcement pushed many stocks in the tech sector lower and, in consequence, most all markets fell. Moreover, the German ZEW which is the first post-coronavirus indicator of sentiment in the eurozone's largest economy came in well under expectations at 8.7 vs. 21.5 forecast.
Nevertheless, the jobs market over in the UK is booming with the unemployment rate at 3.8%, the lowest level since 1975, while employers reported vacancies at 810,000, the highest since the three months to September. Productivity growth, however, remains an issue. That said, the strength in the pound and in the UK markets in general so far have done a good job of at least postponing Brexit-related uncertainties as markets are forward looking. Brexit ultimately can be a win for the UK economy even through a rough transition.
Should the coronavirus take longer to contain than anticipated, the damage done to the already fragile global economy will naturally be greater. In answer to this, on Monday, the People's Bank of China cut the interest rate on its medium-term loans. This boosted various markets which always welcome new measures of stimulus.
In a way, the coronavirus spurs a Goldilocks scenario. If the virus takes longer to control, central banks will increase QE. If the virus becomes manageable in brief fashion, that is a bullish event for stocks.
One ray of light concerning the virus, if it is to be believed, is official Chinese data continue to show a slowdown in the incidence of new infections and deaths. Contrary to this data, London Capital Group analyst Jasper Lawler said: "The number of new coronavirus cases has gone up in China but new stimulus measures from the Chinese central bank is putting investors at ease. The PBOC has cut 'medium term' rates in order to minimise the likely strain on the economy from the coronavirus. That will benefit around $29bn in Chinese loans. This tells us a cut in the loan-prime rate (LPR) is coming on Thursday too."
Thus with central banks at the ready, any exogenous issues can be answered by their unending reliance on quantitative easing. Markets therefore have experienced nearly no material corrections even in the face of a crisis such as the coronavirus which is, so far, more virulent and damaging than prior viral crises such as SARS or other coronaviruses that litter our past.
Gold hit a 7-year high and bitcoin appears to have resumed its bull market. QE and any crisis situation are big tailwinds for both.
Meanwhile, the U.S. dollar hit 3-year highs on word that the Federal Reserve may keep rates at current levels for at least the next 6 months as economic conditions in the U.S. may warrant it.
Grayscale ETNs
We have had questions concerning the cryptocurrency ETNs, namely GBTC which approximates the price of bitcoin, ETHE which approximates ethereum, ETCG which approximates ethereum classic, and GDLCF which approximates the price of a basket of the following cryptocurrencies: Bitcoin (BTC), Ethereum (ETH), XRP, Bitcoin Cash (BCH), and Litecoin (LTC). All correlate to a high degree to the direction of bitcoin. But if history is any guide, when bitcoin has been trending higher for several months or longer, ethereum then reawakens and outperforms bitcoin. Thus given that we are now seeing ethereum outperform bitcoin for the longest duration and magnitude since late 2017, it is possible that this outperformance will continue, especially given that the bitcoin bull is still alive and well and most likely has a ways to go given all the tailwinds in play. So if you want more potential upside, ETHE and ETCG may well continue to outrun GBTC as prior uptrends illustrate.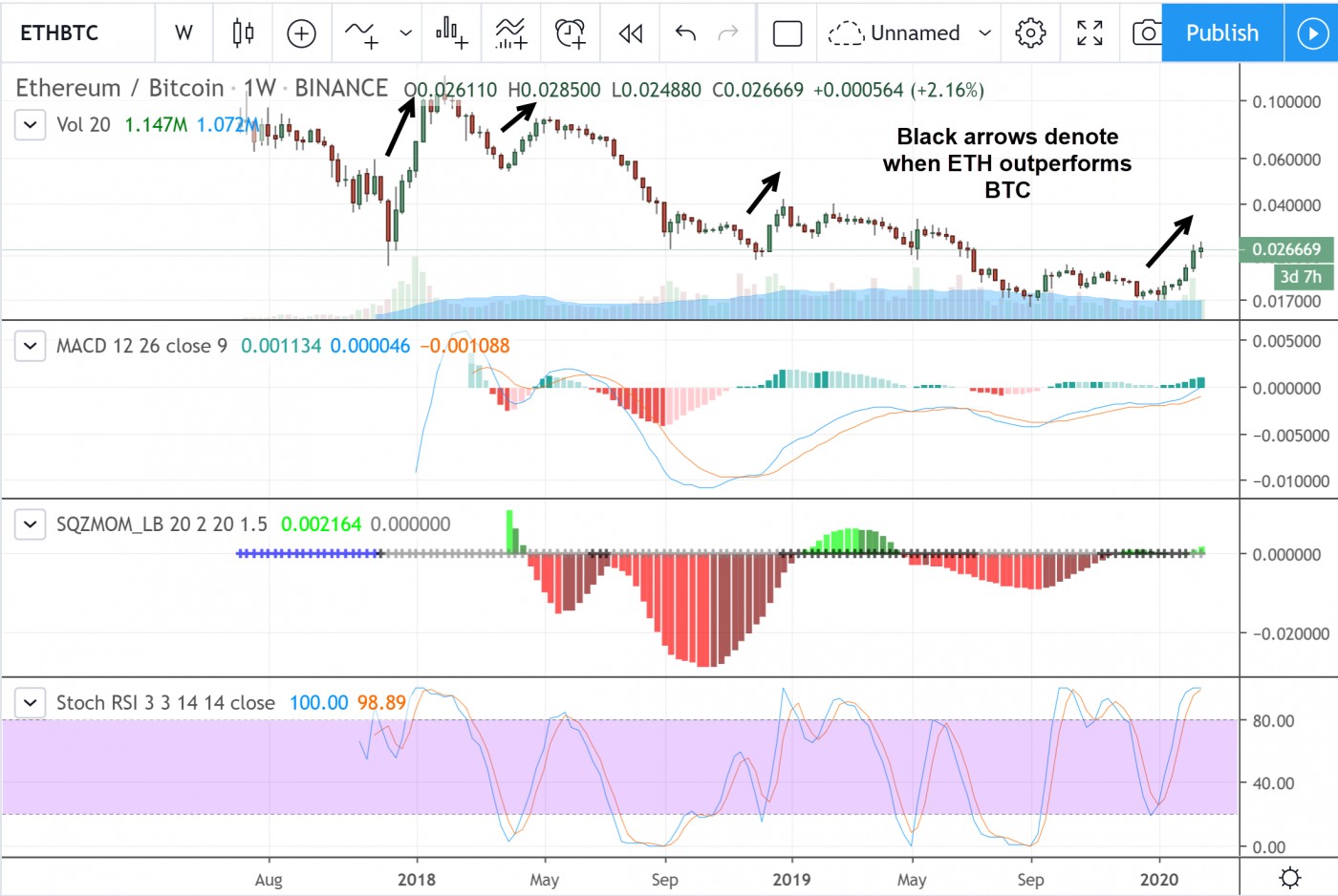 Overall, going back to when bitcoin bottomed in Dec-2018, ethereum and ethereum classic have played catch up to bitcoin. For the Grayscale ETNs, this is easily observed between the charts of ETCG and GBTC, both which have been trading since then. Since Dec-2018, ETCG has had roughly a 3.8-fold gain, close to GBTC which has had about a 3.2-fold gain. Off recent lows, ETHE is the winner with a near 5-fold gain. So while both ETCG and ETHE have recently well outperformed GBTC, when GBTC is correcting, ETHE and ETCG suffer much deeper corrections. The same can be said for all the other coins that are part of the Grayscale ETNs so position size accordingly.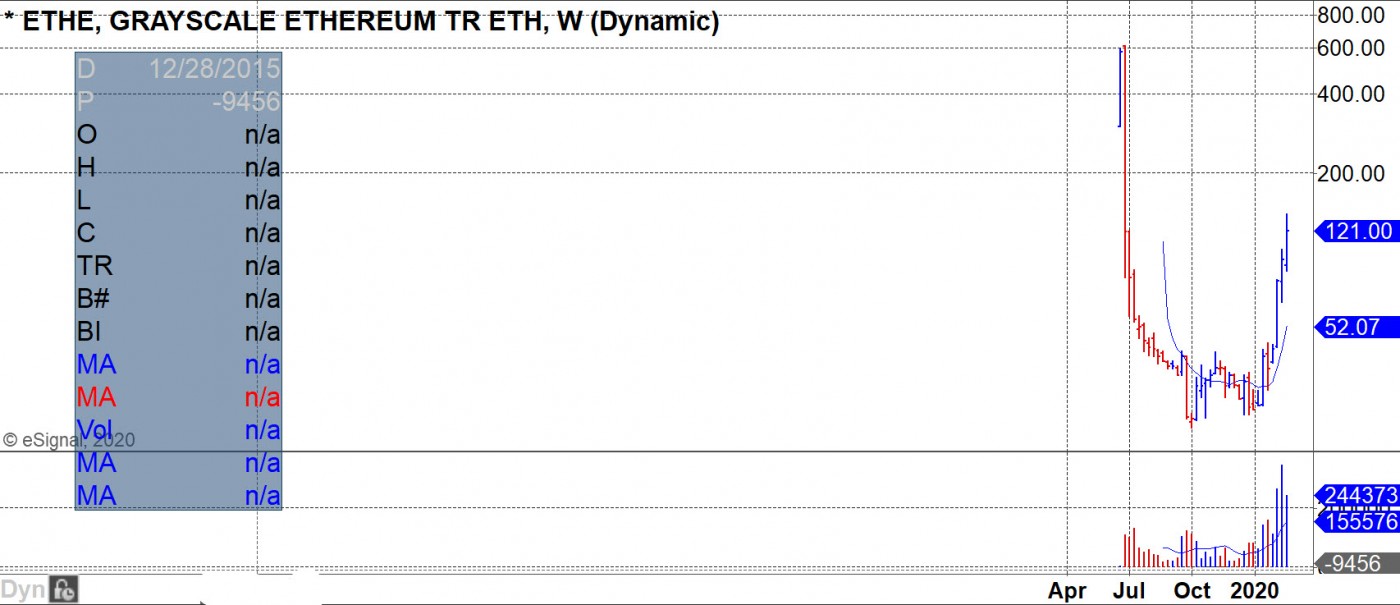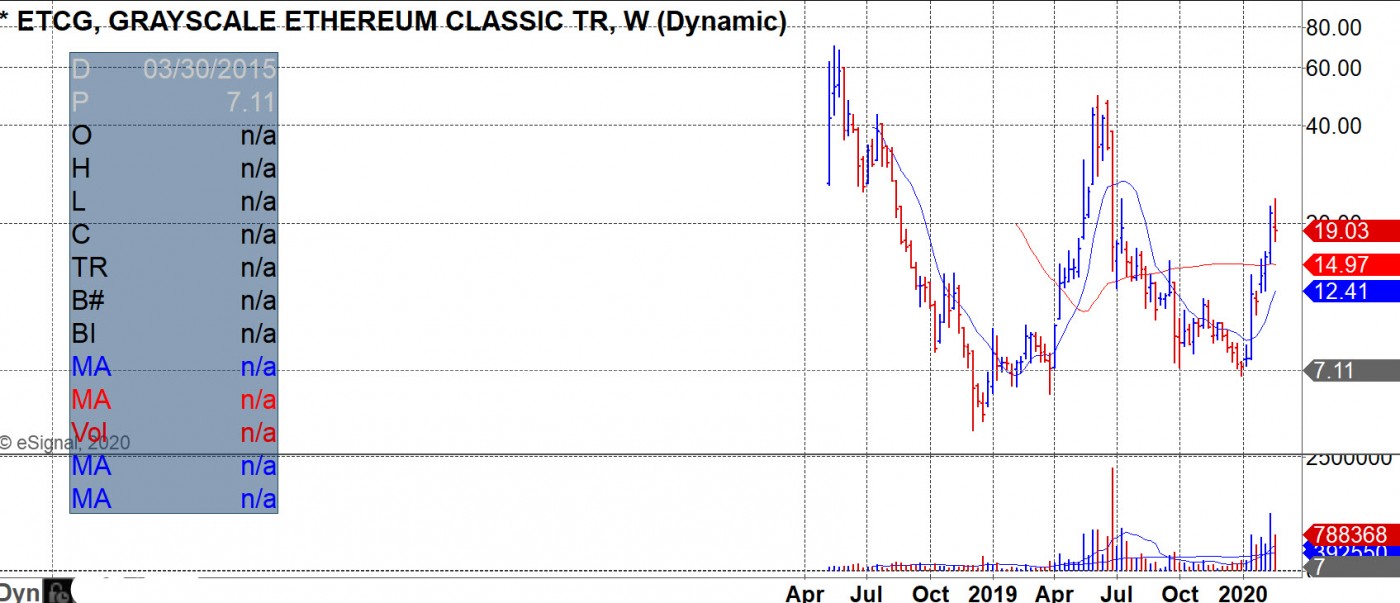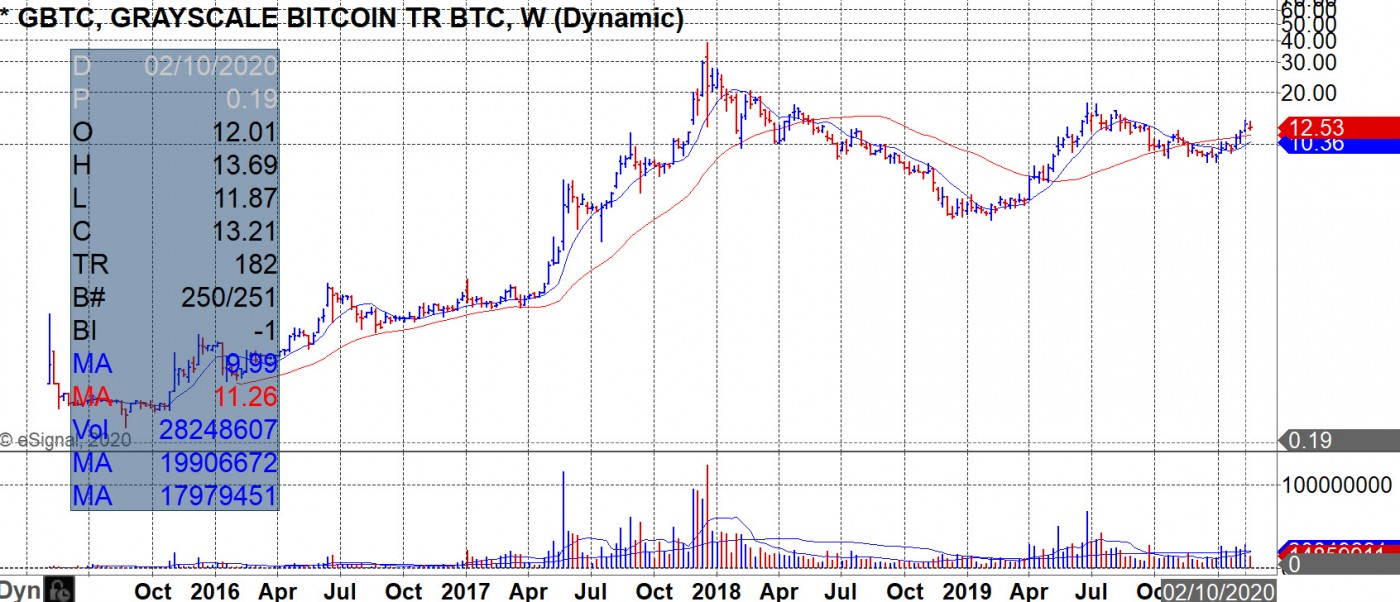 (͡:B ͜ʖ ͡:B)