Market Lab Report
by Dr. Chris Kacher
The Web3 Evolution Will Not Be Centralized™
A number of recent bullish events have been occurring for cryptocurrenciesFirst
, crypto regulations are starting to turn bullish. Congressman Torres has raised concerns about the SEC's approach towards regulating cryptocurrencies. He questions the SEC's recent decisions against the crypto market. This comes in the aftermath of the SEC's loss in a lawsuit against Ripple, where the judge ruled that XRP is not a security to retail investors. The judge also criticized the SEC's failure to provide fair notice to the industry. Torres says the SEC's implementation of the Howey Test was haphazard, and the court's decision demonstrates the need for a more rigorous application of regulations.
Second
, a Bitcoin ETF is incoming. Europe's inaugural spot Bitcoin ETF by Jacobi Asset Management is finally preparing to make its debut later this year. The Jacobi Bitcoin ETF is a centrally cleared instrument with custody supported by Fidelity Digital Assets. This marks a significant departure from the prevailing ETN structure commonly used in the region.
Meanwhile, the Chairman of the SEC in the US has expressed support for the approval of spot Bitcoin ETFs. The SEC has accepted the application submitted by asset manager BlackRock for a spot Bitcoin ETF, marking a crucial milestone towards the potential launch of the first spot Bitcoin ETF in the US. This decision comes after BlackRock filed an amended application for a Bitcoin ETF in late June.
Initially, SEC officials had concerns about the original ETF applications from BlackRock and other asset managers, citing a lack of comprehensive information. To address these concerns, BlackRock has included a "surveillance-sharing" agreement with leading US cryptocurrency exchange Coinbase in its updated application. Competitors such as Ark Invest, Fidelity Investments, and others are also making similar amendments to their Bitcoin ETF applications.
Third
, crypto will outrank traditional fiat according to Blackrock. BlackRock CEO Larry Fink says cryptocurrencies will democratize investing on a global scale, pointing to growing interest among the company's clients in digital assets. "More and more of our global investors are asking us about crypto," Fink
said
in a recent interview. BlackRock is the world's largest asset manager, with nearly $10 trillion in assets spanning all types of investment products. According to Fink, cryptocurrencies have a "differentiating value versus other asset classes" in helping diversify portfolios. "It's so international it's going to transcend any one currency."
That said, liquidity remains an issue as it continues to fall in the US and worldwide.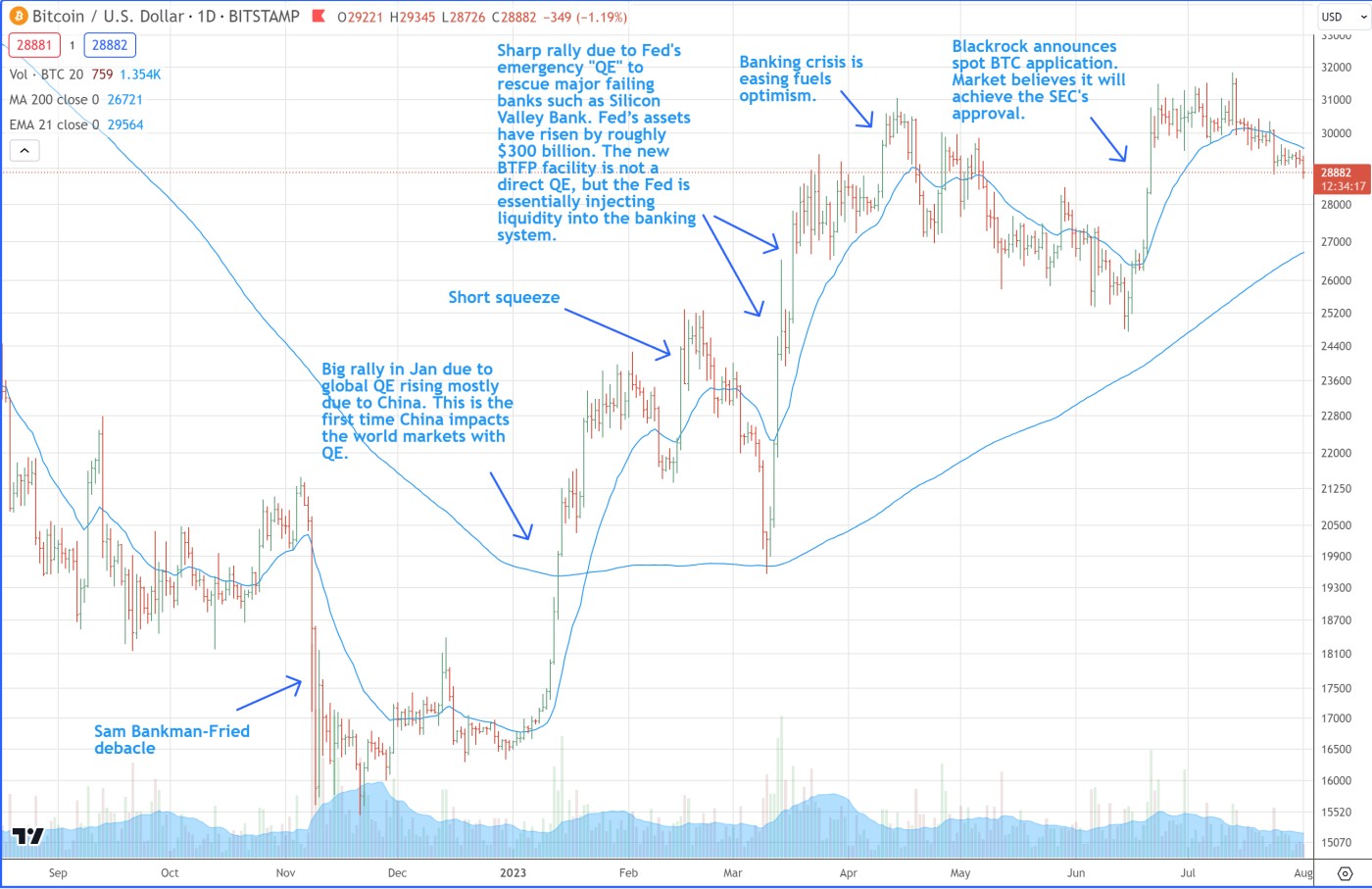 FedNow will morph into a US CBDC
While many have said a US CBDC will make it simple for the US to create digital dollars, it is already a fairly simple process as we saw in the Era of QE which started after the financial collapse of 2008. But a US CBDC could actually lower inflation in the US because it will create a more direct demand for dollars.
Through FedNow, more dollars will likely be in demand which helps combat inflation in the US but will increase inflation on a global level.
Alphabet (GOOG) vs. Web3
GOOG is a black hole sucking in any piece of data that comes within its vicinity. If you click something while using its Chrome browser, or watch a video on YouTube, that's data. GOOG then uses your data to make a penny off you. It also scrapes nearly the entire internet to improve its search engine, thus has the most advanced scraping tools in existence.
GOOG recently made some changes to its terms and conditions. It now says your "publicly available information" will be used to enhance features such as Google Translate, Bard, and Cloud AI capabilities. In other words, your public content is now being used to train Google's AI models. This could put GOOG in the lead, so it too could go on a run where it does not violate its 21-dema for a number of weeks, as other leading $1+ trillion big tech names have done.
Decentralized versions of Web3 will attempt to even the playing field since each user owns their own data in Web3 which is why Web3 resonates with many in the industry. The principles underlying Web3 mean data ownership, privacy when and how you want it, and compensation for your digital activities.