The VoSI Focus List consists of names for which we've issued Pocket Pivot or Buyable Gap-Up Reports since early March and which we feel still bear watching as potential long candidates. The current list is shown below, with "Earnings Due" dates shown in the fourth column as a helpful reference for members. The list is designed to provide a more over-arching coherence to the PP and BGU reports.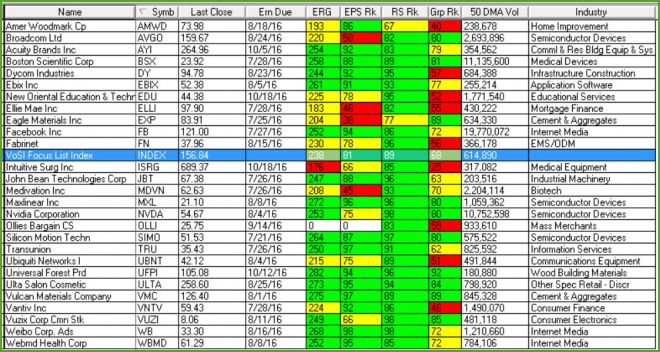 Among these names we note the following:
ELLI, which was originally reported on as a pocket pivot back on March 29th, has been put back on the list as it holds very tight along its 10-day line following a move to new highs in early July. Note that ELLI is expected to announce earnings this Thursday.
Potentially buyable pullbacks: AVGO, AYI, BSX, DY, EBIX, FN, ISRG, MXL, OLLI.
New pocket pivots following up on prior pocket pivots: FB, JBT.
Constructive or tight basing/consolidating action: EDU, ELLI, MDVN, NVDA, TRU, UBNT, ULTA, VMC, VNTV, WB.
Attempting to round out the right sides of potential new bases: AMWD, WBMD.
SIMO is an interesting case here as it was hit hard on Friday after announcing earnings after the close. The stock was able to hold the 20-day moving average, however, which might bring it into a very opportunistic "Ugly Duckling" buy area with the idea of using the 20-day line as a guide for a tight stop if it doesn't hold. In this market, ugly pullbacks that are able to hold a potentially logical area of support can provide more opportunistic, if not somewhat "scary" buying opportunities.