Dr. K's Crypto-Corner
by Dr. Chris Kacher
Cryptotechnologies...Kryptonite for Governments™
My keynote on blockchain technologies:
https://virtueofselfishinvesting.s3.amazonaws.com/download/presentation-handouts/geneva-wealth-tech-presentation-v2.pdf
GBTC - Best to monitor a chart of actual bitcoin since GBTC attempts to track the price of bitcoin but tends to go off track at extremes. When bitcoin has a climax run or a correction, GBTC tends to overshoot by a wide margin. This can be a blessing. For example, when bitcoin had a big move in late 2017, GBTC had one of its climax runs. Compare the difference below where GBTC rose 3.5-fold on breakout compared to the move in bitcoin of about 2.5-fold over the same period: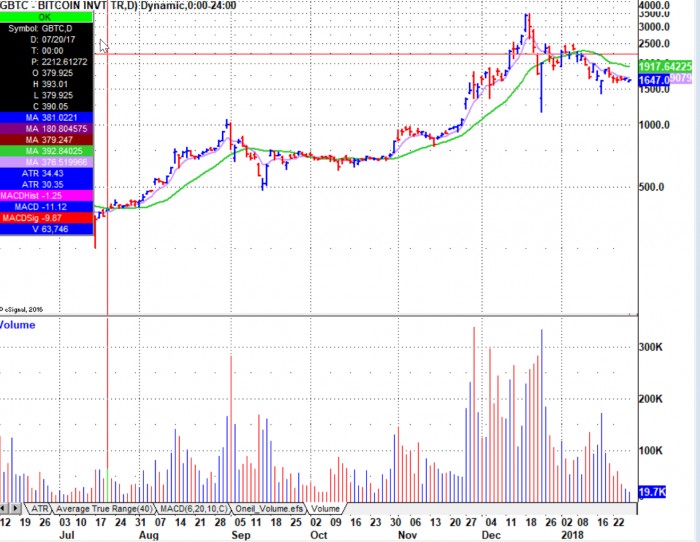 Best time to sell GBTC would be first sign of weakness which was the very next day off the top. One could then see GBTC collapsed by nearly two-thirds off peak which is where one would start buying again since bitcoin itself only fell by about 43%. If one's average cost were, say, around 1300-1500, one would have a 50%+ profit when it opened at 2269 the very next day. Now, it's just a matter of waiting for bitcoin to complete its base as it has done many times prior. How long will it take is anyone's guess as it depends on regulatory headwinds as well as any more serious technical headwinds that may arise. Best to watch for various entry points (classic breakout, voodoo, Wyckoff undercut & rally, etc) then follow the major trend.
BLOC and BLCN - Both are invested primarily in large cap tech companies such as TSM, INTC, NVDA, and CSCO. They have several percent of their portfolio in more pure play crypto companies such as HIVE Blockchain Technologies but this company has its weaknesses (see below). Nevertheless, because these two ETFs are attempting to ride the blockchain wave via well established technology companies, they are likely to outperform major averages such as the NASDAQ Composite by some small degree. Don't think, however, that this outperformance would be anything near spectacular since the basket of companies is fairly broad and they tend to be large to super cap size.
RIOT - Riot Blockchain's investment merits are dubious as its portfolio companies have unknown value. The company is on its third CEO of the past twelve months, and for all of its operating history, functioned as a bio-technology stock. During the last reported quarter, the company brought in just $24,175. And yet, it is valued at around $200 million.
GROW - Invested $4.1 million in HIVE Blockchain Technologies. The market cap of GROW is just $62 million, so its $4.1 million investment could have a material impact but only if HIVE ends up outpacing ethereum which has a high correlation to the price of other traded crypto companies. The problem is HIVE is involved in mining cryptocurrencies which is a slow animal in the herd at this point. So if you're going to expose yourself to cryptotechnology companies, you are far better off focused on infrastructure companies that have first mover advantage such as NEO (Chinese blockchain) or ethereum (though EOS and other platforms are worthy competitors). But keep in mind any pure play crypto company is going to have alphas and betas that make the most volatile of stocks seem like water in a still pond.