Current Focus List

The VoSI Focus List is a compilation and reference list of stocks for which Pocket Pivot or Buyable Gap-Up Reports have been issued. It is not intended as a "buy list" or a list of immediately actionable recommendacise discretion and proper judgement in determining when and where stocks on the Focus List can be purchased. The following notes are intended to assist in this process. Please note that members can enlarge the Focus List image by clicking on the body of the email and then holding the Control Key while pressing the "+" key until it is large enough to read.
General Observations:
The S&P 500 Index and the NASDAQ Composite have been hit with several bouts of selling in recent weeks, yet remain within 2% and 1% of their respective recent all-time highs. This may be a sign of strength, or an indication that further downside movement and corrective action is forthcoming. Given the current news flow, both last week and over this weekend, the potential for volatility is certainly palpable.
The simple way to operate when the market becomes turbulent and vulnerable is to simply watch your stocks, and operate on the basis of their specific price/volume action. This means playing a strong defense by adhering to pre-determined absolute and trailing stops for any current long positions in a concrete and methodical manner. Three stocks were removed from the Focus List this week for precisely those reasons.
The Market Direction Model (MDM) remains on a buy signal. The VIX Volatility Model (VVM) is currently on a sell signal.
Removed from the List this Week:
Quantenna Communications (QTNA) has violated its 50-day moving average. We have "milked" this stock for several sharp upside moves, which provided ample fodder for swing-trading profits if one looks to sell into extreme strength, something we have advocated in this current market environment.
Netease (NTES) has broken below the 178.90 intraday low of its February 16th buyable gap-up as well as its 50-day moving average on heavy selling volume.
Sina (SINA) has violated its 50-dma.
Focus List Stocks Expected to Report Earnings this Week: None.
Of Note:
Amazon.com (AMZN) cleared the $900 Century Mark on Tuesday, triggering Jesse Livermore's Century Mark Buy Signal. That move did not hold, however, and the stock closed back below the 900 level. But the pullback doesn't appear to be abnormal given the prior upside move following its late-March base breakout. As well, AMZN found support on Friday near the 10-dma with volume declining. It may pull down closer to the 10-dma, and we would watch to see whether this is accompanied by lower volume, which would be constructive.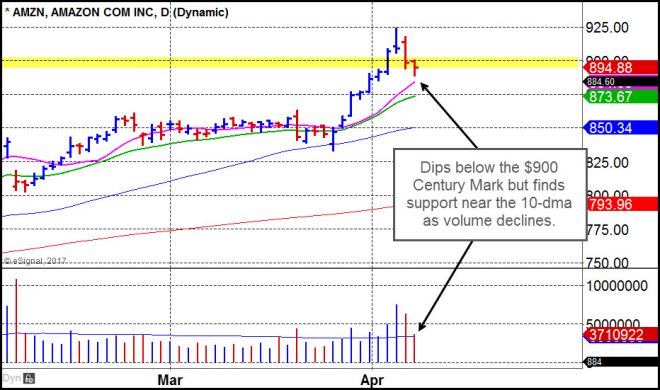 Baozun (BZUN) has flashed three high volume pocket pivots at the 10-dma and 20-dema this past week. Each pocket pivot has stalled, however, with Friday's pocket pivot posting the highest closing price between the three. While the stock is within buying range of all three pocket pivots, so far it has proven to be most buyable on pullbacks back to the 10-dma, 20-dema, or even the 50-dma.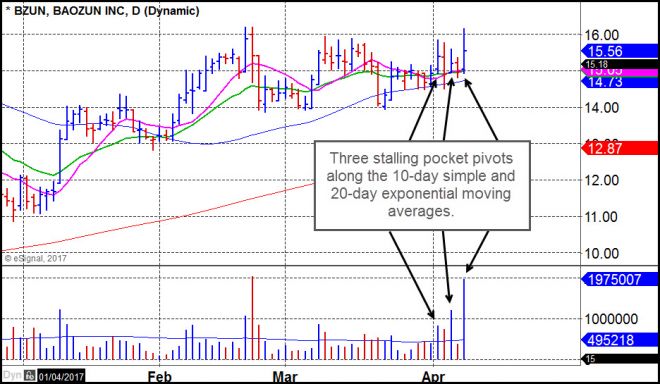 Square (SQ) looks like it is headed for its 50-dma at 16.10. The stock closed 59 cents above the line on Friday, so this is well within range of a normal pullback, but we would want to see volume dry up on any such movement.
Tesla (TSLA) is holding tight along and just above its $300 Century Mark price level. Volume is drying up here, so the tight action is quite constructive. It is not clear whether the stock will need to test the 10-dma before it can go higher, but technically it is buyable here on the basis of Livermore's Century Mark Buy Rule while using the $300 price level as a selling guide. The 10-dma is 5.1% below Friday's closing price, so the more opportunistic alternative would be to look for any kind of constructive pullback to or near the 10-dma as an entry point instead.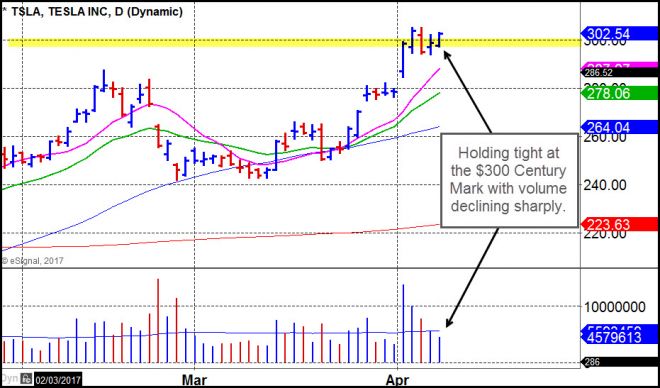 It may be significant that TSLA has broken out of a three-year price range on its weekly chart, with weekly volume picking up substantially this past week. In fact, this past week's buying volume was the highest since March of 2016, a year ago. Note, however, that in 2016 the high weekly volume was associated with a stalling week that close near the lows of the weekly price range. This time around, the high weekly volume is accompanying a clean three-year base breakout with the stock closing near the peak of the weekly range.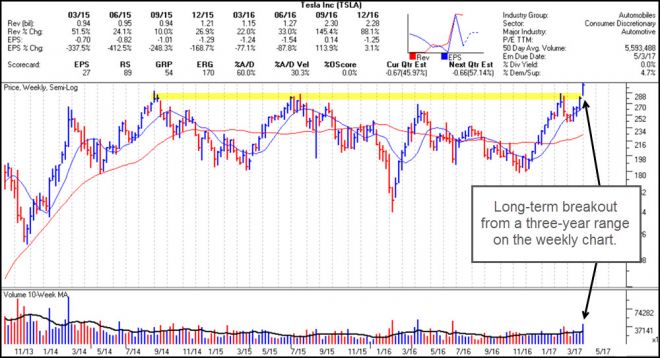 Stocks pulling down into or holding tight along their 10-dmas with volume drying up: BABA, CC, MKSI.
Stocks pulling down into or holding tight along their 20-demas with volume drying up: COHR, FB.
Stocks pulling down into holding tight along their 50-dmas with volume drying up: NFLX, TTD.