Current VoSI Focus List

The VoSI Focus List is a compilation and reference list of stocks for which Pocket Pivot or Buyable Gap-Up Reports have been issued. It is not intended as a "buy list" or a list of recommendations. Stocks on the list may or may not be in proper buy positions, and investors should exercise discretion and proper judgement in determining when and where stocks on the Focus List can be purchased. The following notes are intended to assist in this process.
Removed from the Focus List this week: JD.com (JD). Chinese names in general have been struggling, and since stocks tend to move in packs, we don't see JD recovering substantially until some of the pressure starts to come off of other names in this category.
General Observations: The 2016 Focus List "flagship" stock Nvidia (NVDA) has in our view been the "Stock of the Year" for 2016, as one of the very few trending situations in this market that have sustained quite well since we first put it on as a pocket pivot buy on April 6, 2016 then other times as well including its buyable gap up on May 13, 2016. While it has had its moments of high-volume selling, the bottom line is that anyone using the Seven-Week Rule would have employed the 50-day moving average as a selling guide. Since April the stock has not once violated the 50-day line, which has mostly served as an area of support on the more substantial pullbacks the stock has seen on the way up. Even had one sold, we advised to be on the lookout for further buy points such as the report we sent on September 23, 2016 to watch for constructive pullbacks in NVDA. A day later, NVDA had a very low volume pullback to support.
Last week we discussed the potential for a Livermore Century Rule buy signal if the stock could push above and hold the $100 price level. At that point, we would then expect a relatively quick 10-15% upside move, and so far the stock has progressed nearly 10% from the $100 buy point. The stock is now up nine days in a row and may be getting a shade climactic, at least in the short-term, but for those who have owned the stock for some time and are willing to give the stock some room, the $100 price level would serve as a potential trailing-stop. For those who bought on the Livermore Century Mark Rule around the $100 price level, the rapidly rising 10-day line might serve as a better stop given that it would likely ensure that a profit, rather than a loss, is taken.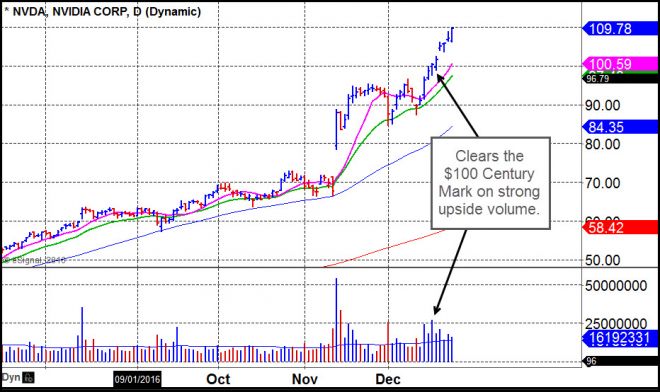 Coal-related names have lost their upside momentum recently, but in the case of something like SunCoke Energy (SXC) this may simply be due to the fact that some of these names have already had strong upside moves and now need some time to consolidate those prior strong gains. Further, such industry groups often trade in wide bands, often violating support as they move higher. That is certainly the case with SXC, and we would watch the stock here as it settles down towards its rising 50-day moving average. The stock did find support at its 10-week moving average on the weekly chart (not shown), which could put it in a lower-risk entry position using the 10-week line on the weekly or the 50-day line on the daily as reasonably tight selling guides.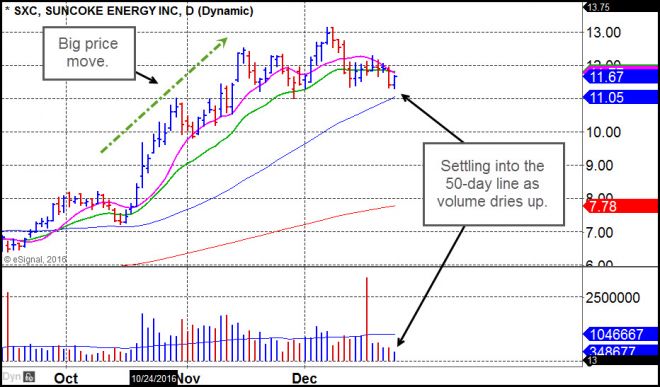 Focus list names pulling into the 10-week line as volume dries up: Argan (AGX), Arista Networks (ANET), The Trade Desk (TTD). TTD looks particularly interesting here as it holds above a prior base-breakout point and pulls into its 10-day moving average with volume drying up sharply.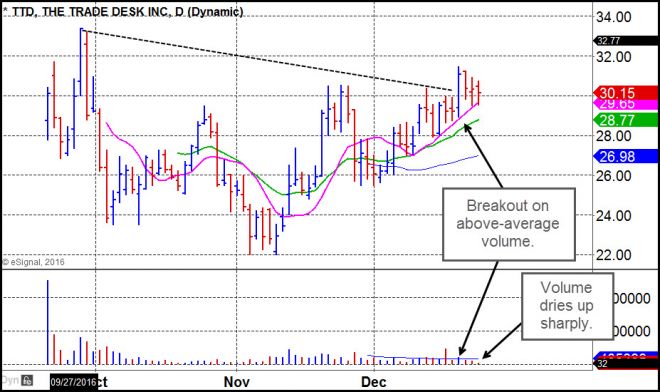 Focus List Names holding at or above the 20-day exponential moving average as volume dries up: Mosaic (MOS) has regained its 20-day line after a constructive pullback. Zillow (Z) has pulled back into its 20-day line on about average, but declining volume. This stock is generally best bought on weakness when it looks less convincing, rather than chasing it on strong upside moves. Square (SQ) appears to be pulling back towards its 20-day moving average, where we would consider it to be in very much a lower-risk entry position given its prior strong upside move in November and December.