Current Focus List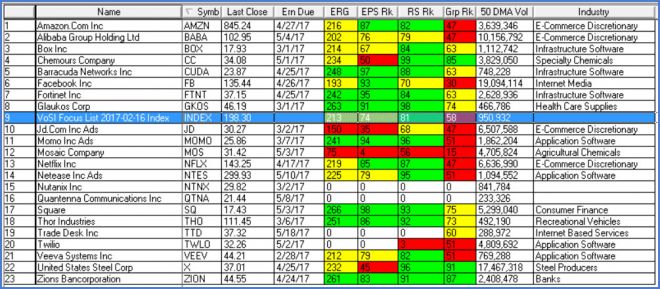 The VoSI Focus List is a compilation and reference list of stocks for which Pocket Pivot or Buyable Gap-Up Reports have been issued. It is not intended as a "buy list" or a list of immediately actionable recommendations. Stocks on the list may or may not be in proper buy positions, and investors should exercise discretion and proper judgement in determining when and where stocks on the Focus List can be purchased. The following notes are intended to assist in this process. Please note that members can enlarge the Focus List image by clicking on the body of the email and then holding the Control Key while pressing the "+" key until it is large enough to read.
General Observations:
The Dow Jones Industrials and the S&P 500 Indexes both posted all-time high closes on Friday as the Dow made it eleven straight up days in a row. Meanwhile, the NASDAQ Composite Index suffered what has been its only distribution day in February when it sold off on Thursday on higher volume. Thursday also saw sharp breakdowns in strong leaders like TSLA, WB, NVDA, X, and others.
Many stocks are holding up just fine, however, as they go about their base-building processes or simply pull back to logical areas of support after getting a bit extended on the upside. Some of these pullbacks are discussed below. In general, it is a matter of watching one's stocks closely and reacting to real-time information as the most expedient way to handle one's positions. This is a much more concrete approach to the market that enables one to ignore all the noise about how many days the market has gone without a 1% correction or that it is "too high and in need of a pullback."
Regardless of what the indexes are doing, when it comes to stock selection, money is made or lost on what the individual stocks do, so we would advise focusing on your stocks first and the indexes second. Meanwhile, for those who trade index ETFs, our Market Direction Model (MDM) and VIX Volatlity Model (VVM) have remained on their present long-market signals for some time. We might also add that those signals have been consistently correct and synchronous with the current market uptrend.
Removed from the List this Week: As discussed last weekend, Argan (AGX) would likely be removed from the list if it could not hold its 50-day moving average, so it is no longer on the Focus List after it broke back below the 50-day line this past week. AK Steel Holdings (AKS), Freeport-McMoran (FCX), and Nvidia (NVDA) were also removed from the list. NVDA is now a short-sale target, as we have discussed it might become in prior weekend Focus List Reviews.
Focus List Stocks Expected to Report Earnings this Week:
Veeva Systems (VEEV) (Tuesday 2/28, After-hours), Box (BOX) (Wednesday 3/1, After-hours) Glaukos (GKOS) (Wednesday, 3/1 After-hours), JD.com (JD) (Thursday, 3/2 After-hours), Nutanix (NTNX) (Thursday, 3/2, After-hours)
Notable Action:
Amazon.com (AMZN) has pulled into the top of its base and the 20-day moving average. This puts the stock in a lower-risk entry position using the 20-day line as a selling guide.
Alibaba (BABA) pulled into is 20-day moving average on average volume following Wednesday's pocket pivot. All this does is give investors a lower-risk entry on the pullback, using the 99.94 intraday low of the prior buyable gap-up day as your selling guide.
Barracuda Networks (CUDA) continues to work on what appears to be a constructive, 19-week base. On Friday it again found support at its 50-day moving average. Pullbacks within the base and down to the 50-day/10-week line have offered numerous lower-risk entry opportunities.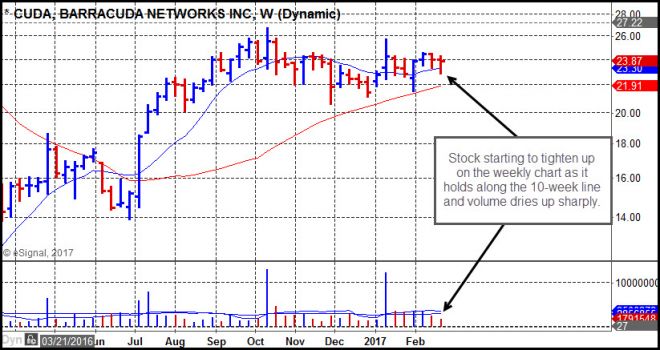 Box (BOX) posted a pocket pivot at its 20-dema on Friday ahead of this week's earnings report. Our feeling has been that given the strong prior upside move since we first reported on this as a BGU on January 6th at around 15, at least partial profits could be taken. The stock is up some 20% since January 6th, so would also offer a reasonable profit cushion for holding into earnings for those who wish to play "earnings roulette."
Chemours Company (CC) found support at its 10-day line and just above the 31.40 intraday low of its February 13th buyable gap-up move. CC has been a price leader.
Facebook (FB) has held two pullbacks to its 10-day line over the past two days following Wednesday's pocket pivot breakout from a cup-with-handle base. It remains in a buyable position.
Fortinet (FTNT) is holding in a three-weeks-tight (3WT) formation on its weekly chart as volume dries up sharpy on the weekly chart. The slight downward drift also looks constructive. This remains in a buyable position using the 20-dema as a selling guide.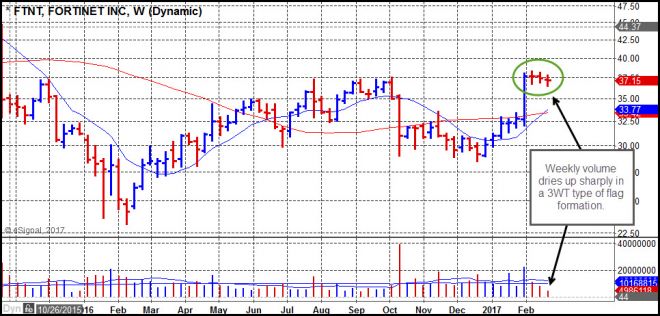 Glaukos (GKOS) posted a pocket pivot on Friday ahead of this week's earnings report. The stock is now trading at 46.19, some 27% above 36.32, when we first reported on the stock as an actionable BGU on January 6th.
Momo (MOMO) found support at its 20-dema on Friday. Pullbacks to the 20-dema represent your best lower-risk entries following the stock's recent base breakout.
Mosaic (MOS) got hit with commodity-related stocks on Thursday, and has been knocked back to its 50-day moving average. Commodity-related stocks tend to trade in wider bands, and MOS has consistently proven to be buyable on lower-risk pullbacks to key areas of support. Thus this pullback to the 50-day line could offer a lower-risk entry with the idea of a) using the 50-dma as your selling guide and b) looking for a relatively quick rebound off the line as confirmation of supporting action.
Netease (NTES) held on Thursday's pullback down near the lows of last Thursday's BGU, but failed to hold the $300 Century Mark. We would continue to look for either another test of the 285-290 price area or a strong, decisive move up through the $300 price level (based on Jesse Livermore's Century Mark Rule) as buyable events.
Netflix (NFLX) has been holding tight on its weekly and daily charts, and remains buyable using the prior 138.25 intraday low of is January 19th BGU as a reasonable selling guide.
Nutanix (NTNX) has pulled into its 50-day moving average on very light volume ahead of this Thursday's earnings report.
Quantenna Communications (QTNA) has pulled into a lower-risk entry points along its 10-day and 20-dema lines. This would be buyable using the 20-dema as your selling guide. QTNA is another one of those stocks best bought on weakness.
Square (SQ) posted a strong-volume buyable gap-up move on Thursday, with a 16.32 intraday low. We would view any constructive pullbacks closer to that price level as potentially lower-risk entries. Otherwise, one could buy the stock here using te 16.32 BGU low as a selling guide.
The Trade Desk (TTD) has finally taken flight, so to speak, over the past two weeks as it has broken out to new highs and become fairly extended in the process.
Twilio (TWLO) is sitting right at its 20-dema with volume drying up to -52% below average on Friday. This would put it in a "last stand" buy position here using the 20-dema as a selling guide.
U.S. Steel (X) was hit hard on Thursday along with a slew of other steels, commodities, and materials names. Some of this was due to news that the Trump Administration's infrastructure plans will not begin to crystallize until 2018. In the process X was sent back down to its 50-day moving average and the prior trend-line breakout it had on the second of two pocket pivots it posted in early February. The stock is now back to the trend-line breakout level, so this could be considered to be the actual base breakout buy point. If X can hold the 50-day line it may remain viable as along situation, but it is clear that buying X is best done on weakness rather than strength, particularly on standard-issue, new-high base breakouts, which we consider a buying method better suited for dinosaurs than current, savvy traders and investors.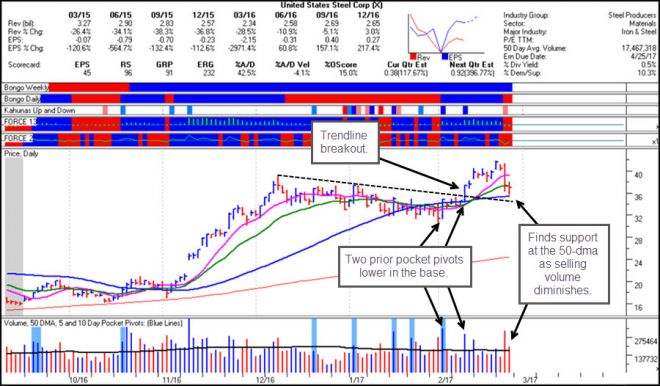 Should X bust the 50-day moving average on heavy volume, it would then be confirmed as a potential late-stage failed-base (LSFB) short-sale set-up.