Current Focus List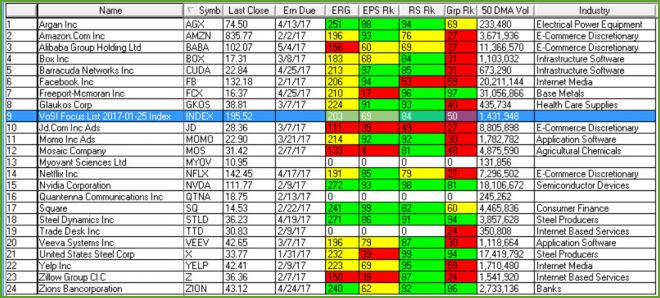 The VoSI Focus List is a compilation and reference list of stocks for which Pocket Pivot or Buyable Gap-Up Reports have been issued. It is not intended as a "buy list" or a list of immediately actionable recommendations. Stocks on the list may or may not be in proper buy positions, and investors should exercise discretion and proper judgement in determining when and where stocks on the Focus List can be purchased. The following notes are intended to assist in this process. Please note that members can enlarge the Focus List image by clicking on the body of the email and then holding the Control Key while pressing the "+" key until it is large enough to read.
General Observations: The market continues to act well following Wednesday's Dow 20,000 breakout that saw both the Dow and the S&P 500 push up and out of their six-week price ranges in bullish fashion. The NASDAQ Composite, which has been the de facto leading index thanks to stellar performance from "household" tech names like Amazon.com (AMZN), Facebook (FB), and Netflix (NFLX) among those on the VoSI Focus List, also cleared to all-time highs after breaking out to new highs on Tuesday.
Removed from the List this Week:
AK Steel (AKS) violated its 50-day moving average on Monday.
Stocks with Notable Action:
Argan (AGX) posted a pocket pivot breakout on Wednesday and has pulled back in constructive fashion over the past two days. This remains within range of Wednesday's pocket pivot, using the 10-day line as a selling guide. AGX continues to base-build and move higher in true leadership style since we first issued a report on the stock on November 10th.
Big-stock copper name Freeport McMoran (FCX) broke out strongly on Tuesday, and then came back in on Wednesday after announcing earnings. The move did little more than fill the prior day's gap and test the 10-day moving average. This remains in force as a buyable breakout using the 10-day line as a tight selling guide.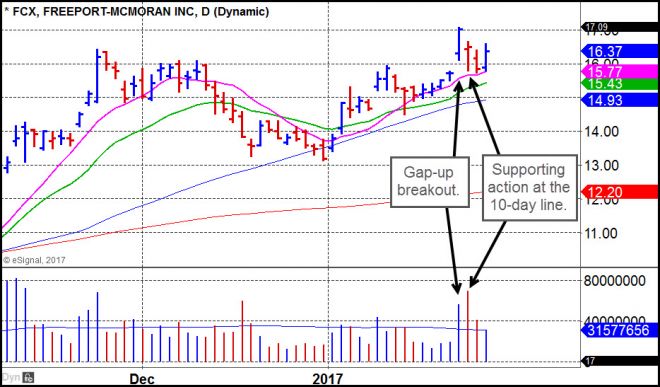 Glaukos (GKOS) has formed a two-week handle in a cup-with handle formation and is sitting tight along its 10-day moving average as volume dried up to -45% on Friday.
After breaking out on Tuesday, Mosaic (MOS) pulled down into its 10-day and 20-day moving averages but has held at that point. The gap lower a reaction to the earnings-related gap down in Potash (POT) the same day. This may put the stock in a lower-risk entry position using the 20-day line as a tight selling guide. Indeed, commodities overall seem to be turning a corner after being in a downtrend that ended in early 2016.
Netflix (NFLX) posted an all-time high close on Friday as it tries to break out of the short five-day flag it formed following last Thursday's buyable gap-up (BGU) move. The stock actually remains within buying range of that BGU using the BGU intraday low at 138.25 as a selling guide.
Nvidia (NVDA) continues moving back up towards its prior highs near 120 after posting an undercut & rally type of move along its 10-day and 20-day moving averages the prior week. As we indicated last weekend, we do not necessarily believe that the stock has topped for good, and it may simply be building a new base ahead of its expected earnings report on February 15th.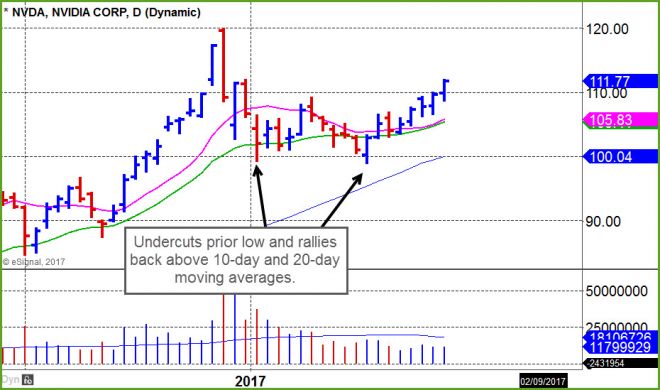 Square (SQ) tested its 10-week moving average on Friday and held, putting it in a lower-risk entry position using the 10-week line at 14.10 as a selling guide.
While AKS has blown up ignominiously, the other two steels on the Focus List, Steel Dynamics (STLD) and U.S. Steel (X) may be trying to hold up here along their 50-day moving averages. Both stocks were violating their 50-day moving averages earlier in the week, but by small margins relative to AKS. Both stocks found support on Thursday, and rallied right up to the underside of their 50-day moving averages.
Keep in mind that steel stocks, much like gold stocks, have numerous cross currents that can affects its price. Such stocks often trade in wider price bands, routinely violating moving averages. But given the basket of commodities that hit a low about a year ago based on the Commodity Research Bureau (CRB) Index, and now appears to be in a mild uptrend, this bodes well for steel stocks as a group. In addition, pro-infrastructure policies by the Trump administration should also serve as a tailwind for the group.
Interestingly, STLD's weekly chart has the look of big-volume support action along the lows of the base. X has a slightly similar look, and both stocks closed Friday just a handful of cents below their 50-day moving averages. Watch for either or both to regain their 50-day lines as signs that both remain healthy and therefore become actionable on the long side again at that point.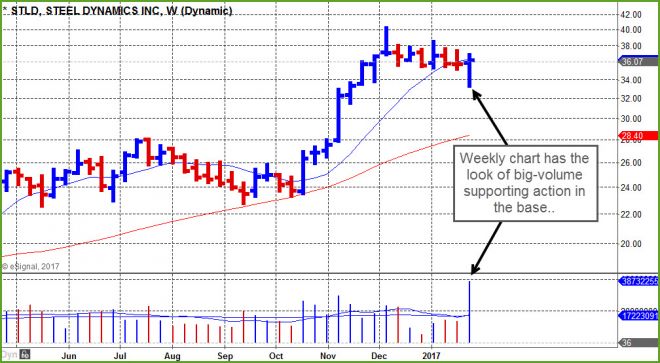 Veeva Systems (VEEV) and Myovant Sciences (MYOV) are both in similar situations. Both stocks are drifting down to the lows of current base formations but have moved below key moving averages. Volume on both has dried up in the extreme, which sets up the potential for rallies back up through moving averages just above the stocks' current closing prices. In this market stocks can begin to look a bit dicey along the lows of a current base, at which point they will suddenly rally. These might both be viewed as being in lower-risk entry positions using a tight selling guide just below Friday's closes or the lows of their current bases.