Current Focus List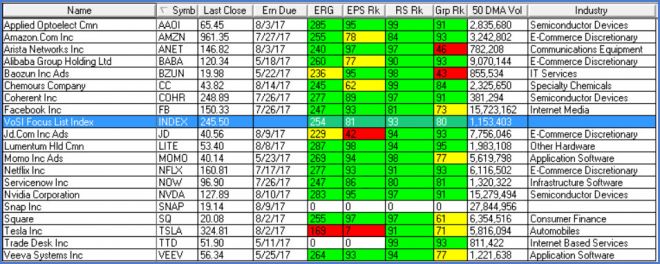 The VoSI Focus List is a compilation and reference list of stocks for which Pocket Pivot or Buyable Gap-Up Reports have been issued. It is not intended as a "buy list" or a list of immediately actionable recommendations. Stocks on the list may or may not be in proper buy positions, and investors should exercise discretion and proper judgement in determining when and where stocks on the Focus List can be purchased. The following notes are intended to assist in this process. Please note that members can enlarge the Focus List image by clicking on the body of the email and then holding the Control Key while pressing the "+" key until it is large enough to read.
General Observations:
The market continues to act constructively, despite an early-morning "spin-out" on Thursday that sent the Dow down over 140 points in a scary-looking sell-off. That turned out to be a shakeout as leading stocks held up admirably. Focus List names have continued to outperform, and the list has worked quite well in 2017 as a source of actionable ideas.
The NASDAQ Composite Index is holding up near current highs and has steadily trended higher along its 10-dma since breaking out to all-time hghs on a gap-up move on April 24th. The S&P 500 Index remains in a cup-with-handle type of formation as it tracks just below its March highs. This puts the index in a logical position for an upside breakout, which we are watching closely for.
The Market Direction Model (MDM) is currently on a buy signal, while the VIX Volatility Model (VVM) is currently on a sell signal.
Removed from the List this Week:
Snap (SNAP) remains on the list on a "provisional" basis, but may be setting up in an alternative "undercut & rally" or "Wyckoff Spring" type of buy set-up. If it cannot hold above the 18.90 price level it will be removed. Refer to our notes and chart below.
Focus List Stocks Expected to Report Earnings this Week: Baozun (BZUN) Tuesday after the close, Alibaba (BABA) Thursday before the open.
Notable Action:
Applied Optoelectronics (AAOI) has broken out through the 60 peak of its cup base formation and should be watched for pullbacks closer to the 60 price level (62-63) as potentially lower-risk entry points.
Coherent (COHR) is holding its gains very tightly after posting a buyable gap-up move on Wednesday after earnings. Pullbacks closer to the BGU low at 240 offer lower-risk entries, as we have noted in our morning Focus List Notes over the past two days. On Friday COHR pulled down as low as 241.65 which put it in a lower-risk buy position at that point.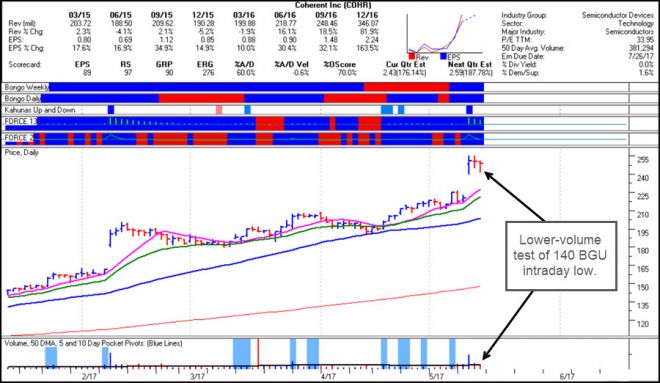 Facebook (FB) is tracking tight sideways with volume drying up to -39% below average on Friday. The stock is currently sitting between its 10-dma and 20-dema, so could be considered buyable here using the 20-dema as a selling guide for shares purchased up at these levels.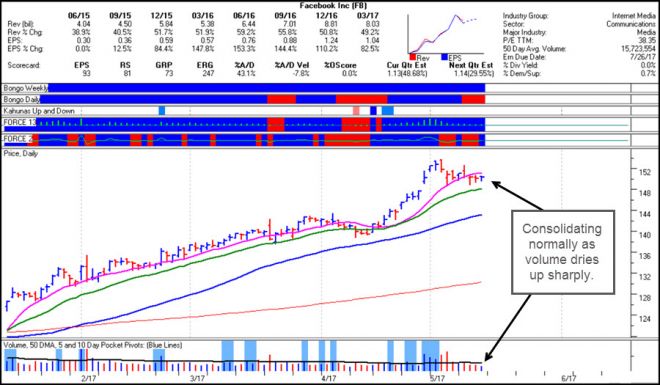 Lumentum Holdings (LITE) is approaching the 55.92 peak of its current short cup base formation where we would expect it to find some near-term resistance. We would watch for pullbacks closer to 52-53 as lower-risk entry points.
Momo (MOMO) posted a pocket pivot on Friday after finding support at the 20-dema. As we discussed in our Focus List Notes on Thursday and Friday morning, this put the stock in a lower-risk buy position at the 20-dema. Earnings are expected on May 23rd, so there is time for the stock to trade higher ahead of earnings.
Netflix (NFLX) is tracking higher along just above its 10-dma, and posted a new all-time high on Friday. We like the stock on low-volume pullbacks to the 10-dma. The stock is beginning to exhibit the characteristic seen in a number of big-stock NASDAQ names, such as FB, for example, that have steadily tracked higher along their 10-dmas.
ServiceNow (NOW) has pulled into its 10-dma on light volume, which puts the stock in a lower-risk entry position using the 20-dema as a maximum downside selling guide.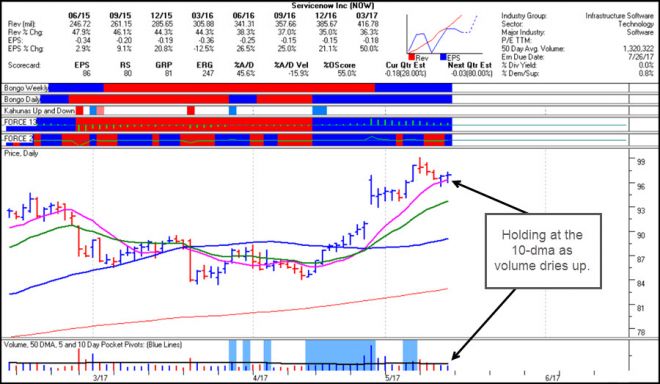 Nvidia (NVDA) has moved higher since Wednesday's buyable gap-up and base breakout combo, as we reported on early Wednesday morning. Pullbacks to the top of the base at 120.92 would offer the lowest-risk entry opportunities should they occur.
Snap (SNAP) gapped down after earnings and traded down to a low of 17.59, just above its $17 IPO offering price. It found support at this level and then proceeded to rally on Friday on strong upside volume. This constituted an undercut & rally move coming back up through the prior 18.90 low in the pattern, which could create an "Ugly Duckling" buy situation and potentially send the stock back up to fill at least part of Thursday's gap-down "falling window."
Tesla (TSLA) has formed a V-shaped rally back up towards its prior May highs on "wedging" volume. We would look for a small pullback and test of the 10-dma to help "correct" the wedging action and set up a potentially lower-risk entry opportunity.