Current Focus List

The VoSI Focus List is a compilation and reference list of stocks for which Pocket Pivot or Buyable Gap-Up Reports have been issued. It is not intended as a "buy list" or a list of immediately actionable recommendations. Stocks on the list may or may not be in proper buy positions, and investors should exercise discretion and proper judgement in determining when and where stocks on the Focus List can be purchased. The following notes are intended to assist in this process. Please note that members can enlarge the Focus List image by clicking on the body of the email and then holding the Control Key while pressing the "+" key until it is large enough to read.
General Observations:
The market sell-off on Wednesday produced an oversold condition that led to a sharp reaction rally on Thursday and Friday. This may indicate that some issues are starting to crop up for the market, but this can be handled in a concrete manner by investors currently long stocks, without allowing one's emotions to get in the way. Simply continue to abide by your selling guides for any current long positions.
If the market runs into any further selling similar to Wednesday, and the situation begins to deteriorate significantly, your stops should force you out well in time. Some profits may be lost off the peak, but this should keep on out of serious trouble, particularly if one is taking a slower approach that gives position more room to swing about.
Should the market find a shallow floor, some names may trade down closer to logical areas of support. As long as constructive market action is evident, such names can be bought in these areas of lower risk.
The Market Direction Model (MDM) remains on a buy signal. The VIX Volatility Model (VVM) is currently on a cash signal.
Removed from the List this Week:
Despite the deleterious and volatile general market action, no stocks were removed from the Focus List as there have been no violations of the 50-day moving average. In fact, most names have held above their 10-dma and 20-dema lines. That could change, however, so members should keep in mind where their maximum selling guides are at all times, regardless of what the general market may or may not be doing.
Focus List Stocks Expected to Report Earnings this Week:
Momo (MOMO) is expected to report earnings this Tuesday before the open.
Veeva Systems (VEEV) is expected to report this Thursday after the close. Members might consider taking partial profits ahead of the report, although that is up to each individual according to their own profit objectives, investment style, and risk-preferences.
Notable Action:
Most stocks on the Focus List are not in lower-risk buyable positions, and some may be showing at least short-term cautionary action. One example would be something like Facebook (FB), which was able to find support at its 50-dma on Thursday following a very bad break on heavy selling volume Wednesday. The ensuing bounce lacks any upside thrust in the form of strong buying interest as the stock runs into resistance at its 10-dma. This may imply that a retest of the 50-dma is in store.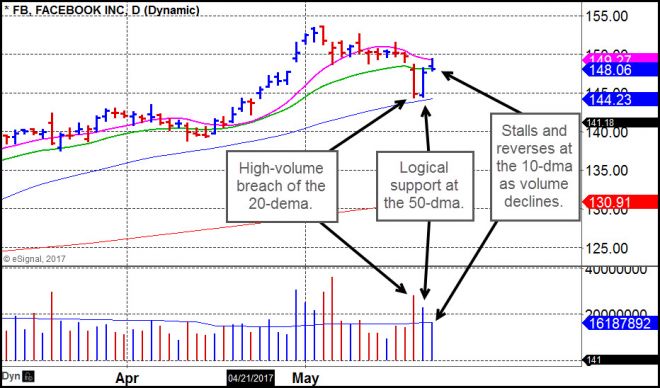 Coherent (COHR) is near support at its 10-dma and also near the lows of its gap up day on May 10. With the market in a potentially tenuous state, any buys should be done at low levels of risk, typically 2-3% or less.
Square (SQ) bounced on declining volume suggesting it may offer a low risk entry point should it trade closer to the lows of its gap up day on May 4 which would also coincide with the rising 20-dema.
Tesla (TSLA) has dropped below both its 10-dma and 20-dema, and after a logical reaction bounce with the market on Thursday ran into resistance at its 10-dma and reversed to close down on Friday. Last week we were looking for the stock to test its 10-dma or 20-dema on lighter volume as a constructive way of "correcting" the v-shaped rally back up to the highs over the prior week. The high-volume selling is not what we could call constructive action, and the stock may at least need to retest its 50-dma.