Current Focus List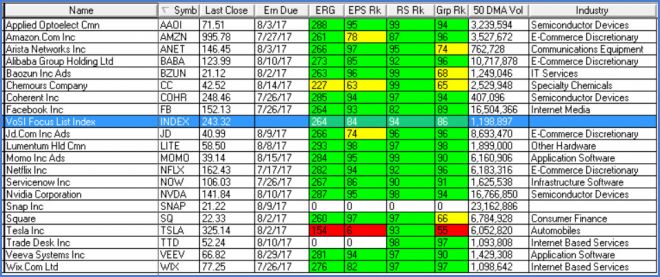 The VoSI Focus List is a compilation and reference list of stocks for which Pocket Pivot or Buyable Gap-Up Reports have been issued. It is not intended as a "buy list" or a list of immediately actionable recommendations. Stocks on the list may or may not be in proper buy positions, and investors should exercise discretion and proper judgement in determining when and where stocks on the Focus List can be purchased. The following notes are intended to assist in this process. Please note that members can enlarge the Focus List image by clicking on the body of the email and then holding the Control Key while pressing the "+" key until it is large enough to read.
General Observations:
The NASDAQ Composite and the S&P 500 Indexes posted new all-time closing highs on Friday. The NASDAQ posted an all-time intraday high on Thursday. Meanwhile, the small-cap Russell 2000 Index lags but is currently sitting on its 50-day moving average. This could set up a move off the line in constructive fashion as the market rally broadens out.
Recently investors have been treated to a constant drumbeat of "concerns" including claims of a faltering Trump Agenda, a debt downgrade of China by Moody's Investors Services on Wednesday, the Fed talking of decreasing its balance sheet, terrorist attacks, and daily reports of the "faux-scandals" allegedly plaguing the current Administration. Meanwhile, the market has simply trudged higher. Perhaps this is because each of these only represent more bricks being mortared into the proverbial "Wall of Worry" that the market seems only too eager to climb.
We note that many names on the Focus List are currently in lower-risk buy positions, per our notes below. This appears to be constructive and therefore indicative of the potential for further market upside in the coming days.
The Market Direction Model (MDM) is currently on a Buy signal. The VIX Volatility Model (VVM) is currently on a Sell signal.
Removed from the List this Week: No stocks were removed from the list this week.
Focus List Stocks Expected to Report Earnings this Week: None.
Notable Action:
Applied Optoelectronics (AAOI) posted two pocket pivots this past week, one on Monday and one on Friday as it posted a new all-time high on Friday.
Amazon.com (AMZN) is now within 1% of the "Millennium Mark" but remains in an extended position.
Alibaba (BABA) is holding tightly at its 10-dma. This is buyable here using the 20-dema as a maximum selling guide, although the prior massive-volume shakeout likely took out enough weak hands and brought in enough strong hands to send the stock higher in short order. Therefore, we would look for the stock to hold the 10-day line and move higher from here in the next few days if this theory is correct. Leading Chinese names such as this one continue to trend higher.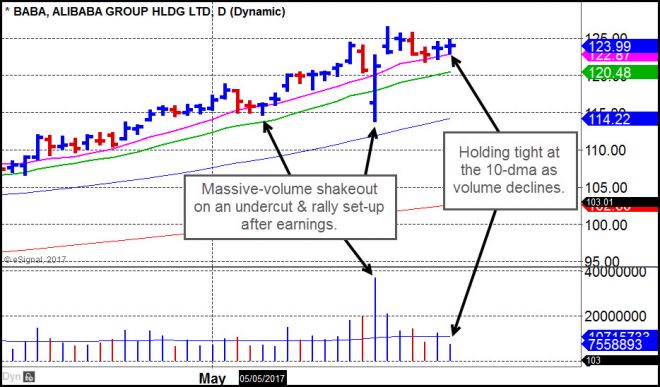 Arista Networks (ANET) posted a pocket pivot on Thursday and pulled back into the 10-dma on Friday, presenting a lower-risk entry opportunity using the line as a tight selling guide.
Baozun (BZUN) is holding along its 10-dma after finding support near the 20-dema on Thursday. This remains in a buyable position using the 20-dema as a maximum selling guide.
Chemours Company (CC) is holding tight at its 20-dema with volume drying up sharply on Friday. This presents a lower-risk entry spot using the 20-dema as a tight selling guide.
Coherent (COHR) posted an undercut & rally move on Wednesday as it undercut the prior 241.13 low in its two-week flag formation and turned back to the upside. This is in a buyable positon here using the 241.13 low or the 240 BGU low as a selling guide.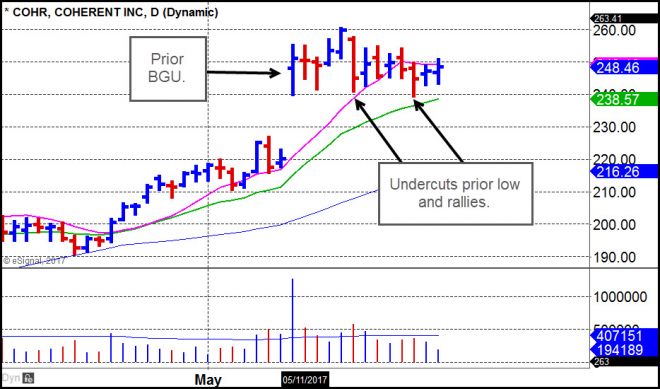 Facebook (FB) has moved back to the top of its range and appears set for a breakout to new highs after regaining the 20-dema last week in constructive fashion, as we noted in last weekend's Focus List Review.
JD.com (JD) is holding tight at its 10-day moving average with volume drying up. This sets up the potential for a continuation pocket pivot the 10-day line. Our preference, however would be to buy the stock at the 10-day line while using it as a tight selling guide, or the 20-dema as a wider selling guide. JD has retraced back to or near its 20-dema as it trended higher.
Momo (MOMO) has come under heavy selling pressure since reporting earnings on Tuesday before the open. It has, however, been able to find support at the 50-dma. For those who like to take a highly opportunistic "Ugly Duckling" approach to this market, buying as close to the 50-dma as possible while using it as a tight selling guide is a feasible approach, although success is not guaranteed.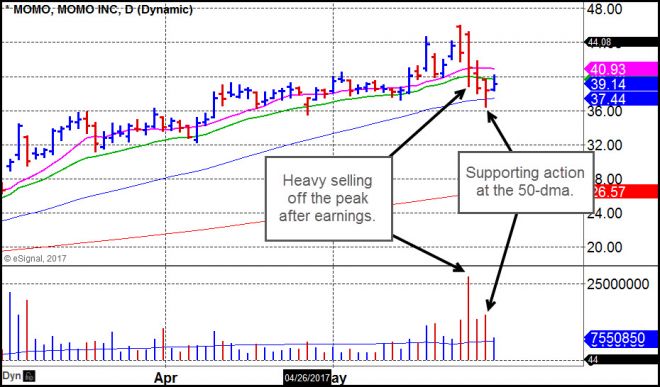 Netflix (NFLX) posted a pocket pivot gap-up to all-time highs on Thursday and held tight on Friday as volume decline. This is in a buyable position here using Thursday's 160.55 intraday low of the 10-dma as selling guides.
Snap (SNAP) broke out through its 50-dma on Thursday on a five-day pocket pivot move. It then pulled back in towards the 50-dma on Friday as volume declined, putting it in a lower-risk entry here using the 20-dema as a tight selling guide.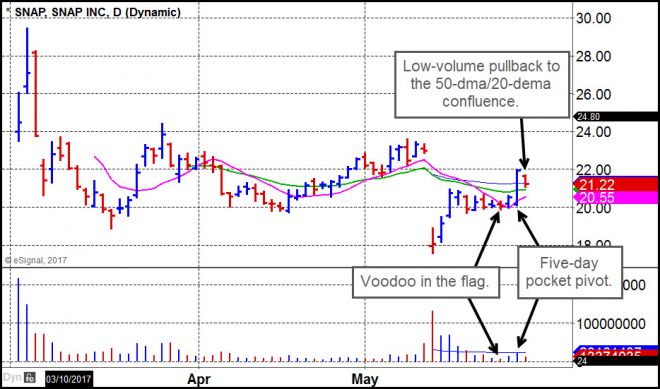 Tesla (TSLA) posted a pocket pivot volume signature on Friday but was a bit extended from its 10-dma to call it a bona fide pocket pivot. However, the action came on above-average volume and puts the stock in prime position for a breakout to new highs. We note that TSLA was buyable earlier in the week per our morning Focus List Notes as it posted an undercut & rally move on Wednesday. Interestingly, the strong action in TSLA has only served to embolden the shorts. Short interest as reported on May 15th has increased vs. the prior report at the end of April. TSLA has a number of substantial products in its pipeline such as the underground tunnel in Los Angeles, thus is doing what other technology juggernauts are doing- scaling into areas with exponential growth potential.
Trade Desk (TTD) is sitting at its 10-dma which could set the stock up in an add position using the 10-dma as a tight selling guide. The stock has been moving in volatile fashion since posting a buyable gap-up move even trading days ago, but over the past three days has tightened up considerably as the 10-dma has had time to catch up to the stock.
Wix.com (WIX) was added to the Focus List this week after being reported on in the VoSI VooDoo Report. The stock is building what is so far a four-week base with volume drying up on the weekly chart. On the daily chart, below, the stock is holding tight along its 10-dma and 50-dma with volume drying up in the extreme. The stock looks buyable along the lows of the base and the 10-dma and 50-dma lines, using the 50-dma as a selling guide.