Current VoSI Focus List

The VoSI Focus List is a compilation and reference list of stocks for which Pocket Pivot or Buyable Gap-Up Reports have been issued. It is not intended as a "buy list" or a list of recommendations. Stocks on the list may or may not be in proper buy positions, and investors should exercise discretion and proper judgement in determining when and where stocks on the Focus List can be purchased.
General Observations: Big-stock leaders like Facebook (FB) and Alibaba (BABA) were removed from the list this week, along with Paycom Software (PAYC). All three names came apart after earnings, with FB and PAYC gapping down badly. BABA reversed at its 50-day moving average after initially rallying above the 105 price level right after the report was released on Wednesday before the open. Last week we believed that more names would likely drop off the list as the market weakened, and so far that has proven to be the case.
The remaining names on the list may simply be the next to fall, and at least two names still on the list, Momo (MOMO) and Netease (NTES), are showing signs of weakening. MOMO is trying to hold along its 50-day moving average while NTES has violated its 20-day moving average for the first time since breaking out of a cup-with-handle base in late June.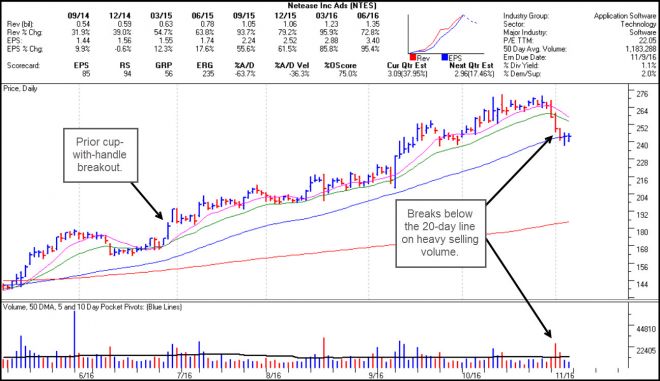 NTES is now trying to hold along its 50-day moving average with earnings expected to be announced this coming Wednesday. MOMO is expected to announce earnings on Tuesday. Nvidia (NVDA) is expected to announce earnings on Thursday. We would suggest taking at least partial profits ahead of the report.
Based on the general market action where we have now seen nine straight down days, the longest losing streak for the S&P 500 since December 1980, we would expect that most members should have locked in profits and moved further or entirely into cash over the past 1-2 weeks. We would also consider being proactive with names like Netflix (NFLX), which has now moved below its 10-day moving average, with a test of the 20-day line at 118.24 perhaps likely.
In general, while the market may be subject to some sort of reaction rally after nine straight down days, we do not believe that this is the time to be heavily committed to the long side.