Market Lab Report
by Dr. Chris Kacher
The Web3 Evolution Will Not Be Centralized™
Generative AI still so early
AI's text-to-image, text-to-video, and text-to-code has vast implications across many industries. You can have a younger Tom Cruise play Batman. Or have your friends star in movie or music roles. It can also create any style of comedy in an instant. "Tell a joke about airlines, Seinfeld style." Any novel can be turned into a screenplay. Such things have been done countless times so AI scrapes the data, learns, and delivers results. Indeed, the world of AI is already making good on its promises at breakneck speeds. The pace of its bleeding edge development is faster than any technology before it. Yes, we'll see a bubble but it won't hit us as hard as the dot.com bubble did because, compared to the dot.com bubble, AI companies have better margins and have been growing at a steadier pace. Based on the percentage gain so far, AI still has a ways to go before its bubble bursts. The dot-com bubble was so far much bigger.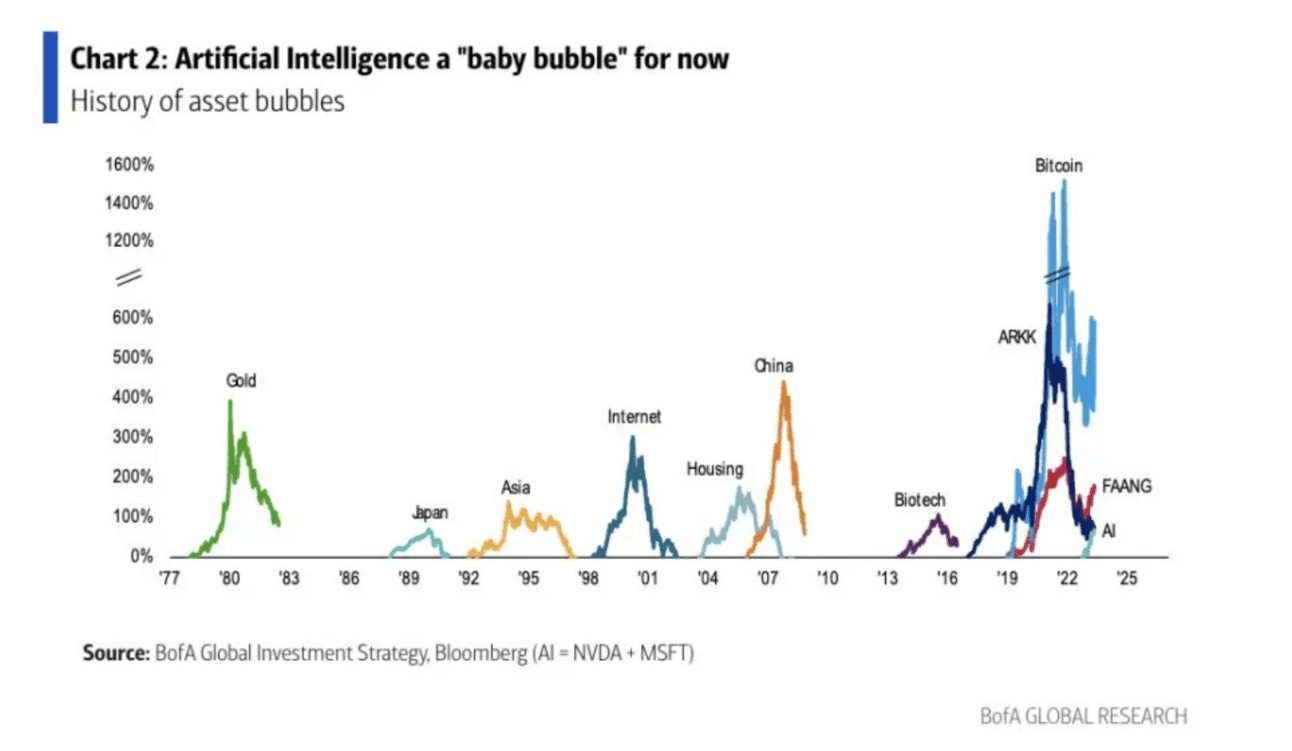 AI and advertising
Boding well for AI-meme stocks, especially the juggernauts such as AAPL, META, GOOGL, MSFT, and ADBE, and suppliers such as NVDA, we have generative AI (Gen-AI) which started with ChatGPT then drew in a seemingly limitless number of competitors. Gen-AI is dominating the technological landscape and is about to eat advertising.
Bloomberg expects GEN- AI to swell to a $1.3 trillion market and to reach 12% of total tech spend within 10 years.
The AI-assisted digital ads business, meanwhile, is expected to draw $192B annually by 2032. Digital advertising is a massive segment of technology and is the bread-and-butter of Alphabet (GOOG). Early-mover startups have entered the fray to innovatively change how advertising is done.
Treat, for instance, generates creative for CPG brands. The goal is to find the best product images that drive conversion. Without AI, this can be cumbersome, time-intensive, and expensive. With Gen-AI, brands can generate multiple options in seconds then test each one, seeing which performs best.
Marketers want flexibility to quickly test and iterate, doubling down on what drives higher clickthrough rates, average order values, and return on ad spend. AI lubricates the entire process.
Indeed, 2023 has a been a big year for major brands upgrading their logos. Burger King, Pepsi, and M&Ms have all updated their logos at minimal cost compared to prior revamps. The internet has long made fun of how expensive these brand refreshes used to be. This makes Gen-AI so disruptive.
AI personalizes advertising
AI in the advertiser's quiver will disproportionately benefit smaller brands. The internet was revolutionary in allowing for targeted advertising, again in favor of smaller brands. Today, every person will get a specifically-generated ad designed by AI just for their tastes and preferences.
Maybe a brand learns that you prefer certain seasons or sports or music over others; maybe a brand learns to generate ice cream ads that show you your favorite flavor; maybe marketing learns you prefer ads with certain iconic figures such as Barbie. Brands will be able to generate ads in real-time targeted to your preferences which increases their conversion rates.
Product images, banner ads, and YouTube pre-roll ads among countless other formats will be generated by AI.
AI and user-generated content
The internet has answered the question of what would happen if you put everyone on the planet into a room and let them all talk to each other. #discord #instagram #etc
Generative text-to-content variations of AI answers the question, "What would happen if you put everyone on the planet into a room and let them create anything?" For example, instead of needing to know the language Lua to build on Roblox, soon any Roblox user could just type, "Build an experience set in an ice skating rink with technicolor disco lights" and an immersive 3D world is instantly created.
Most creators are excited about AI as
a study
found that 86% of professional creators "say that AI positively impacts their creative process." AI gives us more tools in our arsenal of creativity, reducing costs, and extending human ability, just as we went from the paint brush and canvas to graphic design and photoshop.
AI and music
With AI, one can create any song specifying artist, genre, mood, and so forth. The simple template of "Artist" + "Genre" + "Mood" generates a brand new song. For example, an entirely-new, surprisingly-plausible AI-generated Drake song recently went viral. On TikTok, you can listen to Britney sing "Part of Your World" from The Little Mermaid.
AI will soon be able to name the emotions a song might evoke for the listener. A future AI-based app or a future feature on Spotify could let the user create songs based on their emotional content preferences. "I'm in the mood for a sad emo song using Moby's voice—and voila."
AI and TV/film
The user will also be able to assign characters to play various roles. You could choose which actor plays Batman. You could choose a younger or older version of that actor. You could assign Marilyn Monroe to play Barbie. You could have each of your friends play a different X-Men character.
Companies like Authentic Brands have built sizable businesses out of acquiring celebrity likeness rights—Muhammad Ali, Elvis Presley, Marilyn Monroe. Those likenesses will become more valuable in a Gen-AI powered world because it will cost money to use those likenesses. The estates of late artists such as Elvis Presley and Michael Jackson might consider putting out new albums "sung" by those artists.
There's an episode in the new Black Mirror season where the actress Salma Hayek is upset because she sold her likeness to a Netflix-like streaming service which is using her likeness in inappropriate ways. Of course, in real life, contracts can prevent this from happening. Instead, actors can sell their likeness to help generate additional content and thus revenue in a far more efficient and economical way.
Just as social media has done, Gen-AI will fuel another explosion of content. Name recognition will become even more critical to breaking through a sea of noise. Expect many more AI-generated and IP-fueled TV shows and movies, and along with it, many more battles over image and likeness rights.
AI future
AI's reach is limitless from enterprise use cases like customer support (Ada is an early mover), legal (Harvey, for instance), and copywriting (Jasper is an example). It has been said that 99% of internet content will eventually be AI-generated. Perhaps 99% of emails and meeting notes will be AI-generated.
NVIDIA's Jensen Huang recently said, "In the future, every pixel will be generated and not rendered." This marks a key shift to generative content populating an ever-more-evolving web. Web3 which enables others to build on others' creations will catalyze the evolution.
META and MSFT teamed up and recently released Llama 2. META open-sourced their large language model Llama 2 which competes with ChatGPT, authorized commercial use, and announced a shocking partnership with MSFT, so keep a close eye on these two AI tech juggernauts.
When you consider Gen-AI which utilizes machine language (ML), consider not where it is now, but its hyper-exponential trajectory, and how far more powerful iterations could impact the future. ML people tend to forget this point because they live in it, but it's worth pointing out that the rate of progress has been insane. Over almost every night, we wake up to see new breakthroughs such as a paper automating the entire process of making a Southpark episode. That's not normal even in the fastest areas of growth. I have friends doing research in other fields such as biochemistry, physics, neuroscience, etc. Typically, years pass before their field sees major breakthroughs. To be in ML is to ride the tech tsunami at the speed of light.
Of course, when recession hits at some point after the next rate hike, expect all major averages to have steep corrections along with the overextended AI companies.
Markets
Economic growth has likely been too firm in recent months for Powell to have confirmed that rate hikes are over. Also, food prices have jumped 5.76% YoY and remain stubbornly and persistently high due to ongoing supply chain issues.
Source: www.bea.gov
On the other hand, inflation has recently come down without requiring a rise in the unemployment rate. The market reacted by lowering the odds of further rate hikes after September.
The average of the 8 sectors above is a 5.02% inflation rate, which is just below the new FFR of 525-550 bps. The Fed has only raised rates enough to offset inflation, not curb it, so it is likely they will keep rates at this level for months. Powell said everything is data dependent going forward so should sticky inflation persist, we would see inflation kept at current levels for a prolonged period, Powell even said they could hike once more. CME FedWatch shows rates will be kept at current levels until March 2024 then will reduce rates by 25 bps until they reach 400-425 bps late in 2024. Further, a cold winter in the Northern Hemisphere could affect food production and energy demand and push the inflation rate higher though it is more likely the winter may be less of a factor with global temperatures ticking higher.
Bitcoin's role as an alternative money system or currency inversely correlates with real interest rates over time. Real interest rates are calculated by subtraction the rate of inflation from nominal rates. With rates likely to pause then fall from here along with moderating to falling inflation, real rates should hold steady for now, implying a non-bull nor a non-bear market for Bitcoin. In consequence, a rhyme of 2015-2016 for Bitcoin may be in the cards where it didnt really start into a solid bull until late 2016.
The burning question is how could the Federal Reserve aggressively hike interest rates, yet break nothing in the economy since high unemployment and GDP contraction have yet to occur. That said, numerous banks have blown up in the last few months. Three of the four largest bank failures in history have occurred in the last seven months. The Fed's actions didn't impact the public as it had done in the past but instead killed financial institutions. The longer rates stay above 5% without unemployment growing or GDP contracting, the odds of a recession diminish. The amount of utility bleeding edge technologies such as generative AI create is staggering and underestimated. Recession could then be postponed much longer than expected which would allow the AI bubble more room to grow. The dot-com bubble grew for more than 3 years before imploding. By contrast, AI has only been going for just over half a year.