Actionable stocks update from our various real-time reports (PPR, BGU, Voodoo, etc) sent to members:
Music streaming company SPOT hit new highs after it became actionable in our PPR report sent on June 6, keep stops tight.
Network storage company NTAP also hit new highs after it became actionable in our PPR report sent on May 24.
CRM, V, ISRG - all hit new highs at some point last week. Partial profits could have been taken for those who prefer to quickly lock in profits vs. those who place their sell stops more liberally.
Blockchain company XNET was up +7.8% on Friday after it became actionable in our Voodoo report sent on May 31. The whole blockchain space has massive potential over the long run though bitcoin and ethereum which are the leaders are still going through a correction that started around the beginning of the year. Since other cryptocompanies correlate heavily with the price direction of both leading coins, this could act as a headwind for companies such as XNET. On the other hand, XNET may take the opportunity to outperform both bitcoin and ethereum when either coin moves higher.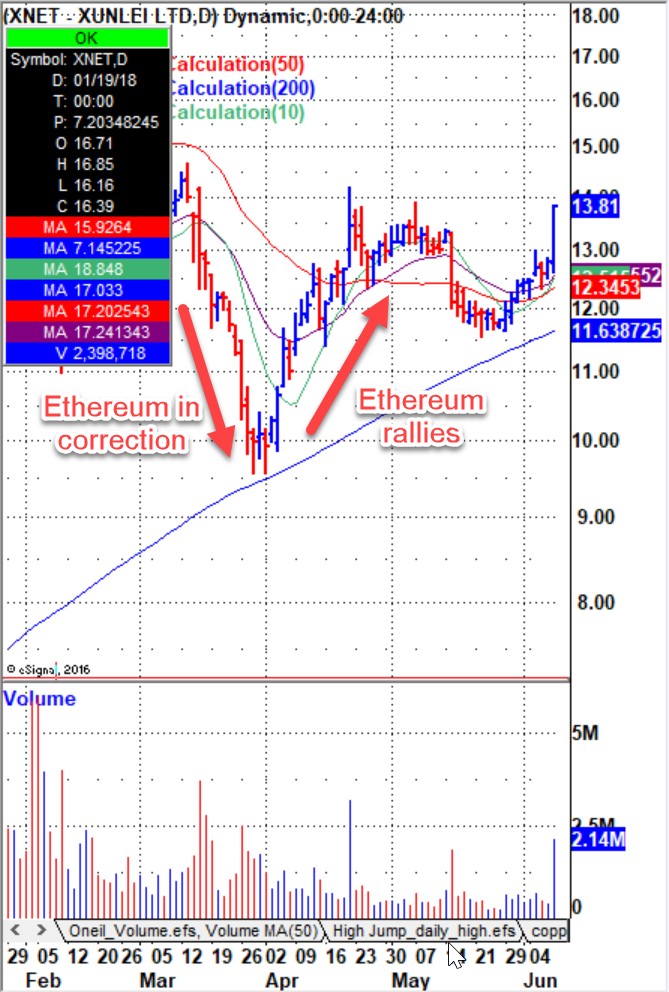 Note in the chart below, Ethereum (cryptoticker: ETH) went through a correction from Jan - Mar then bounced in April. The whole cryptospace is still in correction, though one can take advantage of XNET when ethereum bounces or becomes constructively tight as it did last week. Note, the chart below is 24/7 so shows ETH having dropped on Sunday June 10 as of this writing. Partial or full profits can be taken in XNET on Monday when the stock market opens for trade.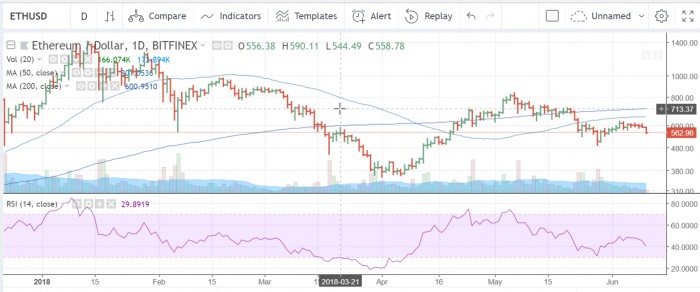 QT in the EU?
In matters of quantitative tightening (QT), two ECB officials indicated the central bank will start intense discussions about winding down its massive bond-buying program when policy makers meet in Riga, Latvia. "Next week, the Governing Council will have to assess whether progress so far has been sufficient to warrant a gradual unwinding of our net purchases. In making its assessment, it will consider the underlying strength of the euro area economy and the pass-through to wage and price formations," said ECB Chief Economist Peter Praet in prepared remarks for a speech in Berlin. Echoing the sentiment, one ECB policy maker said market expectations for the central bank to end quantitative easing this year are plausible.
Yet the global economy remains at quagmire velocity which is liable to eventually force the US Federal Reserve's hand to lower rates once again, potentially within the next year or so, after their series of 25 basis point rate hikes that began in late 2015. This would also imply admission that quantitative easing has been a failure. Certainly, negative rates such as in Japan and Germany have warped their respective financial structures.
Cryptocurrencies To Replace Fiat?
Meanwhile, Ken Jacobs, the CEO of Lazard, one of the world's largest asset management and advisory firms, believes cryptocurrency is more likely to replace the US Dollar as the world's reserve currency rather than the Yuan, the Euro, or any other major currency. Jacobs said that as the US continues to isolate itself from the world with respect to trade policies and immigration, the dollar becomes less and less attractive as a reserve currency.
Satoshi Nakamoto created Bitcoin a decade ago with a simple idea in mind: to create a decentralized payment system that could work without borders that make payments easier for people all over the world, and will help bring fully online 3 billion of the world's unbanked via cheap mobile phones. For the first time in history, this will enable these people to transact goods and services. This is a massive tailwind for bitcoin. While bitcoin remains volatile preventing it from acting as a stable form of decentralized fiat, volatility will bleed out of bitcoin as it matures and more institutions and individuals sign on to the technology.
That said, it is absurd when any country says they are creating their own cryptocurrency to override bitcoin. The reality is that any government-induced cryptocurrency will always be centralized. The decentralized nature of bitcoin allows it to go beyond national borders. Thus, any centralized cryptocurrency is no better than existing fiat which always has a limited lifespan due to state corruption. Power corrupts. Blockchain destabilizes corruption by decentralizing the state.
Futures are roughly flat at the time of this writing despite President Donald Trump's aggressive stance at the G-7 meeting. The uptrend remains intact for now.