Market Lab Report
by Dr. Chris Kacher
The Web3 Evolution Will Not Be Centralized™
How real is the AI hype?
The number of companies and individuals who are experiencing productivity boosts since the launch of ChatGPT has been massive. ChatGPT reached 100 million users in just 2 months, by far the fastest rate of adoption in the history of technology. Since then after just a few months, the number of users has skyrocketed into a few hundred million. But AI use was robust prior to ChatGPT. Automation, worker productivity, and consumption from increased demand have been and will continue to soar. Statistics from a recent survey show that
more than nine in ten
(91 percent) top businesses surveyed report having an ongoing investment in AI (NewVantage, 2022), that
61 percent
of workers say that their adoption of AI within the workplace has led to a boost in productivity (SnapLogic, 2021), and that
54 percent
of firms using AI reported seeing cost savings and efficiencies (IBM, 2022).
So it should come as no surprise that a number of leading technocentric individuals and institutions such as Marc Andreeson and Price-Waterhouse-Coopers with impressive track records in analyzing cutting edge technologies say that the greatest economic gains from AI will be in China with a 26% boost to GDP by 2030 and North America with a 14.5% boost, equivalent to a total of $10.7 trillion and accounting for almost 70% of the global economic impact. AI could contribute up to $15.7 trillion to the global economy in 2030, more than the current output of China and India combined. 45% of total economic gains by 2030 will come from AI-based product enhancements which will reduce cost, boost efficiencies, and increase personalization thus drive product demand.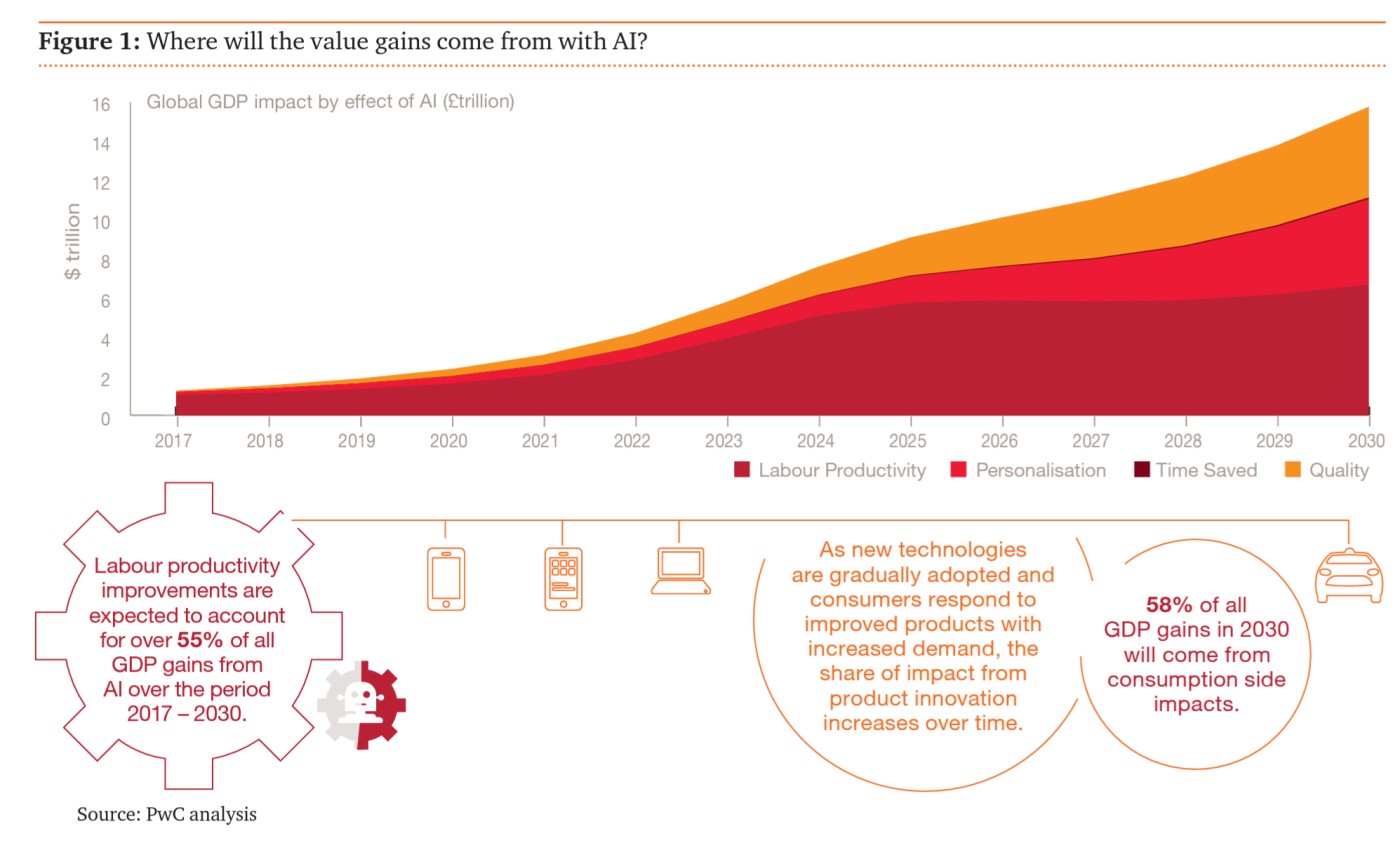 In essence, AI helps everyone be better at what they're doing, AI boosts productivity and efficiency across a nearly unlimited number of areas, and AI augments our creativity and intelligence. The horsepower driving the technology make these estimates achievable.
Generative AI + NVDA

Since the start of the year, NVDA has been the top price performer among the megacap tech stocks such as MSFT, AAPL, AMZN, GOOG, and META that are racing to boost their exposure to AI technologies. ChatGPT, one of the most popular generative AI apps, was trained with the help of 10,000 NVDA GPUs. Generative AI applications are expected to create the need for hundreds of thousands of GPUs generating a massive $451 billion in revenue by 2030.
Rowan Cheung
provides daily updates on the dozens of new apps and AI platforms that are launched every day. The speed of development is breakneck. OpenAI is using NVDA's A100 GPUs to power ChatGPT, and it will now deploy the latest-generation H100 Hopper graphics cards to train Microsoft's Azure supercomputer for AI research. Meta Platforms also deployed the H100 GPUs in its AI supercomputer to power both its training and inference of deep-learning models. Meanwhile, other generative AI platforms are tapping the H100 GPUs to train different kinds of applications. But already this is insufficient as a serious hardware bottleneck is at hand given the pace of development.
AI systems during the last ten years have doubled every 6 months, significantly outperforming Moore's Law. NVDA is the leader that is addressing AI-driven hardware demand as it has a deep moat in terms of design patent protection with superior technology when compared to INTC and AMD, both whom have heat issues, though AMD has launched a new chip to compete with NVDA. NVDA also has an earlier mover advantage so both INTC and AMD lag behind.
Hardware bottlenecks
At present, there is a severe CPU and GPU hardware bottleneck due to extreme demand. A large language model (LLM) which is a type of machine learning model that can perform a variety of natural language processing (NLP) tasks are the beating heart of generative AI such as ChatGPT. To address the predicted hardware bottleneck caused by LLMs, NVDA's GH200 platform has a whopping 144TB of "unified" memory. Within machine learning, we have differentiable computing which is a powerful way to figure out which computational models to run to learn from data more efficiently and effectively and even make predictions. This will revolutionize many areas such as supply chains thus will create many new jobs in software engineering, applied math, statistics, and data science. It can also learn from experience so it improves the accuracy and efficiency of software which replaces the limits of more rigid, rule-based software. Inevitably, this will exert even higher demand on hardware as it requires significant processing power. This technology is likely to overtake many traditional software applications in the coming years, particularly in areas such as image recognition, natural language processing, value chains, and autonomous systems. The increased demand for hardware benefits companies such as NVDA.
30-year Treasury yields likely to fall
But despite the promises AI holds, we have to keep in mind that much of the growth has been with us for many years and while growth remains strong out to 2030, it looks to decelerate with AI's contributions to GDP moving higher by 3x from Jan 2017- Dec 2022 (6 years) then estimated at 2x from Jan 2023 - Dec 2028 (6 years) though the percentage gains are still impressive. Also, it is only recently that ChatGPT turned the global spotlight on AI. So while we do have sharp productivity gains at the generative AI level making the hardware shortages very real, this partly explains NVDAs soaring revenue projections. The generative AI impact on the whole of AI is still a minority though growing. More impactfully, we have a potential recession waiting in the wings though it could be argued we are already in recession. The distorted, misleading CPI and GDP figures lead the Fed to say otherwise.
We also have reduced liquidity on the way in the US, UK, and EU. The Fed is caught as it needs to avoid a credit crunch which calls for a dovish stance while fighting high inflation which calls for a hawkish stance. Once the economy starts to descend into what officials would call a recession, the Fed will be forced to lower rates in a hurry as they are always behind the curve which will push bond yields back into their long term downtrend. History has shown such action marks the start or continuation of bear markets.
Yields currently sit at levels which are a headwind for growth and a 40+ year aberration. But with the ongoing and recent acceleration in AI-related productivity as more companies wake up to the need for AI integration, a material slowdown in the economy may be postponed by several months. The markets are in uncharted waters. Further, China just lowered reverse repo rates and lending rates boosting global M2. This could push already propped indices such as the NASDAQ higher. But at present, a number of indicators including the the AAII survey went from 29% to 44.5% in 1 week, a massive jump, suggesting an overheated market that is ripe for a pullback.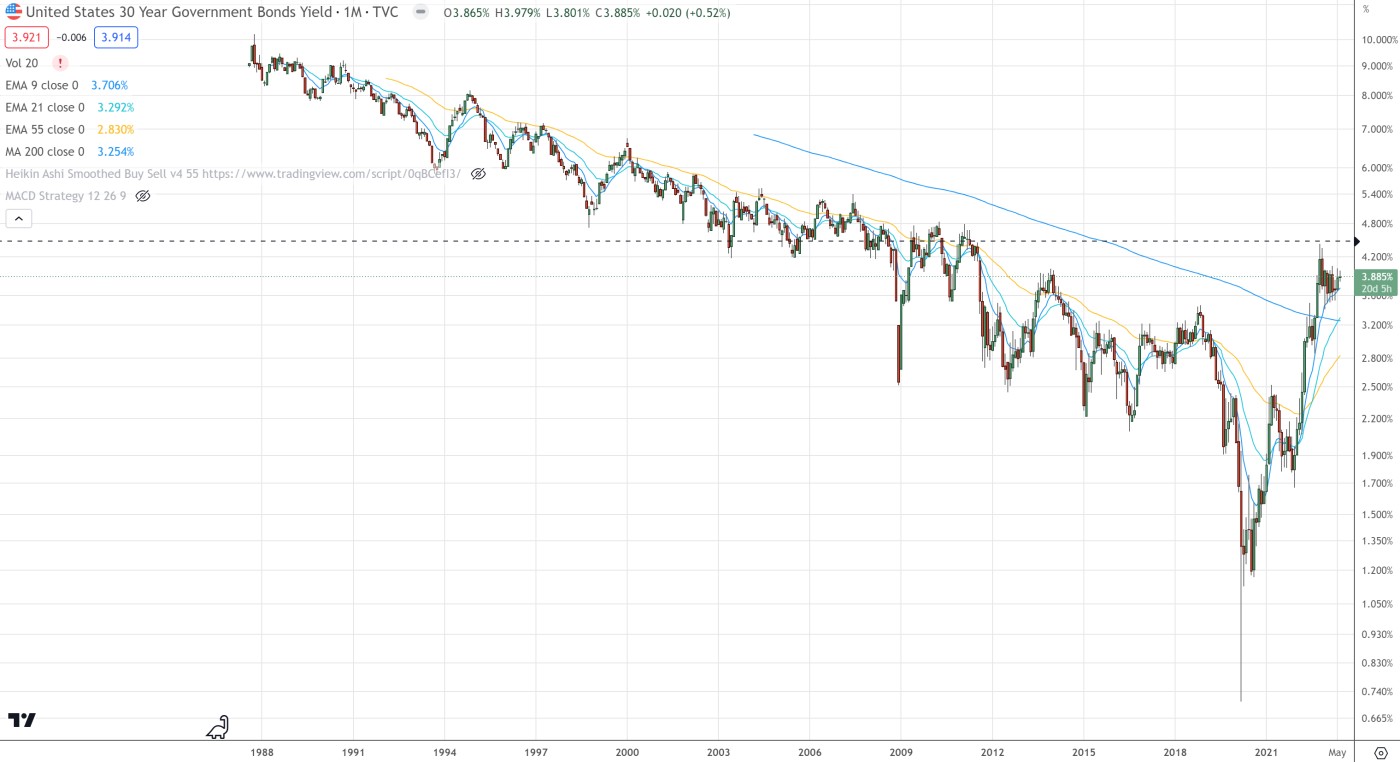 CPI/PPI/Fed
Core CPI matched expectations while core PPI YoY came in under estimates (2.8% vs est 2.9%). Core CPI is coming down more slowly than the CPI due to some of the stickier variables that remain elevated such as shelter and transportation. But keep in mind the Fed's preferred measure of inflation, the PCE, has come off peak the slowest. This likely triggered Powell into saying the rate hikes have not impacted inflation sufficiently so sees no rate cuts a couple of years out. All members were in agreement on this last point.