Market Lab Report
by Dr. Chris Kacher
The Metaversal Evolution Will Not Be Centralized™
Inflation vs. lifeboat trades
Inflation has been a pressing issue. As the prices of goods and services continue to rise, it can lead to significant economic and social consequences. Unfortunately, there are indications that inflation may remain elevated for a prolonged period of time, with several key components contributing to this trend.
One of the primary drivers of inflation is the cost of food. The pandemic has caused disruptions in global supply chains, leading to labor shortages and increases in transportation costs. These factors have made it more expensive to produce and transport food, ultimately leading to higher prices for consumers. Additionally, extreme weather events and other climate-related disruptions can impact crop yields, exacerbating the upward pressure on food prices.
Another significant contributor to inflation is oil prices. As the global economy continues to recover from the pandemic, demand for oil has increased. However, oil production has not kept pace, leading to higher prices. Additionally, geopolitical tensions and production cuts by major oil-producing countries have exacerbated price increases.
Lastly, rental prices can also contribute to inflation. As the housing market remains tight, rental prices have been increasing across many cities. This can lead to higher costs for businesses and individuals, which can then be passed on to consumers in the form of higher prices for goods and services.
These factors suggest that inflation may remain elevated for a prolonged period of time. But this has been bullish for the alt-currencies such as precious metals and Bitcoin, though Bitcoin remains a risk-on asset as it has yet to truly decouple from stocks should the economy falter. In other words, when recession hits likely later this year as discussed in prior reports, stocks, Bitcoin, and altcoins should fall. But in the meantime, all are in extended uptrends so only buy at logical areas of support with tight stops. Stablecoin liquidity remains unconvincing. The two main stablecoins USDT+USDC are not surging in market value unlike past bull markets in crypto.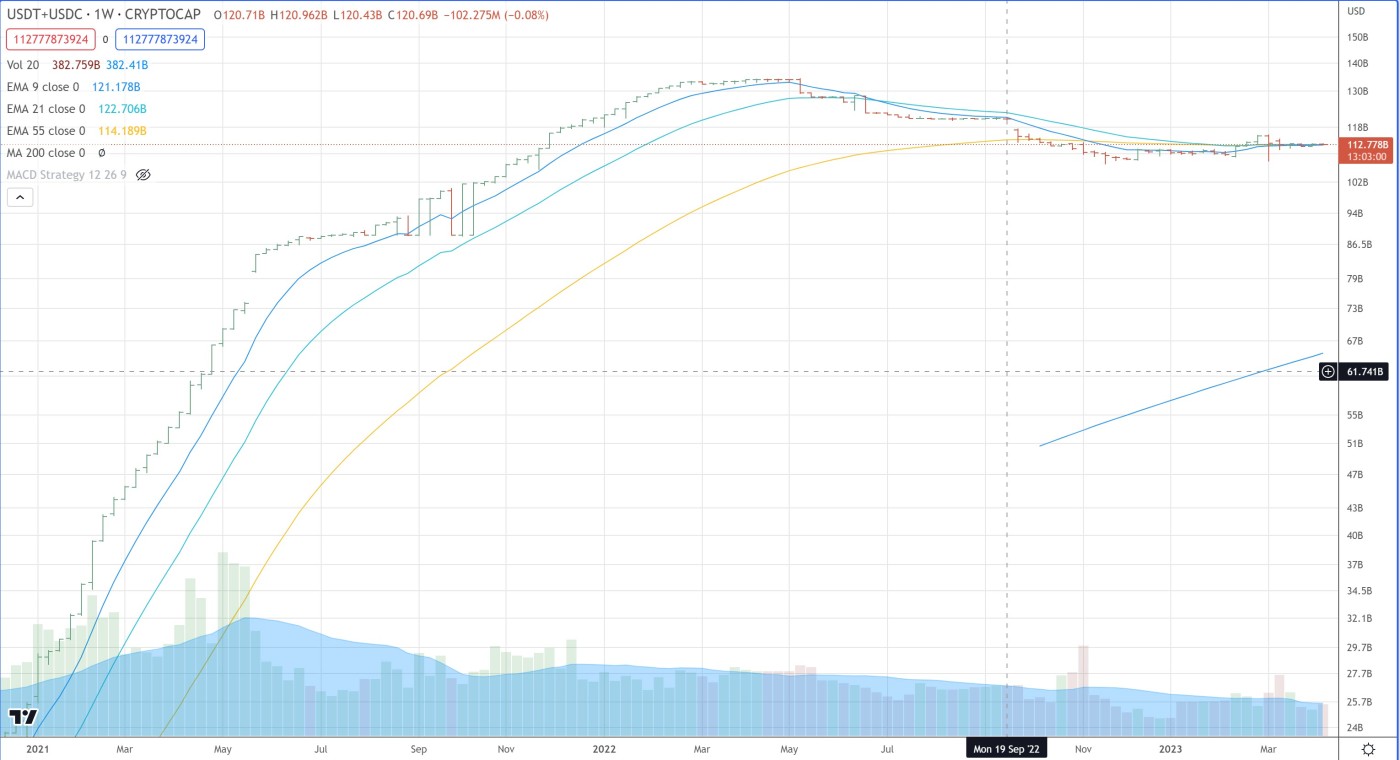 The Vanguard Total Stock Market ETF measures the value of the whole stock market. In past market bottoms, it shot higher but this was during various forms of QE. This time, we have a sloppy rangebound market. Pushing markets lower has been the fastest pace of rate hikes from near zero levels in history. Things are breaking from banks to potentially other vehicles that hold bonds such as pensions and commercial real estate. By contrast, global M2 has been on the rise which creates the bounces. The CME Fed Futures expects one more rate hike though this could change of course with new data. Various Fed members such as Bullard have said the fight against inflation is not over and that there is still much work to be done in terms of keep rates at least at current levels. On the other hand, Treasury Secretary Janet Yellen is against further rate hikes due to the weakness in banks. Meanwhile, the inflation read in the UK came in hot at 10.1% YoY vs. 9.8% est and 0.8% MoM vs. 0.5% est. with near certainty of another rate hike in May when the Bank of England meets. The CPI MoM in the EU matched expectations at 0.8%.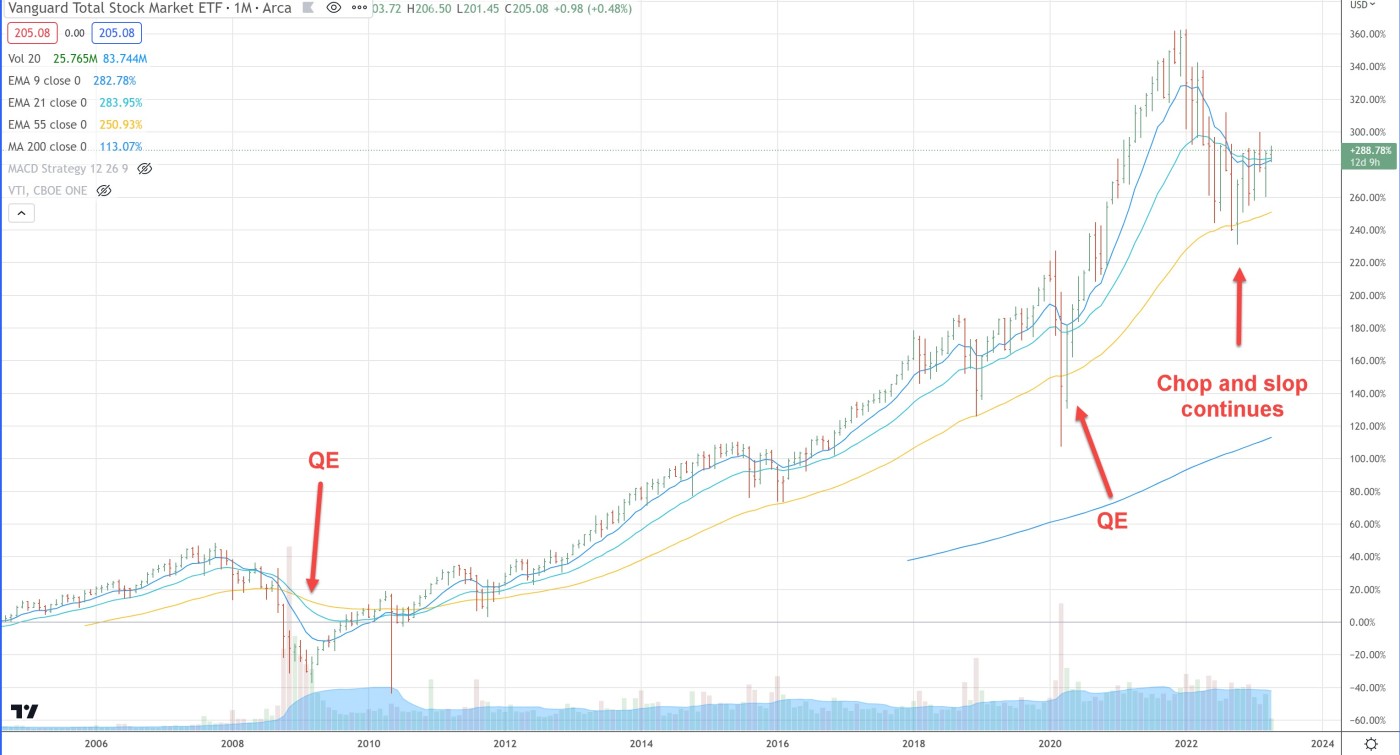 This tug-o-war between increasing global M2 and a weaker dollar which pushes markets higher, higher rates to fight inflation which strengthens the dollar and pushes markets lower, tighter lending which slows the economy, and looming recession may keep markets in a wide, sloppy trading range. Remaining alert to opportunistic entry points is key.