Market Lab Report
by Dr. Chris Kacher
The Web3 Evolution Will Not Be Centralized™
With the NASDAQ Composite and S&P 500 back below their respective 50dmas on Friday and the dollar and Treasury yields on the rise, the market is sending signals that inflation remains an issue. Higher yields make bonds more attractive compared to stocks which pressures the stock market. A strong dollar makes stocks more expensive for big non-US institutional investors who may opt to invest their money elsewhere, dragging US markets downward in the process.
The price of oil has also been trending materially higher since late June 2023. This could stoke inflation.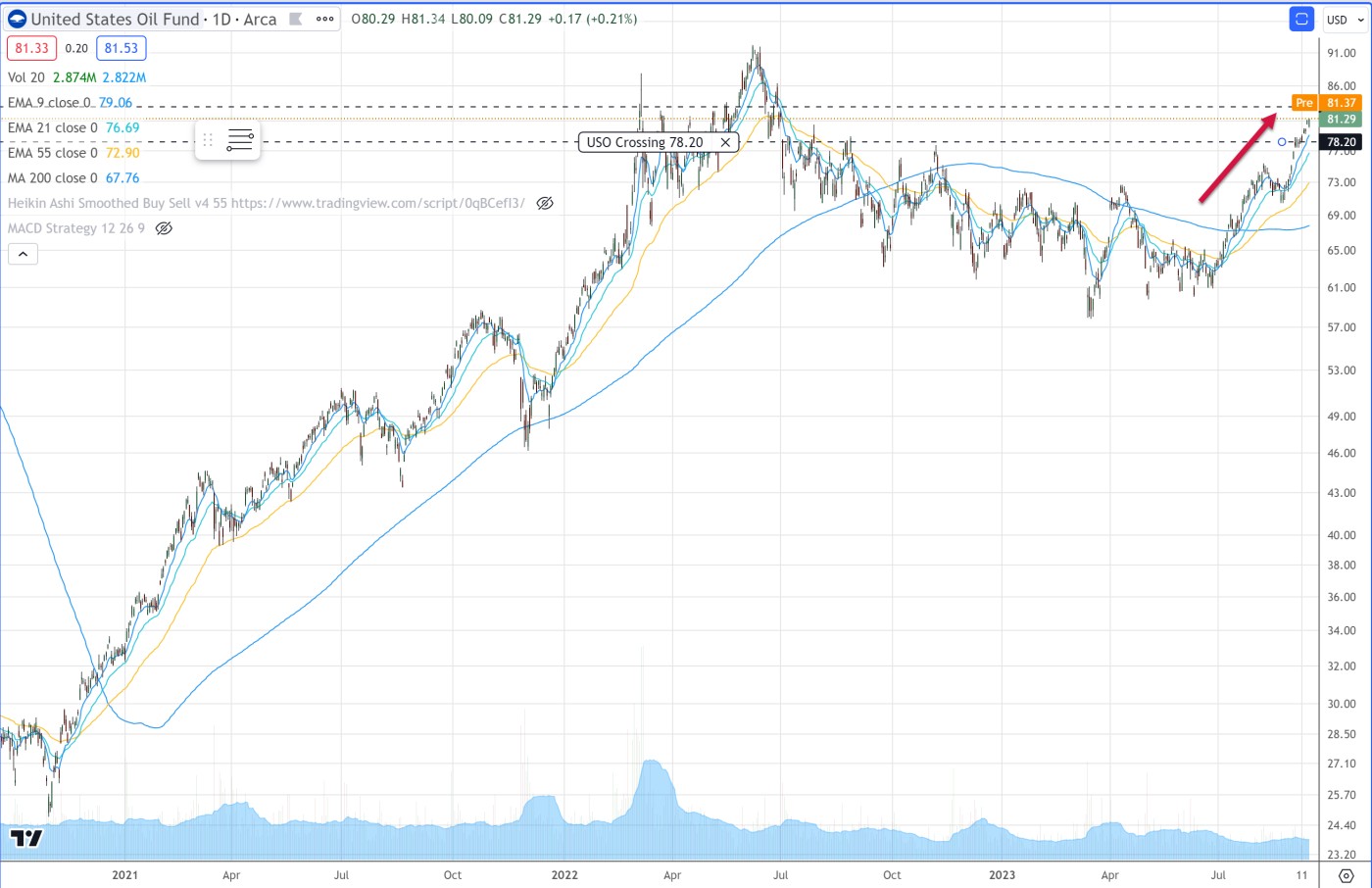 Inflation has not reversed as we discussed in a prior Focus List Review, only slowed from peak levels. Further, CPI data is distorted in that there has been an ongoing monthly adjustment to the health insurance component of the CPI that caused it to collapse by 33.6% year-over-year. CPI, core CPI, and core services CPI have been understated significantly since October 2022, when the monthly health insurance adjustment started causing a large distortion of data as a result of coming out of the pandemic. The September CPI coming out in October will be the last month with this health insurance CPI adjustment, after which CPI readings could reaccelerate.
The Fed has suggested one more rate hike would depend on the data. CME FedWatch shows no more rate hikes before rates start to drop in June 2024. AI-meme stocks continue to struggle. Liquidity remains a major issue for both stocks and crypto.
It's been a choppy, sideways market the last few weeks. As the NASDAQ Composite fell below Friday's low of 13684, this does not bode well for the market. Crypto would also likely fall as it has been dead cat bouncing since its intermediate low on 9/11 suggesting more shorting opportunities.
Standing in the way of a soft landing is the Fed keeping rates too high for too long due to an economy that won't sufficiently slow. Also, a continued rise in oil prices or a financial market black swan due to something else breaking would also be a spanner in the works.
Crypto
Meanwhile, Bitcoin rolls over shortly after every major bullish news announcement. So far, this has been the theme of 2023. The current bounce looks suspicious as well. Note how bounces are always sharp, potentially fuelled by short covering, which is often followed by a choppy sideways move which then rolls over with lower highs and lower lows.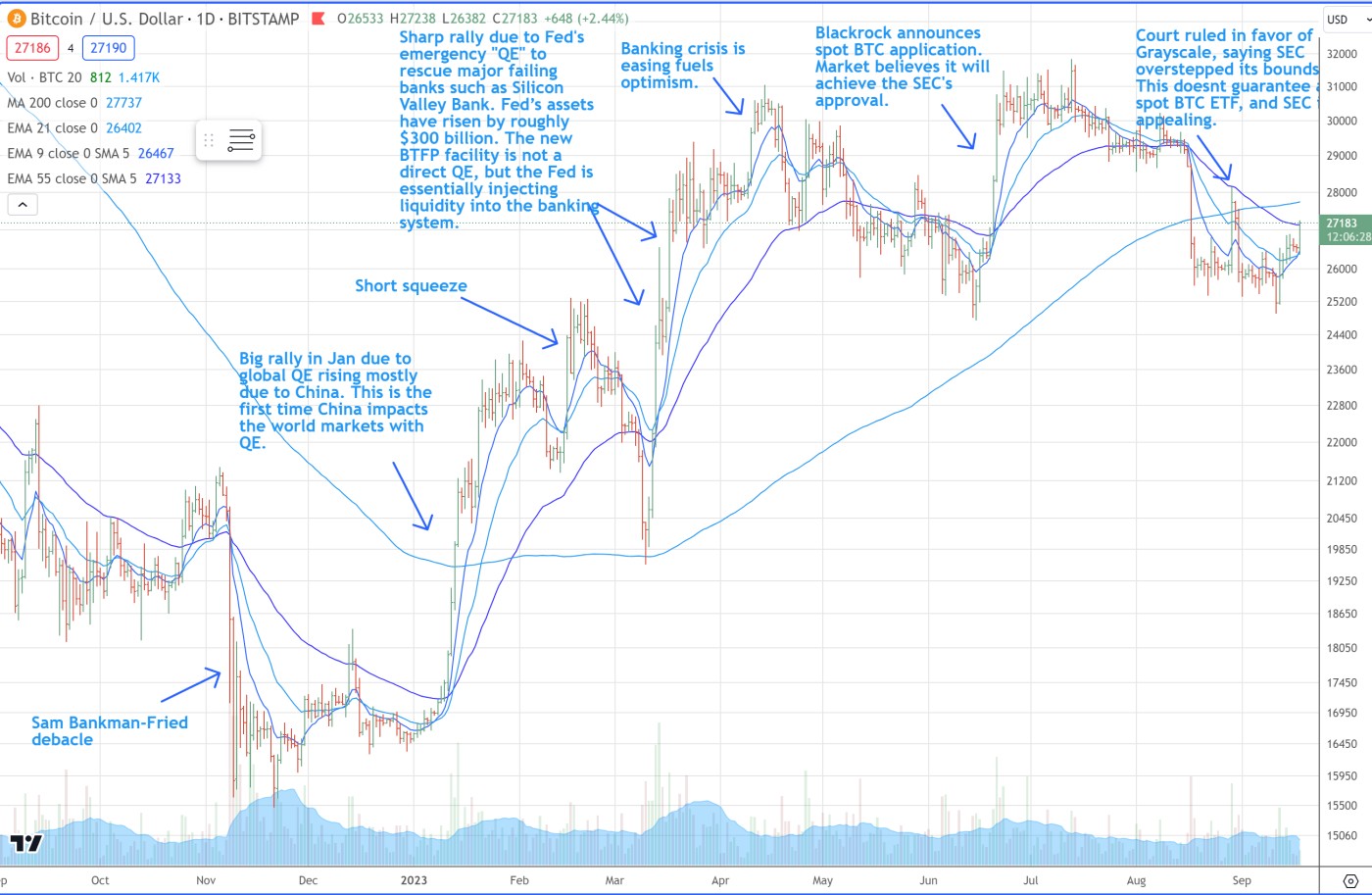 Shorting opportunities present. Some of the weaker names are lagging compared to benchmarks BTC and ETH such as metaverse name SAND. In the case of SAND, one could use the 21dema as their covering guide since it tends to obey its 21dema when in a downtrend.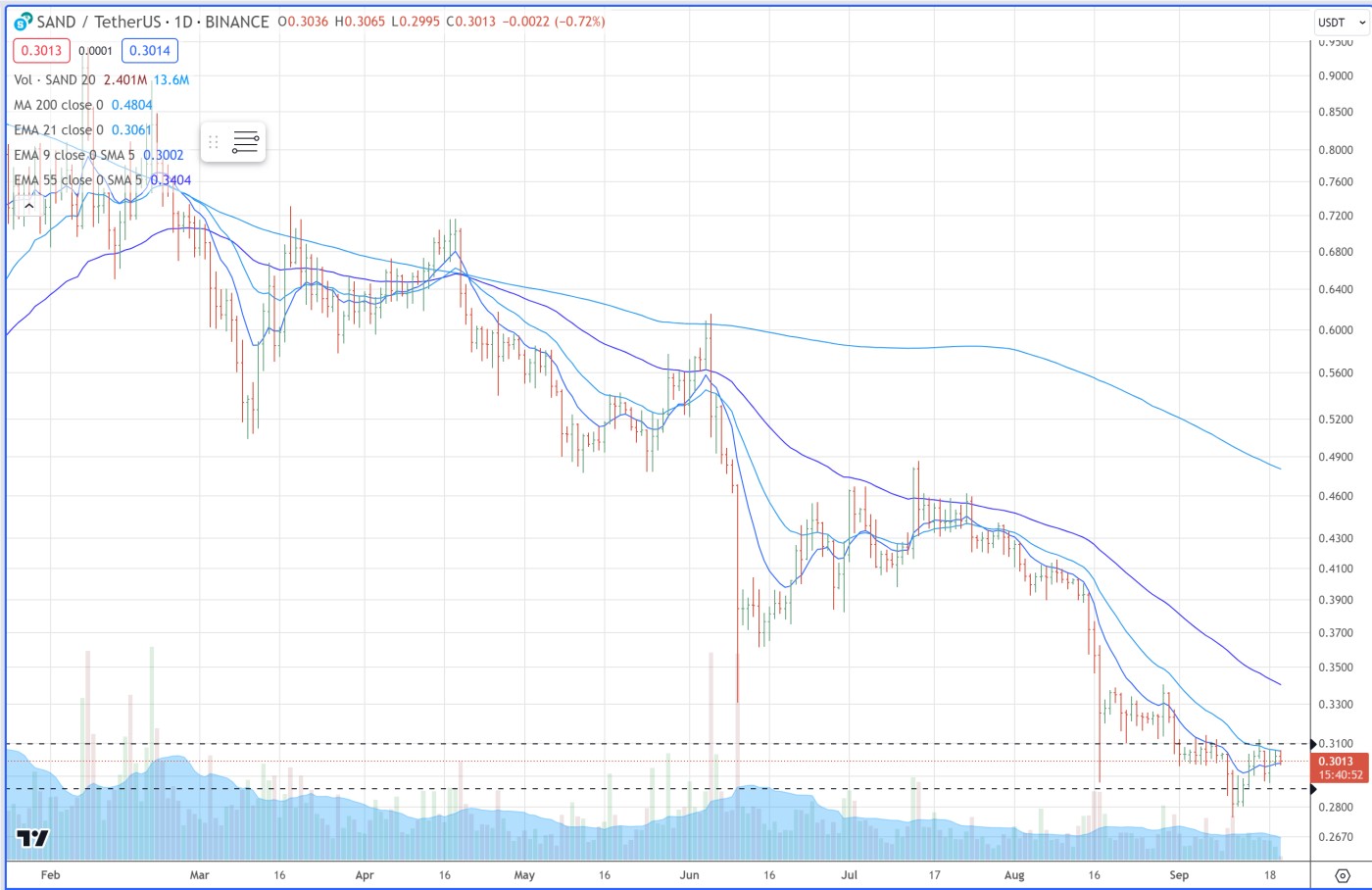 Meme coin PEPE has been one of the weakest performers since it has no real value so has a lot further to fall given its $266 million valuation. One could use its 9dema as a covering guide.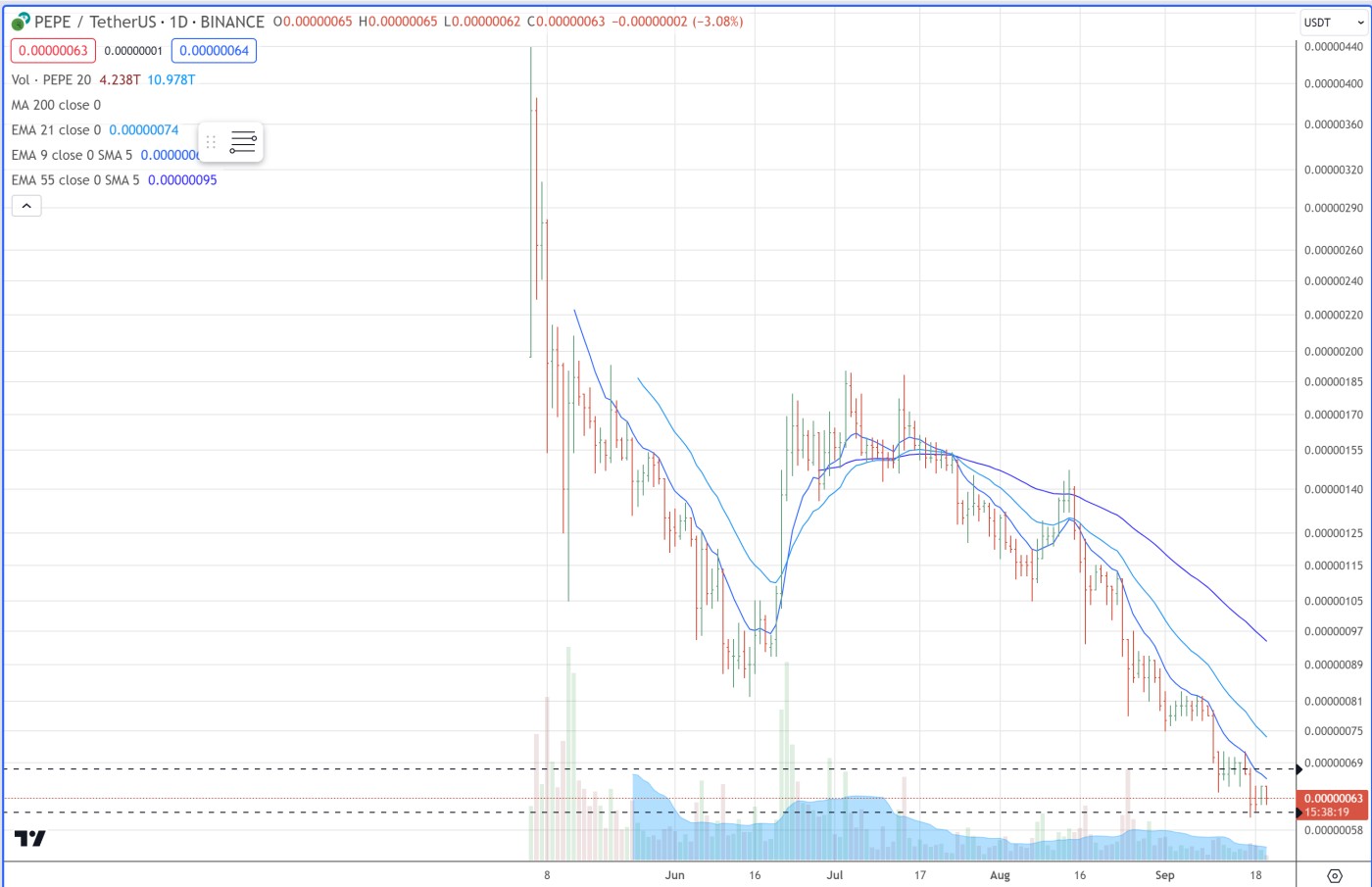 Layer 1 crypto FTM fundamentally is up against juggernaut ETH so in a bear market, it is likely to continue to fall further. ETH has been well outperforming FTM in this market. One could use FTM's 21dema as a short covering guide.