Market Lab Report / Dr. K's Crypto-Corner
by Dr. Chris Kacher

Nation-state command-and-control will transform into a self-organized digital society: Viva la Evolution™
TLDR: The IMF is full of @#$%
Governing bodies such as the IMF and World Bank are running scared when it comes to Bitcoin and crypto because this technology will largely replace the functions of such entities rendering them obsolete in time. The IMF just published a report saying cryptoassets require an enormous amount of electricity, a statement that has been completely debunked. The IMF of course raised the old broken record that they are used for cyberattacks, ransomware, etc. They also said internet access and technology needed to transfer cryptoassets remains scarce in many countries. If the IMF has ever been in the deepest tropical rainforest in the Amazon or desert in the Sahara, virtually everyone has a mobile phone. The ignorance of the IMF is nothing short of shocking. They went on to say cryptocurrencies are "unlikely to catch on". Tell that to the doubling of users that occurs each year. 2% of the world now uses cryptocurrencies in some form. Up to 16% of the U.S. population is using crypto. Then they brought up some questionable study that claims 75% of El Salvadorans think their country's adoption of Bitcoin is "not very wise". This study has not ever been validated or is perhaps well outdated. It runs contrary to current news sources that show a majority of El Salvadorans are in support of bitcoin, so it seems the IMF is creating intentional FUD of their own.
Over in the U.S., Senator Elizabeth Warren went on the attack saying crypto is a risk to hedge funds and banks. She never cared about hedge funds before and in fact tried to take them down. She wants to regulate banks to death. She also finds stablecoins a threat and that DeFi brings huge risks. The over-regulated EU agrees with her. Both refer to people behind Bitcoin as "shadowy players". But what about the professionals in high finance who have been manipulating markets for ages?
And if any of the above were true, why would Goldman Sachs go all in and file for a DeFi ETF? The banks are going in because they know crypto is the future and want to be behind it. Even Bank of America that once denounced crypto is now allowing some of its clients to trade BTC futures.
Meanwhile, the value of hard assets continues to jump. Real estate marked the fastest month-to-month growth in more than 30 years. From April to May, prices skyrocketed 17% all due to QE money printing. This pace may not slow. Expect a resumption of the sharp uptrends in crypto as well. Hyperinflation here we come.
DeFi Orders of Magnitude Superior
DeFi applications are meta-evolving financial services from the ground up by rendering many jobs obsolete. Humans are replaced with machines, paperwork with code, and traditional security with cryptographic enforcement. As a result, DeFi platforms operate orders of magnitude cheaper than their analog counterparts. Compare the number of employees between ETH and PayPal at 1:400 and costs at 1:36. Massive savings to the customer. So when Elon Musk tweeted he knows blockchain because he started PayPal, he evidently does not.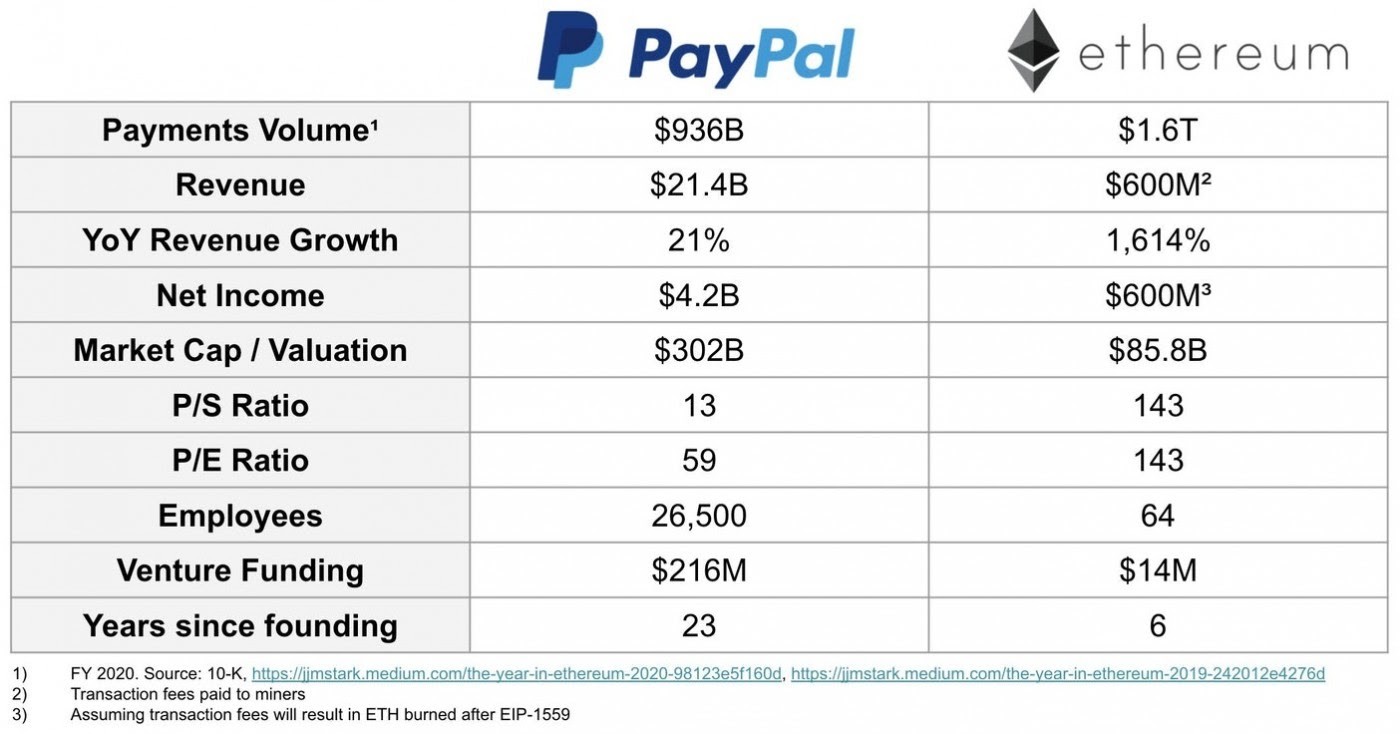 Similar holds true for MakerDAO vs. LendingClub. MakerDAO's operating expenses are a tiny portion of overall net income, resulting in a profit margin of 99% vs. Lending Club which is still not showing a profit. While MakerDAO's costs will increase as additional costs from oracle operations and token-based compensation are transferred to the DAO, it will still remain monumentally superior across all metrics compared to the traditional, centralized LendingClub. Likely more than half of Lending Club's operating expenses were due to headcount and hardware, software, and maintenance costs. The company would have likely been profitable if it had a leaner cost structure that utilized DeFi.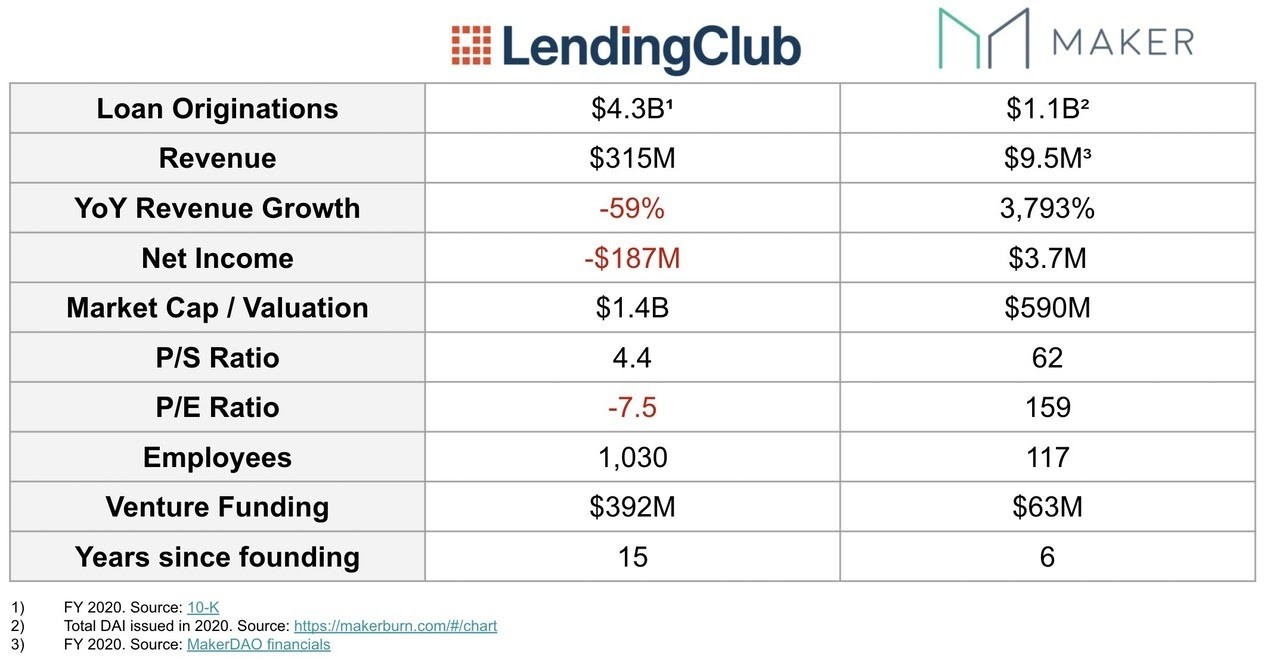 Certainly the numbers make the picture razor sharp. The differences are astounding but not surprising. Such is the nature of disruptive tech. Their exponential growth often manifested in the form of an S-curve underscores this nature.