Major market averages continued to cascade lower on increased selling volume, logging their third distribution day in a row. The sell-off was attributed to President Trump reiterating his intention to impose stiff steel and aluminum tariffs, although a final decision is still pending. The news did, however, create a number of pocket pivots in steel names like
X
,
NUE
,
RS
,
STLD
, and
TS
. It remains to be seen whether these lead to further, substantial upside price moves in these stocks. Meanwhile, leading stocks are coming under pressure, particularly big-stock NASDAQ names (see our Focus List Notes, below) which have represented a large leadership component of the oversold rally coming up from the February 9th lows.
Futures are off around a percent at the time of this writing. Trump's proposed tariffs are a bearish move as it may spark a global trade war. Trump proposes a 25% tariff on steel imports and a 10% tariff on aluminum. In the 1930s, the Smoot-Hawley Tariff Act was disastrous to U.S. equities as shown in the chart below.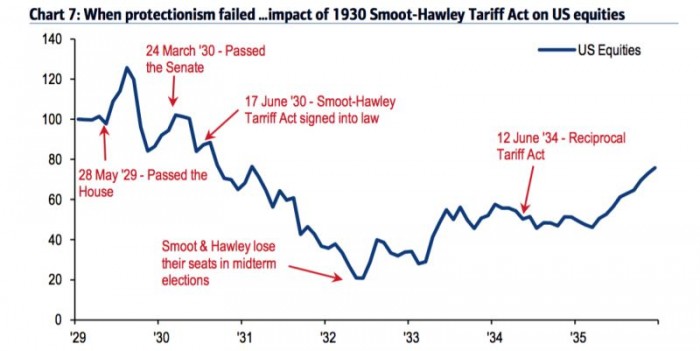 Tariffs shot higher as shown below: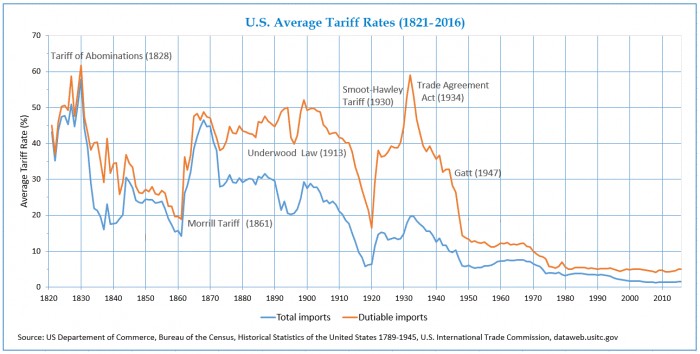 World trade severely declined as a result of this act:
If Trump's tariff proposals pass, this could be the straw that popped the QE sovereign debt bubble as it could derail the fragile economic recovery.
Focus List Notes:
Focus List names all pulled back yesterday, but as we noted in yesterday's notes, they were all quite vulnerable to selling off based on their extreme v-shaped patterns that consisted of moves that were straight-down-and-straight up into or near new high price ground.
AMZN
sold off below the 1500 price level but found intraday support near its 20-dema.
NFLX
pulled back but found intraday support at its 10-dma.
NVDA
broke below its 20-dema and is now testing its 50-dma.