Notice to VoSI members: this Monday Pre-Market Pulse report is sent out as a courtesy to our broader e-mailing list. Members should refer to additional reports, including the weekend Focus List Review, VoSI VooDoo Report, and others that may have been issued over the weekend, for specific discussions regarding our latest individual stock ideas.
All eyes will be on the Senate this week as they vote on their own version of so-called "tax reform" legislation. How the market reacts to the binary outcome of the legislation passing or not passing is difficult to gauge ahead of time, and we would not assume that one or the other will necessarily lead to a market rally or a market sell-off. We prefer to focus on the action of individual stocks.
Meanwhile, the S&P 500 and NASDAQ Composite Index posted new highs, with the S&P 500 clearing and closing above the 2600 level for the first time in history on Friday.
U.S. futures are mixed but mostly flattish this morning as Chinese markets sold off overnight.
Bitcoin has continued to be on a tear as of late, clearing the $9,000 level on Sunday. It has also been part of the conversation at VoSI. Back in early November we reported on the
Bitcoin Investment Trust (GBTC)
as it posted a pocket pivot on October 30th at $726. GBTC is one way to play the move in Bitcoin via a stock market vehicle. From there GBTC ran up to a peak of 985 in four days, after which it pulled back sharply in an incoherent dive below its green 20-dema. It then reversed course and ran back up to the prior highs before pulling an outside reversal to the upside two days ago after finding intraday support at the 10-dma. On Friday, GBTC broke out to new highs on light volume. Interestingly, the only "safe" entry point was at the October 30th pocket pivot, because since then the ride has been a wild one with no conventional support to be found at the 10-dma or 20-dema.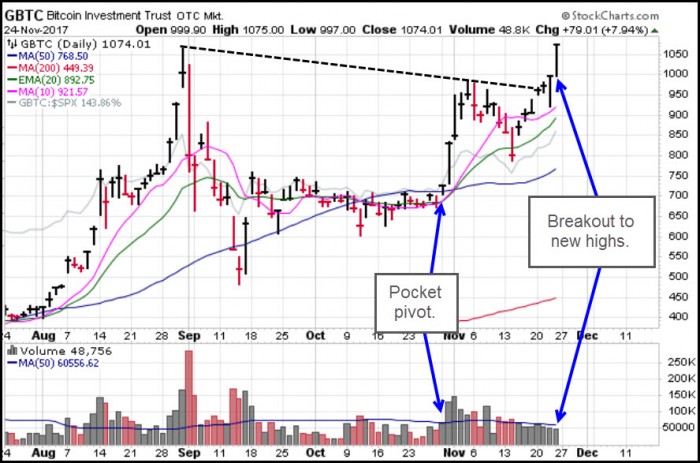 Within the general vein of Bitcoin mania, perhaps the most interesting and crazy situation that came up within the VoSI community over the past week was
Riot Blockchain (RIOT)
, which was brought up by a member during the VoSI Live Webinar two Fridays ago. We commented that this looked worthy of investigation, particularly in light of the pocket pivot that was forming that day along the 50-dma when the stock was trading at a mere $8 a share. Over the next six days RIOT ran up to a peak of 24 even. Now that's a spicy meatball!
RIOT
was formerly a bio-tech that went by the name of Bioptix, Inc. but roughly a month ago tossed its medical device business, changed its name to Riot Blockchain, Inc.,and began focusing on Bitcoin and Ethereum blockchain technology. It has been busy as of late buying up cryptocurrency miners.
For this reason,
RIOT
is obviously a corollary to Bitcoin craze, and its move this past week is no doubt a function of the mania surrounding Bitcoin and the general cryptocurrency phenomenon. Anything related to blockchain and cryptocurrencies is like pixie dust being sprinkled on a stock, leading to rapid levitation. After being sprinkled with a hefty dose of crypto-pixie dust,
RIOT's
nearly 200% move in just six trading days is reminiscent of late 1999 and the dotcom bubble mania of that period.
Meanwhile,
Canada Goose Holdings (GOOS)
, which we reported on to members as a Buyable Gap-Up buy on November 14th, has flapped its way 17% higher since finding support at the 10-dma on a normal, lower-volume pullback to the line. But, compared to RIOT, GOOS looks like a snail in motion!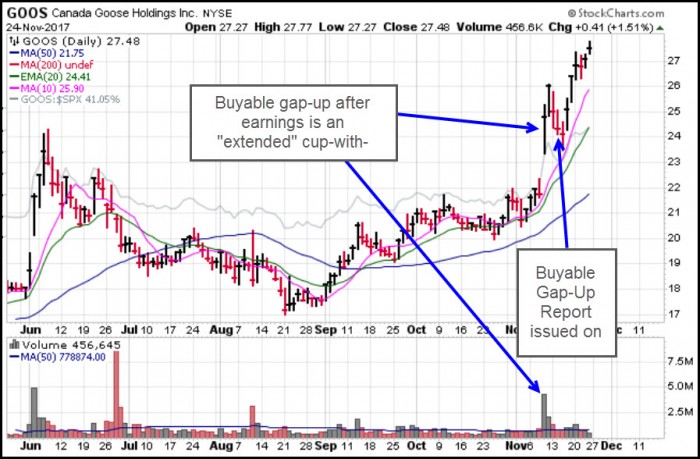 The moral of the story is that even during a so-called "quiet" Thanksgiving trading week, there has been plenty of trade-able action underneath the surface. You just have to find the right ideas at the right time. Happy trading.