Major indexes sold off yesterday on lighter volume, but remain in a volatile, sloppy state. We have now seen the market gap-down three days in a row, with yesterday's close the worst of the three. Futures are up sharply this morning as the market anticipates that the House of Representatives will pass its own version of tax legislation later today.
Breadth on both the NYSE and NASDAQ exchanges has continued to deteriorate, as represented by the charts of the NYSE and NASDAQ Advance-Decline lines, below,. Despite the fact that the indexes remain near their all-time highs, fewer and fewer stocks have been participating. Unless this improves, investors should remain cautious and keep any long entries to the highest-quality leading stocks pulling into logical support on in constructive fashion, while maintaining tight selling guides at those same logical support levels. That said, deteriorating breadth could simply mean that many stocks are waiting in the wings, ready to turn back to the upside to help drive a year-end rally. This has been typical for an "Ugly Duckling" market where normally cautionary action is merely the prelude for an unexpected recover.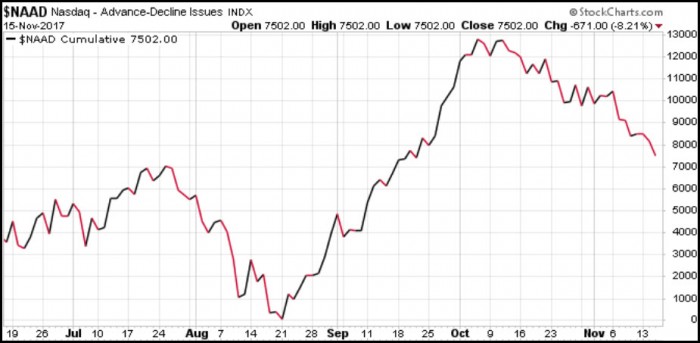 Focus List Notes:ANET
remains extended. The 10-dma at 212.48 remains your nearest reference for near-term support.
BABA
has pulled into its 50-dma, which would represent maximum downside support, putting it in a lower-risk entry position using the 50-dma as a selling guide. The stock closed near the top of its daily trading range on higher volume indicating minor support at the 50-dma.
CAT
dropped below its 20-dema on slightly above-average volume (+7%). The stock appears set to fill its prior October gap-up move after earnings.
FB
found support at its 20-dema yesterday as volume declined to -34% below-average. This is a lower-risk entry using the 20-dema as a selling guide.
NFLX
is again testing its 50-dma. Volume was higher yesterday vs. the prior day but still -41% below-average, so this would represent a potentially lower-risk entry using the 50-dma as a tight selling guide.
NVDA
was added to the Focus List on Tuesday as a result of its prior buyable gap-up. The stock closed yesterday at 209.98, within 1% of the 211.63 intraday low of last Thursday's buyable gap-up after earnings. 1% is well within the range of allowable "porosity" for a stock that dips below its prior BGU low.
TTWO
remains within buying range of its buyable gap-up move of six trading days ago. However, it was buyable at lower levels per our comments in our weekend Focus List Review piece.
WB
held relatively tightly yesterday after posting a new high on Tuesday. We prefer the 105 area as a lower-risk buy zone on pullbacks.