Major indexes all rallied on lighter volume, closing midbar, following Treasury Secretary Mnuchin's comments over the weekend that the U.S. and China were not in a "trade war" but rather a "trade dispute." This sent futures rocketing higher overnight, but the major indexes mostly churned on the day, with the
NASDAQ Composite
closing below its gap-up opening price level. Meanwhile, the Russell 2000 Index posted a new all-time high as small-caps led again. Still, the number of distribution days on the NASDAQ Composite and S&P 500 both stand at 5.
Futures are up as Treasury bonds bounce, relieving some selling pressure on stocks, though the downtrend in bonds remains firmly in place. Despite the technical action on the S&P 500 having broke above its pennant and the risk-on Russell 2000 hitting new highs, the headwinds of higher rates also remain a reality.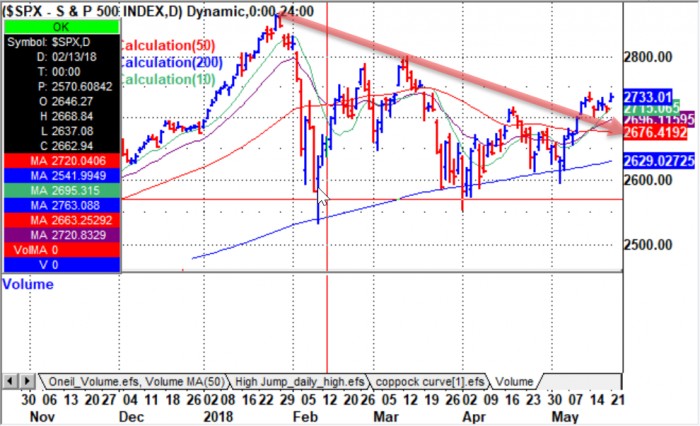 Over in the U.K., Bank of England's Mark Carney speaks today and is expected to reiterate its planned policy tightening measures of 3 hikes over the next 3 years as long as the economy meets expectations. However, it is doubtful this will be achieved since rates will probably top out much sooner in the U.S. as the global economy continues to sputter while the U.K. recently reported GDP figures well below expectations.
Two Focus List stocks posted pocket pivots yesterday.
Focus List Notes:AMZN
continues to run tight sideways along its 20-dema. Yesterday's move was slight, however, within the context of a big index day.
BZUN
pulled back to the top of its prior base, putting it right above the breakout point and thus in a lower-risk entry position.
NFLX
posted a pocket pivot at the 10-dma.
FTNT
posted a subtle pocket pivot at the 10-dma.
NVDA
tested and held above its 20-dema on higher, but only average volume.
SQ
stalled on a breakout attempt, falling show on light volume.