Focus List
Some have wondered why our Focus List only has 3 names when the general market is hitting new highs. There's a reason why it's called a "Focus List." As this bull market trend has continued higher, it is part and parcel of O'Neil style portfolio management to weed out other holdings as they break down and to "force-feed" and concentrate into your best names. That is precisely what we've done with our Focus List, without succumbing to calls that we should be expanding the list as the bull market gets longer in the tooth. This has not, however, prevented us from issuing Buyable Gap-Up and Pocket Pivot reports on any new set-ups that we see for newer members who have just arrived on the scene. However, we are somewhat cautious given that many new "set-ups" are occurring at later stages in the patterns, and would like to see more fresher first-stage set-ups appear. In any case, the bottom line is that one would be hard-pressed to find stocks doing as well or better than the three current Focus List names.
Long Bonds
The price of 10 and 20-year bonds had been heading sharply lower over the last 4 weeks which was good for banks. The XLF (Financial ETF) issued a pocket pivot along with a number of financial stocks such as JPM, BAC, and C. Lower prices which correspond to higher treasury yields can give a boost to bank earnings, because that can increase the spread between what the banks make on longer-term assets and what they pay for shorter-term liabilities. That said, XLF has since reversed all its gains, falling sharply after last Wednesday's Fed announcement.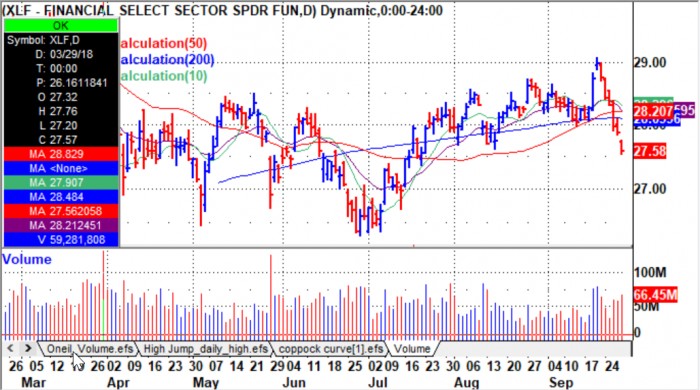 This occurred in tandem with the rise in price of long bonds as shown by the 20-year bond ETF TLT.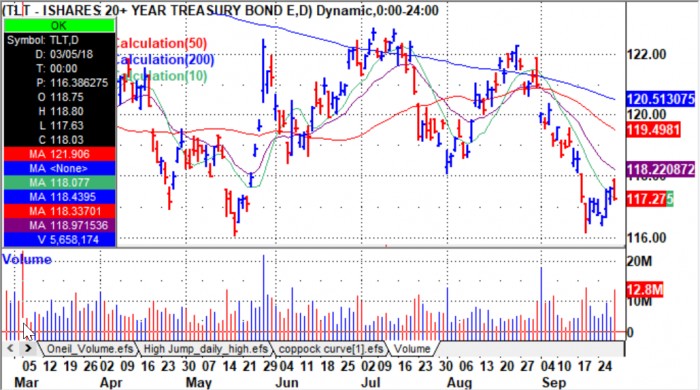 By no coincidence, on the same day, markets reversed course to close near intraday lows.
Fed Hikes For The Eighth Time
The Federal Reserve hiked rates for an eighth time in this cycle which began in 2015. Longer term yields headed lower after the Fed stopped describing their monetary policy as 'accommodative'. This was seen as giving them more flexibility on the pace of rate hikes next year. If they slow their expected pace of rate hikes, this would potentially stabilize the fall in the price of longer duration bonds, thus yields on the long end would rise at a slower pace. This could further flatten the yield curve. According to Fed Chairman Jerome Powell, the removal of the word 'accommodative' should be taken as an indication that the economy is performing as expected.
Given the state of the global economy, the U.S. remains the tallest standing midget, thus the Fed is hoping to refuel its interest rate gas tank in baby steps, so it will have ammunition to stimulate the economy by lowering rates when the next recession hits. That is the hope. Trump's pro-business policies should help over the long run but even Reagan's reduces taxes, steep budget cuts, and less government did not prevent the recession of 1981-82 when the NASDAQ Composite lost -28%, nor the bear of 1983-84 when it lost -32%.
The Fed predicts one more rate hike by December and three more in 2019, unchanged from its prior forecast. The FOMC boosted its forecast for U.S. growth in 2018 to 3.1% from 2.8%, but it expects GDP to eventually slow to as low as 1.8% by 2021.