Stocks finished Friday mixed on mixed volume, but the S&P 500 and the NASDAQ Composite Index both found resistance at or near their 10-week moving averages. The NASDAQ, in particular, showed a big churning and stalling day on higher volume. When viewed in context with Tuesday's high-volume break off the peak, this action is bearish from an index point-of-view.
Friday's weakness was instigated by news that President Trump had pulled the healthcare bill when it was clear that the legislation did not have enough support from House Republicans to pass. Initially this was seen as a positive as the indexes rallied back towards the upside after the Dow dropped over 100 points in short order.
But the volatile churning action continued into the close with the S&P and the Dow both closing in the red, while the NASDAQ gave up a good chunk of its intraday gains but managed to hold up on the day. Nevertheless, the action is not necessarily constructive given the high-volume churning action.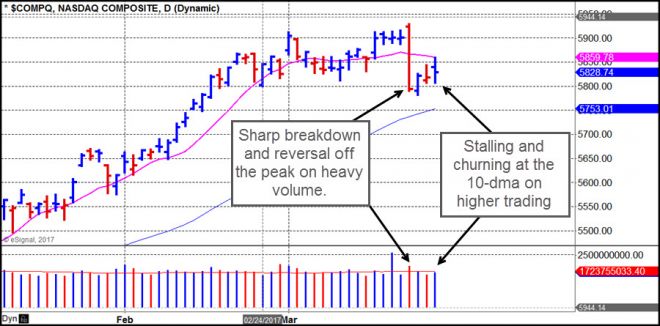 The American Health Care Act, which was pulled on Friday afternoon, would have repealed nearly $1 trillion in taxes enacted under Obamacare. Republicans planned to incorporate the savings into tax reform legislation to enable a larger tax cut than would have otherwise been possible. Concerns are mounting that Trump's tax reform proposals may be less likely to pass.
Futures are down sharply this morning, and investors should seek to play a strong defense by heeding their trailing and absolute stops. In addition, we would re-emphasize the importance of not chasing strength in this market, and instead looking to buy into constructive weakness down to logical areas of support. This can help keep risk to a minimum when the market begins to waver as it is this morning.