Having received numerous questions on whether bitcoin has bottomed given its recent upturn, the short answer is it's anyone's guess. Crosscurrents are both bearish and bullish for bitcoin. On a technical basis, know that during its prior major correction, bitcoin didnt reach lows until January 2015, after it peaked in Dec 2013, thus it took about 14 months for bitcoin to reach its lows, which by then it had corrected 87%. It then took another two years to form the right hand side of its base, breaking to new highs in Feb 2017.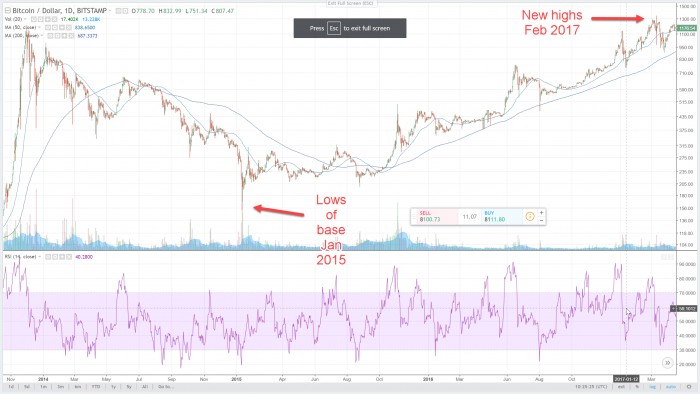 Back in 2014, the correction was caused by a confluence of factors, one after another, from a continuation of mainstream media providing spurious evidence that bitcoin's main use was in human and drug trafficking, the arrest of Charlie Shrem for alleged money laundering, plus major exchanges such as Mt. Gox were hacked while major governments such as China and Russia tried to ban it altogether. Another headwind was regulatory fears being burdensome such as the onerous BitLicense legislation that came out of New York that crippled new cryptotechnology companies before they could even launch due to the prohibitive expense.
Today, things are arguably better for bitcoin on a fundamental basis. More institutions are starting to come on board, and even the head of the IMF and U.S. governing bodies have recognized bitcoin and blockchain as transformational tools that should not be ignored or suppressed by overregulation. Bitcoin itself is being recognized as an alternate store of value, and a few billion of the world's unbanked will be coming online using bitcoin over the next few years. Tim Draper on Friday said he predicts bitcoin will be worth at least $250,000 by 2022 while Fundstrat's Thomas Lee sees bitcoin at $25,000 by the end of this year. That said, I still stand by my million dollar prediction for one bitcoin by 2022. I think the space will move faster than people expect, much as artificial intelligence is evolving at breakneck speeds. Three years ago, A.I. was almost never mentioned in the press. Today's it is reported on almost daily.
So if bitcoin hit a major low earlier this year in February, the length of the base will be only perhaps about 8 or 9 months before bitcoin hits new highs. This means bitcoin would see $20,000 by July or August. On the other hand, the speed and depth of the early portion of the current correction implies bitcoin could see new lows before finding a major low. A couple other metrics I use which track network value against number of transactions also suggest a deeper correction is in store. What could offset this, however, is bitcoin lightning which is currently in beta and will quantum jump bitcoin's evolution. Stay tuned.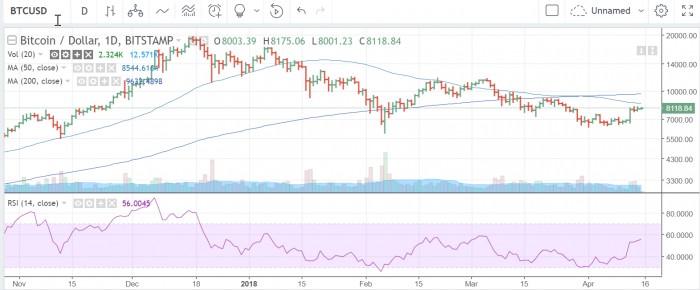 As for trading other coins should bitcoin shift into an uptrend from here, the rest of the cryptocurrency market correlates heavily with bitcoin though ethereum can sometimes temporarily decouple from the price of bitcoin. More than 1600 coins move more or less in the same direction as bitcoin, though there are always the rare ones that can buck bitcoin's downtrend such as Neo did in June of last year or more recently Binance this year, and now Golem, the world's decentralized supercomputer, whose beta test is proving out, causing it to rocket 80% in a day. Of course, in cryptoworld, if bitcoin starts on a proper uptrend, this might just be the start of a fat 10-fold move for Golem.
Over in stocks, futures are up about half a percent at the time of this writing. The U.S. joined with allies France and Britain to launch missiles on Saturday that destroyed much of Syria's chemical-weapons capabilities, easing fears of an escalation.
After a follow through day, one should observe whether price/volume action in leading stocks that led up to and after the follow through day was constructive. Also, know that if the major averages have a distribution day within 3 days after the follow through day, the odds of the follow through day failing stand at about 90%. So far, the indices have moved higher without any distribution days but the move has been tempered by the situation in Syria. Thus, the number of leading stocks also seem a bit hesitant to stage strong bounces as the action has remained a bit sluggish.