Major average finished mixed on mixed volume. Technology stocks continue to lead enabling the NASDAQ Composite to close near its intraday highs on higher volume while the S&P 500 closed near its intraday lows on lower volume.
Futures are off about half a percent following a New York Times report suggesting that President Trump asked then-FBI Director James Comey to end the FBI investigation into former national security advisor Michael Flynn.
The Times cites a memo that James Comey wrote following a February 14 meeting with President Trump in the Oval Office that Trump asked Comey to end the investigation. The White House has denied this, but lawmakers and legal experts are saying this may qualify for obstruction of justice, which is considered an impeachable offense.
Just recently, Congressman Al Green (D-TX) tweeted "Today on the floor of the Congress of the United States of America, I will call for the Impeachment of the President".
Focus List Review
The great majority of names on the Focus List are currently extended to the upside. As the chart of the aggregated performance of Focus List Names shows below, the upside extension is clear, and so a pullback is not unexpected. The question then becomes whether this action indicates a short-term climactic sort of condition that will lead to a deeper correction. Therefore, members should know where their trailing stops are.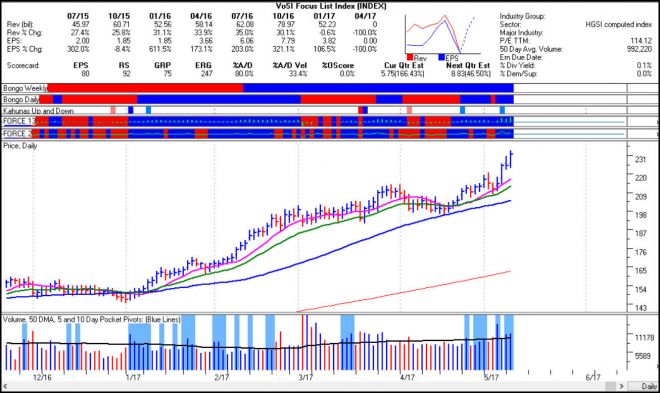 FB is pulling into its 20-dema on below-average volume, which could put the stock in a lower-risk entry position IF the general market stabilizes.
NFLX has pulled into its 10-dma on volume that as -43% below average, qualifying as a "voodoo" pullback. This puts the stock in a lower-risk entry position IF it can hold the 10-dma and the general market is able to stabilize.
NOW has just barely cleared the $100 Century Mark, which would trigger Jesse Livermore's Century Mark Rule on the long side, using the 100 price level as a tight selling guide.
TSLA is sitting at its 10-dma with volume drying up to -30% below average yesterday. Should the general market weaken, however, it should watched closely as a breach of the 10-dma and 20-dema on volume could turn this into a short-sale target