Futures are gapping higher after the Trump administration said it would delay implementing tariffs on Chinese goods and "put the trade war on hold" while working out the details of a deal. Still, the picture remains cloudy as a conflicting statement was released hours later from U.S. trade representative Robert Lighthizer who said Washington may still resort to tariffs. At the end of trade negotiations this weekend, China agreed to buy larger amounts of U.S. goods to help narrow the trade deficit between the two economies, but did not agree to the $200 billion requested by the U.S. "This is by no means the end of the matter, especially given the huge gap that remains between the two sides, as highlighted by the lack of any real detail in the announcement. However, this was the encouraging start to talks that traders were after," said Jasper Lawler, head of research at London Capital Group.
The market remains in a chop zone due to the tug-o-war between higher rates and money printing by central banks. It's QT vs QE. Keep an eye on ETFs IEF (7-10 year) and TLT (20-year) bond prices. The yield on the 10-year is now firmly above 3%. Both have been aggressively trending lower since April. Here is the daily chart of IEF: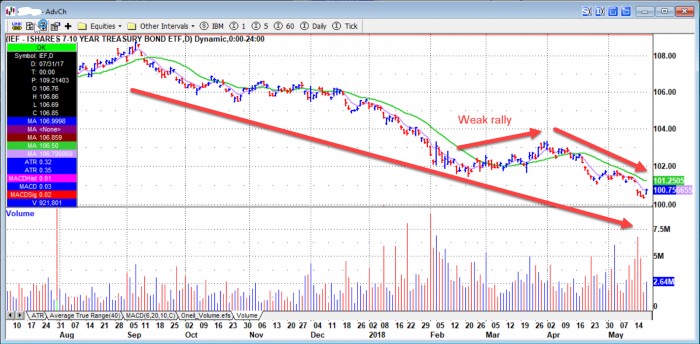 At some point, the Federal Reserve may find themselves unable to hike rates beyond their planned hikes for 2018. The global economy remains sluggish despite record levels of debt and the easiest monetary policies in history. The amount of debt towers above any other period including the Great Depression in the 1930s.
So while the market may remain unable to sustain a move in either direction, when the market takes a pause as it did last week, voodoo formations are more likely. When the market stages a reversal to the upside as it has done a few times this year, Wyckoff undercut and rally patterns are more likely. Set your screens accordingly.
For those who've asked, an ethereum trading vehicle, ETCG, now trades on the open market along with GBTC. One share of ETCG is equal to 0.97 Ethereum Classic (ETC). It only started trading a few days ago but already has a massive premium over the actual price of ETC. This premium will probably shrink and come more in line with the actual price of ETC as more related trading vehicles are released by the likes of Goldman Sachs, Intercontinental Exchange (ICE) and others. For example, in the bitcoin space, Goldman Sachs will offer its clients a type of bitcoin futures product, while Intercontinental Exchange (ICE) — the owner of the New York Stock Exchange (NYSE) — is holding serious discussions about opening a bitcoin exchange.