Last week, China's manufacturing activity failed to meet expectations, underscoring weakness in the world's second-largest economy despite their central bank's attempts to spur growth via QE. Both official and private business surveys pointed to slower Chinese factory growth this month. Data also showed a slower expansion in its services sector, adding to economic uncertainty. Some analysts have said the weak manufacturing numbers suggest "stimulus is there to stay".
The US debt mountain continues to balloon, with Trumponomics pushing it to $22 trillion. With the annual 'real' budget deficit of about $1.2 trillion with the real deficit set to hit $1.5 trillion for 2019 ($23.5 trillion).
QEForever QEInfinity
Once QE starts, will it ever stop? The Fed's balance sheet first exploded from about $800 billion to over $4.5 trillion all to bailout the banking crime syndicate by inflating asset prices such as housing and stocks so as to generate artificial profits for the banks. So what's stopping the Fed and other central banks from doubling their respective balance sheets when the next crisis or recession hits? Why couldn't the Fed simply double their balance sheet to $9 trillion? The U.S. stock market seems to be discounting this possibility. Forget about unwinding.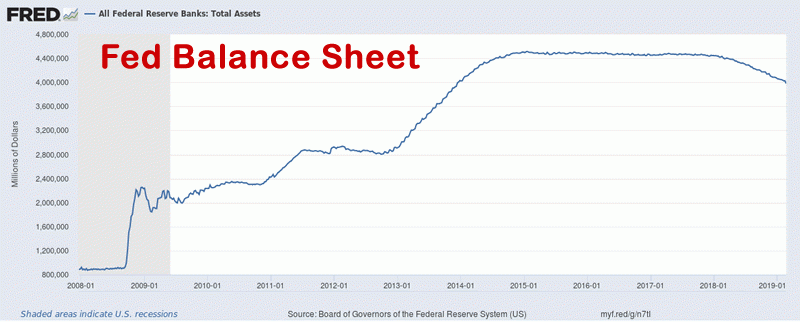 So whatever form the next crisis takes, the Fed will be at hand to print money and double its balance sheet, as it will periodically continue to supports hard asset prices such as housing which cannot be printed. Of course, as we have said, Trump's pro-business polices together with exponential growth technologies such as the 3D printing of houses via AI drones -
track housing at its finest
could put an end to the QE money train by helping the U.S. grow out of its debt as it did post World War II though today's conditions on nearly limitless money printing on the basis of Ponzi scheming central banks is different than the mandate in place during WW II which turned off the need to print once the war ended.
Trump's crowing that he is responsible for the economic expansion is somewhat of an exaggeration as a simple chart showing real GDP growth since 2010 shows we had growth under both Trump and Obama. This was in large part due to quantitative easing which helped the U.S. maintain its lead as capital flowed into stocks and bonds in the U.S. ahead of other markets. So former Secretary of Labor Robert Reich can claim it's a conspiracy among the rich to keep the masses oppressed, but it is rather the way things have always been structured that spurred on an increasing wealth gap. Of course, those at the top will make policy that benefits the overall health of the U.S. which has the second order effects of further benefiting those at or near the top of the economic food chain.

The U.S. government has made, shall we say, adjustments to the way it calculates GDP, inflation, employment, and so forth numerous times since 1980. If such adjustments had never been made, inflation and unemployment would be materially higher which would inevitably push GDP materially lower. But the readjustments allow the Fed to justify their dovish stance. They can therefore point to the data and claim their tinkering is benefiting the economy.