Major averages gapped higher at the opening bell, finishing near the top of their trading ranges. Volume was typically lower after Friday's quadruple witching day.
This chart is interesting. As the NASDAQ has made new highs, fewer stocks are trading above their 150-dmas. A similar pattern is seen on the NYSE. Market internals are not keeping pace with the uptrends observed in the major averages.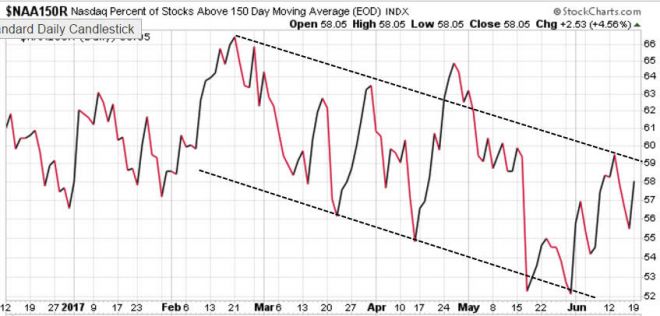 As regarding interest rates, Chicago Fed President Evans said in a speech last night that he is in favor of a slow and gradual approach for raising the fed funds rate and paring the Fed's balance sheet. He said they should wait until the end of this year to see how economic data pan out to assess when the next rate hike should happen.
Over in the UK, Bank of England Governor Mark Carney, said the BoE should not rush to hike interest rates. With the US and global economies at issue, QE may continue at full tilt for longer than expected.
Focus List Notes:
Most Focus List names bounced higher yesterday as the NASDAQ Composite Index gapped to the upside. Following these bounces, stocks are not in what we would consider to be lower-risk entry positions.
AMZN again ran into resistance around the Millennium Mark, reversal off the highs to close below the 1,000 price level on above-average selling volume.