Major averages finished flat to down on lower volume, closing near their intraday lows. 20+ year Treasury ETF TLT have nearly recovered all of its losses since the election. After the election, the price of TLT dropped sharply as expectations rose that the Trump administration would spark growth leading to a steepening yield curve. However, over the last couple of quarters, GDP has slowed. The uptrending TLT price suggests the yield curve continues to flatten which is indicative of an administration that may not spark growth. Recession may be closer than expected.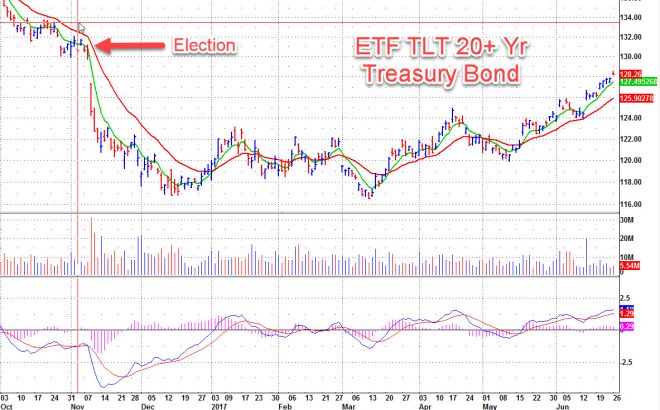 Futures are under pressure as European Central Bank President Mario Draghi hinted that the ECB might start winding down its large monetary stimulus as the eurozone economy picks up speed, even as he warned against an abrupt end to years of easy money.
Adding to the fear factor, investors are awaiting a speech by Federal Reserve Chairwoman Janet Yellen and watching developments surrounding the controversial health-care legislation in the U.S. Senate.
"The week ahead may have a lot to say about the success of the Trump administration's proposed legislative agenda, and the market's reaction to it," said David Joy, chief market strategist at Ameriprise Financial. "While the delivery of health care is of vital social importance, for investors the more important legislative initiative remains tax reform. But to get there, the administration must work through health care first so that its impact on the budget can be determined."
Focus List Notes:
NASDAQ futures are down sharply at the time of this writing, which could put Focus List stocks under more selling pressure today.
Most Focus List names are not in what we would consider lower-risk entry positions. Several that showed strength on Friday, such as AAOI, were hit with selling as they failed to follow-through on Friday's positive action.
AMZN reversed back below the 1,000 price level on increased selling volume, although it did come it at below-average.
COHR is currently retesting its 50-dma, and should be watched closely as it needs to hold support here.
FB reversed off its intraday peak yesterday after pushing to all-time highs early in the day on a slight increase in selling volume.
NVDA sold off but found support at its 20-dema on volume that was 25% above-average. At best this looks like it needs more time to build a new base.