Major averages sold off hard on higher volume. Technology stocks continue to underperform. All 5 FAANG stocks- Facebook, Amazon, Apple, Netflix and Google- dropped below their respective 50-day moving averages at some point in yesterday's trading, a situation that has not happened since December 2016. Only FB and AMZN managed to close above their 50-day lines.
In past markets, when technology stocks could no longer lead, the market usually underwent a meaningful correction. This time, however, we still have quantitative easing at full tilt which accounts for the palty few percent corrections we have seen in the major averages this year, an unprecedented occurrence. If you examine a weekly chart of the S&P 500, you can see downside is minimal this year compared to any other year since QE began. Meanwhile, the market since March has baby-stepped higher as it rides on QE fumes.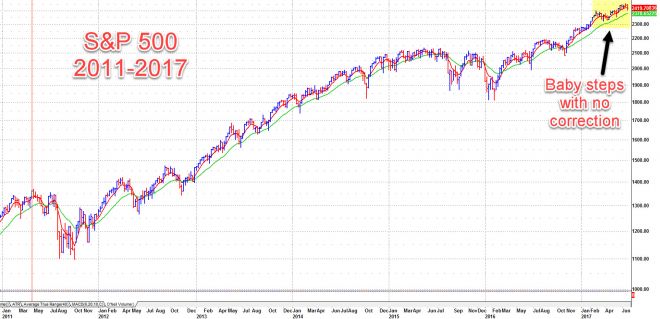 That said, a number of global central banks have suggested they may start to ease off the QE throttle. But that depends on if the global economy actually is on the mend which remains a big "IF" at this juncture.
Focus List Notes:
Stocks on the list continue to come under selling pressure as the NASDAQ Composite Index has now dropped below its 50-dma, putting the market rally in serious question. A good number of names on the list are still holding at near-term support, sometimes at the 20-dema, sometimes at the 50-dma. Depending on where your selling guides are set, these may still be okay, for now, but vigilance is advised.
AAOI remains at the top of its prior base but still just below the 50-dma.
AMZN has pulled into its 50-dma, where it was again able to find support and hold, closing just below mid-range on above-average volume.
ANET has pulled down further, but found support at its 50-dma yesterday.
APPN acted well as it closed up on the day after posting a voodoo pullback to the 10-dma on Wednesday, which was buyable at that time. It benefits from the fact that it is not an extended, over-owned leader.
BABA slashed below its 10-dma but found support at its 20-dema as it closed mid-range on heavy volume.
BZUN held support at its 10-dma and 20-dema as volume declined.
COHR has violated its 50-dma.
FB again held support at its 50-dma after dipping below the line early in the day. It closed just above mid-range on heavy, above-average volume in a show of support around the 50-dma.
LITE has broken out of its prior coherent sideways range to the downside as it appears set to test its 50-dma.
NFLX is holding near the highs of the base it formed between early February and late April, but is on the fence here as it is now living below its 10-dma and 20-dema.
NOW found support yesterday at the confluence of its 10-dma and 20-dema.
NVDA has now violated its 20-dema, but remains far above its 50-dma which would be a maximum selling guide. Our view, however, is that a tighter stop at the 10-dma or 20-dema is much more efficient given the huge-volume reversal off the peak three weeks ago.
SQ has dipped below its 20-dema.
TRVG, as a newer-merchandise situation that is not heavily owned, bucked yesterday's sell-off by posting a clean base breakout to all-time highs on strong volume.
TSLA closed below its 20-dema yesterday on above-average volume.
TTWO continues to hold above the prior 71.20 low in its pattern at which it posted an undercut & rally set-up as it traded back up through that low. It closed yesterday above that low, keeping the U&R in force, for now, and is also holding above its 50-dma, where it found support on Wednesday.