President Donald Trump continues to come out swinging now saying the European Union is a "foe" of the United States with respect to trade policies. He also said Brexit may "kill" any potential trade deal between the U.S. and the U.K. Over to the E.U., Trump tweeted about the E.U. slapping a five billion dollar fine on Google. He sees this as them taking advantage of the U.S. and suggests he will be taking action.
Nevertheless, all FAANG stocks except NFLX have been showing accumulation as they trade at or near new highs from FB, to AMZN, to AAPL, to GOOGL. So despite Chinese names that formerly led such as BABA, YY, and MOMO that continue to struggle, leading U.S. names such as SQ and FTNT continue to trend higher. Meanwhile, former leading names such as NVDA which has been stuck in a sloppy basing pattern all year as can be seen on its weekly chart have been trading in a tighter, more constructive manner around its 50dma.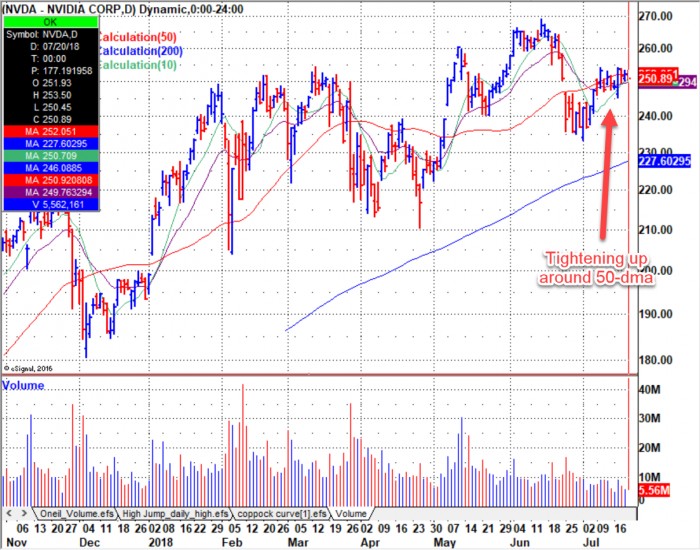 But as we have said, the QE-motivated market has been pushing higher on a string in terms of price/volume action on the major indices, so caution as always is advised.
Trump's aggressive stance on trade policies is the major headwind for the markets at this time, but is being countered by quantitative easing. Wyckoff undercut & rally and volume dry-up (voodoo) formations continue to prove worthy and provide low risk entry points, thus reducing risk while maintaining reward that is typically at least 3-4 times the potential loss.