Major averages got throttled on higher volume as the NASDAQ Composite and S&P 500 both sliced through their 50-day moving averages while the small cap Russell 2000 nearly met up with its 200-day line. Tensions between the U.S. and North Korea continue to escalate. Futures bounced at 5:30 AM on news of the CPI coming in at 0.1% vs est 0.2%.
President Trump dialed up his warning to North Korea on Thursday afternoon, saying Tuesday's 'fire and fury' comment--in which the president promised action against North Korea if it continues to threaten the United States--may not have been tough enough. Pyongyang has threatened a strike on the U.S. territory of Guam, laying out a plan in detail, in response to Mr. Trump's Tuesday statement. Press reports indicate Japan is readying its missile defense system in the wake of North Korea's threat to launch missiles towards Guam. Trump at 4:29 AM ET, just a few hours ago, tweeted "Military solutions are now fully in place,locked and loaded,should North Korea act unwisely. Hopefully Kim Jong Un will find another path!"
Ray Dalio, chairman and chief investment officer at Bridgewater Associates, on Thursday urged investors to hedge their risks with gold amid rising geopolitical tensions. He wrote: "We are seeing 1) two confrontational, nationalistic, and militaristic leaders playing chicken with each other, while the world is watching to see which one will be caught bluffing, or if there will be a hellacious war, and 2) the odds of Congress failing to raise the debt ceiling (leading to a technical default, a temporary government shutdown, and increased loss of faith in the effectiveness of our political system) rising."
Precious metals prices have jumped over the last couple of days as the "flight to safety" trade takes hold. The question is whether these stubbornly confrontational personalities, namely Trump vs Kim Jong-un, can come to a compromise much as Kennedy did with Khrushchev. But as we saw in the piece sent yesterday regarding the Cuban Missile Crisis, price/volume action got you to safety, but it also signaled the all-clear by the huge volume buy spike off the lows, just a few days before a peaceful resolution was reached.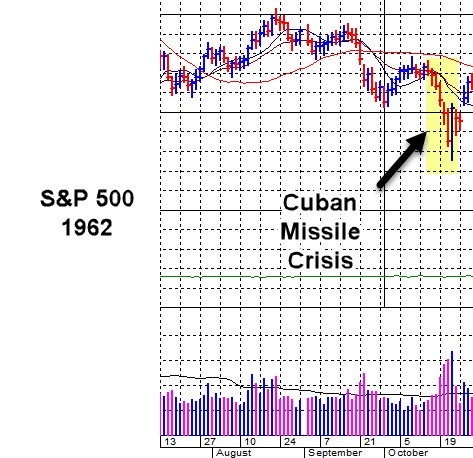 Leading stocks that held up during the selloff may have staged Wyckoff undercut & rally moves which could have been bought. From the lows brought on by the crisis as noted in the highlighted area above, the SP500 proceeded to rally almost 30% over the next few months into 1963.
Focus List Notes
ANET, APPN, BABA, NFLX, NOW, and NTNX all broke below near-term support. ANET and NFLX both dropped below prior BGU intraday lows, while APPN, BABA, and NTNX broke below their 20-demas and NOW broke below its 50-dma.
This is obviously negative action and in some cases investors might have been pushed out of positions in these names depending on where their stops have been placed.
Short-Sale Notes: TSLA reversed yesterday and closed at 355.40, down about 2-3% from the time we sent out our Short-Sale Set-Up Report on the stock yesterday morning. For now the 370 level remains your guide for a maximum upside stop. We are now looking for a test of the 50-dma at 348.25, which could happen today. A breach of the 50-dma would trigger a second short-sale entry point which would then use the 50-dma as an upside trailing stop.