Major averages rose to close near the top of their trading ranges with the S&P 500 finishing just above its cluster of 10, 20, and 50 day moving averages. On Monday, the NASDAQ's undercut & rally attempt broke to new lows then finished just below its prior low of 6416. Yesterday, it gapped higher at the open, resuming its undercut & rally attempt then closed just below its 20-dema. Volume was mixed, only slightly higher on the NASDAQ. The QE/algo driven bounce does not erase the many distribution days observed since the market started correcting on 7-27-17 as shown in the chart below.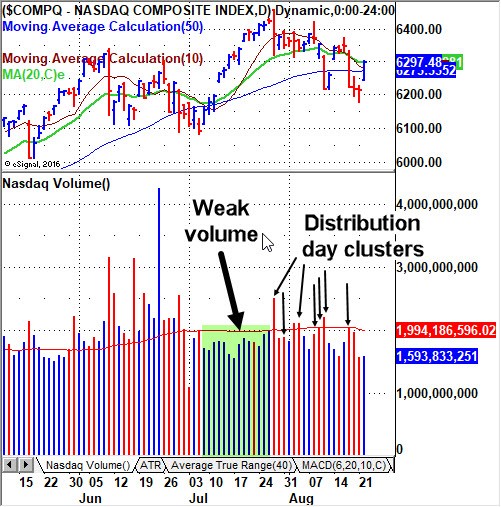 The market remains in flux as to whether QE can push the market on a string back to new highs or whether the choppy downtrend that began on 7-27-17 will resume. This is illustrative of why it is important to remain flexible by not taking a bullish or bearish side. While the market is not always in flux, it can change on a dime. Being able to shift in real-time is key to keeping your profits by honoring your sell stops while continuing to watch for new profit opportunities.
Futures are lower by about half a percent as President Trump threatened a government shutdown if his plan to build a wall along the Mexican border does not get funding. It has also been speculated by major media that Trump and Senate Majority Leader McConnell are at great odds which sparks concern regarding the upcoming budget and debt ceiling discussions next month.
Focus List Notes:
ANET posted a new closing high yesterday on light volume, -4% below-average. It was last buyable along the 10-dma per our prior notes.
APPN regained its 10-dma and 20-dema yesterday on increased volume, but not enough for a pocket pivot volume signature. However, it continues to hold tight along the 10-dma and 20-dema, remains in a lower-risk entry position using the 20 price level as a selling guide, per our prior notes on the stock.
BZUN blew apart after earnings, failing to hold its 20-dema which we noted was a near-term selling guide in yesterday's morning notes on the stock. By the close its was down -24.22% on huge selling volume that was 770% above-average. Disciplined investors had plenty of time to exit their position this morning when the stock opened just below the 20-dema. It has been removed from the Focus List.
NFLX rallied off of its 50-dma yesterday, but on light volume that was -36% below-average.
Short-Sale Notes:
TSLA bounced 1.03%, but remains in a downtrend and well below its 50-dma, which we would use as a trailing stop on any short position taken initially in the mid-360 price area and then again on the break of the 50-dma.